Holiday Decor Inspiration
Get Creative This Holiday Season
Get Creative This Holiday Season
Decorating for the holidays is always an exciting task. Whether it means bringing out old favorite decorations, going with a new theme year after year, or maybe a mix of the two, creating a festive scene within the walls of your home has a way of completely transforming the space and getting everyone into the spirit. Get inspiration this year for decorating your home and for really taking your holiday spirit to the next level.
Minimalist Holiday Style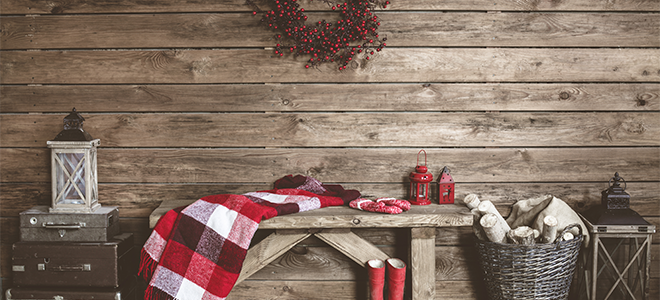 Minimalist home decorations are a huge design trend for 2018, so why not apply it to your holiday decor? To do this successfully, focus on adding only a few decor pieces in limited colors. For example, add a simple yet festive wreath to an otherwise empty wall and perhaps scatter a few other simple pieces throughout the space. You can even use regular household items in appropriate colors, such as red rain boots like in the photo above or anything else that strikes your fancy.
White Out
The crisp and clean look of white never goes out of style! For that reason, perhaps you've been dreaming of a white Christmas, but instead of outside, inside the walls of your home. Try decorating your mantel with white candles, white scattered bulb ornaments, shimmery accents, and even some fake snow to enjoy the simplicity of white decor all season long. Pair this with white lights on your tree or even create your own flocked Christmas tree to keep the trend going throughout your home.
Chic Christmas
Keep things chic this Christmas in your bachelorette pad with soft hues of pink and cream amidst your decor. Start by creating a flocked Christmas tree, draped with white lights, soft pink, silver, and seafoam green ornaments. Then add touches around your home in the same hues—perhaps a Christmas themed pillow, patterned stockings, and pillar candles. Shades of gray also go well with this theme as do marble accents.
Go Rustic
Rustic style home decor has been another trend for 2018, so why not apply it to your holiday decor? Exposed wood accents such as lanterns are a rustic touch that go well with the holidays, as are linens in buffalo check red patterns and faux greenery and holly. If you're in the mood to DIY some items for this decor trend, spray paint mason jars in red, green, or white (or all three!) and tie twine around the lip of the jar. Fill the jars with faux greenery and berries and you'll have decor that's perfectly on theme. Pine cones are another easy accent to add around your home that add to the rustic look without breaking the bank.
Colorful Christmas
Adding a pop of color to your home has never been as fun as it is when you do it with holiday decor. Create your own ombre Christmas tree with bright greens, purples, and blues or decorate your mantel with different color candles, bright fuzzy ball garland, and brightly colored stockings. Another easy way to add bursts of holiday color throughout your home is to fill large glass hurricane jars with dollar store ornaments in bright hues. This is a particularly fun theme if you have kiddos in your home who will be delighted by bright colors.
Keep it Cozy
Christmas is better when it's cozy! As the snow falls outside, keep the decor in your home conducive to staying warm and snug inside. Throw chunky and warm throw blankets around your home to double as functional and fashionable pieces. Hang white glowy string lights throughout your home and line up differently sized candles to really set the ambiance. Finally, use plush holiday figurines to accentuate the cozy vibe you are looking for.
Go With Classic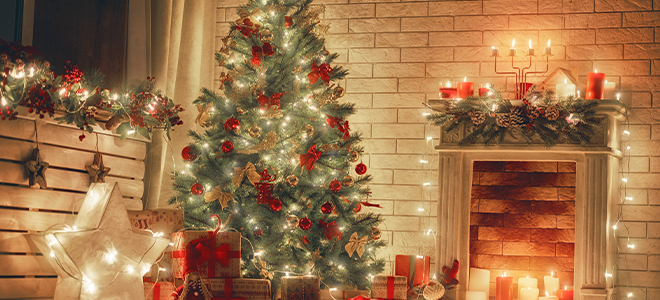 At the end of the day, it's pretty hard to beat classic Christmas decor. Stick to the basics with reds, greens, plaids, golds, and beautiful Christmas lights. You'll love the nostalgia of these classic decorations and it'll certainly never go out of style.
Sara LeDuc is a freelance writer for DoItYourself.com. She also writes for a handful of other websites and platforms. She has been growing her skills and client base for the past two years, but has been passionate about writing for as long as she can remember. She has worked with Internet Brands for over three years and enjoys learning about — and completing — DIY projects and keeping up with the latest and greatest home improvement trends. Besides her work for DoItYourself.com, Sara also has worked with retail, human resources, fitness, commercial, and medical clients to help them increase client engagement, grow their following, and drive traction to their blogs and websites. Sara has furthered her skills and reach by working as an editor with a media company. This has helped her diversify her abilities as a writer and work with additional writers, editors, and a wider range of clients. Sara enjoys continuously learning and building her skills in the field by working on SEO campaigns and outreach programs to increase the visibility of her freelance clients. She loves being creative, pitching article and post ideas to clients, learning more about the freelance industry, and completing DIY projects.