Home Improvement Hacks for Storage Space
1-50 hours

•

Beginner

•

0-500
It seems we're always looking for more storage space. From an additional shelf for shoes to room for more pictures on our computers, we've got some hacks that will help you find extra storage in every room of your house and electronic life.
Garage Storage
The garage is the dumping ground of the house. Everything that's in transition into or heading out of the house seems to stop here.
With that in mind, create zones inside your garage for effective organization and storage.
There's a space for the car, the lawn mower, and the tool bench. Then there are endless smaller items that flounder about with no real home. Make extra space in your garage with some organizational hacks.
Put Workbenches on Casters
Having the ability to move things around in tight quarters opens up the space to an array of variations. Put the workbench on casters. Same for the table saw and the shelving units.
Just make sure the casters are equipped with a locking mechanism. This way, you can easily move items out when in use, but keep them stored away when they're not needed.
Use Pegboard
It really is a great organizing tool, which is why pegboard is so commonly employed in the garage and other spaces. Use any wall space you have for pegboard, and you can hang anything from crab pots and leaf blowers to tools and brooms. Mount baskets for additional storage too.
Create a Transition Shelf
For temporary items, such as recycling or donations, place totes on a shelf near the main door.
Use the Ceiling
The highest points in the garage are often the least used. However, the ceiling is a great place to mount storage racks. Store seldom-used items like holiday decorations or the kids' childhood keepsakes.
Hook it Up
Strong hooks are another valuable tool in the fight for garage storage. Anchor them into beams to mount ladders, bikes, golf bags, and other large items that take up precious floor space.
Cabinets
Of course, every garage should have cabinets. They're essential for staying organized while keeping things out of sight. Make effective use of space with adjustable shelves so you can make changes to accommodate paints, hardware, or bike supplies.
Keep the entire family on track by labeling shelves. If something doesn't fit in its designated space, it's time to rethink what's in the cupboard.
Bathroom Storage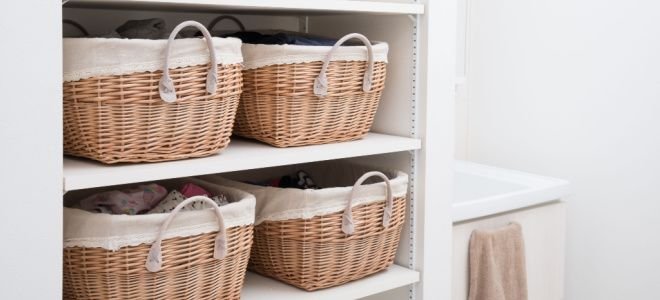 Some bathrooms are so small, two people are challenged to stand side by side. Other bathrooms are huge, yet lack storage solutions. Whatever the situation, you can fit what you need into the space.
Above the Toilet
Use a stand made to fit over the toilet. They've remained popular for a reason—they do the job well. Fill the shelves with baskets or totes to organize personal hygiene products, hair care items, cleaners, or towels.
Beside the Toilet
Often there is a narrow, unused, space beside the toilet. Use the space for a narrow cabinet that can house towels or excess paper products.
Walls and Corners
In a small space, every surface counts. Instead of looking for artwork, hang a corkboard and use it to display jewelry. Similarly, a series of hooks or a wall-mounted coat rack can hold scarves, wigs, hats, belts, and other accessories.
Corner shelves are a useful tool for hair products you don't want on the counter. Below shelving, mount a metal file basket where you can store your hairdryer and curling wands.
Corral the Toothbrushes
Pint-sized canning jars make great storage for each family member's toothbrush and toothpaste. Mount jars to a board using a hose clamp. Stencil each jar or use a label to identify which jar belongs to whom.
Kitchen/Pantry Storage
Whether your favorite cereal now comes in a larger box or you need more space for souvenir mugs, the kitchen and pantry are a hot spot for more storage. Here's some hacks to help you out.
Rearrange Shelving
You can create more space in your pantry or cupboard by rearranging the shelves themselves. Start by deciding what you want on the bottom shelf. Say you're using it for glasses. Measure height using the tallest one and lower the next shelf to that height.
Use the same decision making and measuring calculation for the next shelf, working your way up.
The process will provide easy access to the supplies you use the most and will likely open up a wider space at the top for larger items you don't use very often, like the roasting pan, punch bowl, or ice bucket. Or, you can cut more shelves for higher up.
If you can't adjust your shelf heights, build a U-shaped, three-sided box. Then flip it upside down over your plates, cups, or bowls. Use the flat surface as an additional shelf, taking advantage of the space inside your cupboard.
Another option might be to add cup hooks to the top of the space so you can hang cups instead.
Also take advantage of the inside of cupboard doors where you can mount measuring spoons, put recipes on a keychain, or organize boxes of plastic wrap and foil.
Refold the Towels
Improve your drawer space by simply refolding your towels. It's something you really have to see to believe, but efficiently folding towels can reduce two drawers into one or open up half a drawer for other uses.
Try this—Lay your towel flat and fold in each of the longest sides toward the middle, overlapping each one-third section. Then fold the towel lengthwise in half and then in half again. You will then store the towels on their ends.
Experiment with variations of this fold, or roll them instead, until you find the optimal fit for your drawer size.
Consider a Pot Rack
Although you may be dreaming of a large, ceiling mounted pot rack, you can downgrade to meet your needs. Use a wall-mount rack for your pots and pans to free up limited cabinet space. Even more compact, install an under-the-counter bar with 'S' hooks where you can hang pans.
Create a Pantry
If you have a tiny kitchen and no need for extra coat space, convert the nearby coat closet into a food pantry.
Similarly, in a kitchen with few cabinets but room for furniture, add a wardrobe closet or dress up a broken refrigerator with paint to hold pantry items.
Add Open Shelving
There may not be room for closed cabinets, but open shelving can be mounted in a variety of sizes, solving the need for additional storage. Small shelves can house the spices, while wider shelves can display salad bowls or dishes.
Living Room Storage
Since it's typically a central location, storage in the living room means hiding things in plain sight.
Upcycle the Bookcase
In this digital age, paper books aren't as common as they used to be. If the built-in bookcase is underutilized, try adding doors for closed storage space. Alternatively, pull the built-in out and frame in a closet instead.
Move the bookcase to the kitchen to hold canned goods and drape a curtain across the front, add hinged doors, or use it in the pantry closet.
Create Wall Storage
If your home has drywall, create cutouts into the wall and build an alcove inside the wall. It can be thin and tall with several shelves or a small square for display or books.
Just make sure the section of wall doesn't have any pipes or wires running through. To create a finished look, put trim around the outside to frame the wall storage.
Use Multi-Purpose Furniture
When shopping for an ottoman, bench, or coffee table, look for a storage area inside. This is the ideal place to store throw pillows and blankets, as well as games, magazines, and toys.
Bedroom Storage
Whether it's a kid's room full of toys or a guest bedroom that doubles as storage space, making the most of bedrooms means using all the space and incorporating double-function items throughout.
Bed Storage
Build drawers for beneath your bed. Be sure to add coasters so they roll in and out easily. For infrequent use, flat storage containers will do the trick too. If your bed is too low to the ground, add bed risers to the shopping list to create more space. Use a bed skirt to hide the storage below.
Above the bed, build or buy a headboard with built-in shelving. It's the perfect spot for a bit of decor as well as room for books and sleep masks.
Storage Trunk
Place a trunk, cedar chest, or bench at the foot of the bed to hold sentimental treasures or extra blankets.
Improve Dresser Efficiency
Just like with the kitchen linens, rolling clothes will provide twice as much room in your dresser drawers. Remove what you have, sort what you want to keep, roll items, and place them back into the drawer. You'll be amazed how much more room you have.
Drawer sorters also help make the most of your drawer space. Use soft-sided fabric sorters for flexibility. Then fill them with socks, underwear, handkerchiefs, and other small items.
Go High
One space that's rarely used in any bedroom is the top foot or two of wall space. Make use of it with a shelf that runs from one corner to another. Create the width you want for the items you need to store. Then you can use it for books, boxed shoes, photo albums, hat boxes, or myriad other items.
Use Every Inch of the Closet
The bedroom closet is one of the least utilized storage spaces in the house. Start by sorting through every item in your closet, so you know what you need space for.
Hang your items, sorting by season, color, or use. If you have a lot of hanging space, consider hanging things you haven't before, such as jeans, shorts, or t-shirts.
If you have limited hanging space, fold anything that doesn't have to be hung. Create additional hanging space by using a lower hanging rod, attached to the top rod with a long metal hook on each end of the rod. This provides double the hanging space.
Use a closet organizer. You can buy one or make one. Plan out your optimal combination of cubicles, shoe racks, shelving, and hanging.
Include shoe storage in the form of a multi-tiered shoe rack or shelves attached to the wall. You can also use an over-the-door shoe organizer or add additional shelves for shoes housed in boxes.
Add shelving above the top shelf. Most closets have unused space above the hanging clothes and top shelf. Adding a shelf or shelves to that space allows you to store off-season clothes, paperwork, or other rarely-used items.
Office Storage
Most offices really only need a desk for the computer and perhaps a bookcase and/or file cabinet. In the modern age of technology, we don't have the need for as much paper storage as we used to.
Combine decor with functional storage in your office. Use fun or fine boxes for office supplies. Add wall shelves to hold art if you can't mount it to the wall.
If you have a couch, consider making it a pull-out so it can double as a guest bedroom. You can use a Murphy bed for this purpose too.
Computer Storage
With the rest of the house tidy and organized, it's time to dig into the digital realm. Create more storage in your computer by inserting a micro SD card if your computer has a spot for it. This works for tablets and phones with an SD slot too. Alternatively, you can use a USB drive to create additional storage.
Another option is to use cloud storage. You can get some storage free or pay a minimal amount for a larger storage capacity. Moving files, pictures, videos, etc into cloud storage creates more room on your hard drive.
iPads
Of course, you can delete files to create more space, but you can let the device increase storage by cleaning up files you don't even use or know you have.
Open the iPad Store and search for a movie, book, or another download with a large file. Make sure the file requires more storage than you have. When you try to download it, the iPad will automatically create more storage as it tries to find space for the download.
Skip the monthly bill on a storage unit. Make use of every space inside and around your home instead. If you want a gratifying project that helps solve a problem, check out this DIY Mudroom Bench with Storage. Also consider these Simple Bathroom Storage Solutions.
Dawn Hammon has thrived in freelance writing and editor roles for nearly a decade. She has lived, worked, and attended school in Oregon for many years. Dawn currently spends her days convincing her children she is still smarter than them while creating new experiences with her husband of 24 years.  Her multiple interests have led her to frequently undergo home improvement projects. She enjoys sharing the hard-earned knowledge that comes with it with the audience of DoItYourself.com. Dawn and her sister make up a power-tool loving duo that teaches classes to local women with the goal of empowering them to tackle their fears and become comfortable with power tools. Tapping into her enthusiasm for saving money and devotion to sustainable practices, Dawn has recently launched a passion project aimed at connecting eco-friendly products and socially-responsible companies with consumers interested in making conscientious purchases, better informing themselves about products on the market, and taking a stand in favor of helping to save the planet. When she is not providing stellar online content for local, national, and international businesses or trolling the internet for organic cotton clothing, you might find her backpacking nearby hills and valleys, traveling to remote parts of the globe, or expanding her vocabulary in a competitive game of Scrabble. Dawn holds a bachelor's degree in psychology, which these days she mostly uses to provide therapy for her kids and spouse. Most recently, I worked for a small local professional organizing and estate sale company for four years where I learned a ton about organizing and/or disposing of just about anything. She was raised in a tool-oriented, hands-on, DIY family. Her dad worked in the floor covering business and owned local floor covering businesses, so of course selling floor covering was one of her first jobs. Her brother was a contractor for about 30 years and site supervisor for Habitat for Humanity. I worked with him often, building decks, painting houses, framing in buildings, etc. With her sister, she holds power tool classes to empower women who are scared or have never used them. Not quite homesteaders, she did grow up with a farm, tractors, motorcycles, expansive gardens, hay fields, barns, and lots of repairs to do. Plus she and her family preserved foods, raised cattle and pigs, chopped and hauled firewood, and performed regular maintenance on two households, outbuildings, fencing, etc. As an adult, she has owned two houses. The first one she personally ripped out a galley kitchen and opened it up to the living area, plus updated every door, floor covering, and piece of trim in the place. In her current home, she's tackled everything from installing real hardwood flooring to revamping the landscape.