Home Projects for Optimal Fall Entertainment Space
To ensure our content is always up-to-date with current information, best practices, and professional advice, articles are routinely reviewed by industry experts with years of hands-on experience.

Reviewed by

on Apr 11, 2023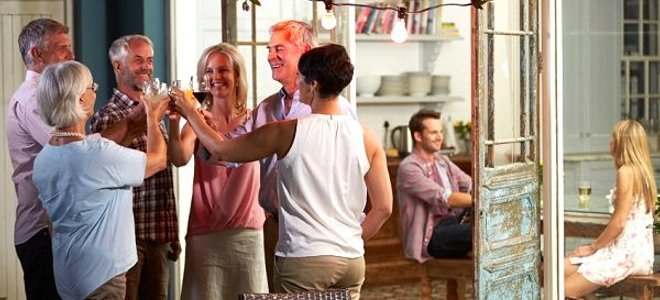 Similar to the spring, the fall season marks an active time for home sales. It's also a time when many Americans are sprucing up their outdoor spaces and enjoying cooler weather with friends and family. In both cases, we're squeezing in home projects, entertaining, and even maintenance before the changing of seasons. It's important we keep in mind that fall should be an enjoyable time and not a scramble.
While time is always a concern with home projects, a new report from Liberty Mutual Insurance found that money is also at the forefront of our minds when starting a DIY project. Most Americans (78%) are choosing to tackle fall home maintenance the DIY route, but if you're considering this approach, test the waters first so that you know what you're getting into. While 72-percent of those surveyed have never owned a fixer-upper before, 41-percent of those would never consider purchasing one with top concerns being that renovations would be too costly or stressful.
Indoor and outdoor projects alike can certainly spiral out of control unless you take baby steps. As a DIYer, there are many projects you can take on to optimize the way you entertain at your house this fall.
Take it Outside
With outdoor spaces, always build from the ground up. For example, you can add a hardscape patio to your backyard as a solid foundation for dining and entertaining, and it will reduce the maintenance necessary to keep your yard or lawn looking manicured.
You can also try adding features to control the outside temperature yourself such as heat lamps for the cooler fall months or large-scale, exterior-grade fans for the summer.
If you're looking to start with an easier project, one of the simplest DIY facelifts for metal outdoor furniture is to give it a good scrub with a wire brush to remove debris and rust. You can then use a metallic, rust-resistant spray paint to give existing pieces a whole new look and finish.
Add an In-Between Zone
As brisk weather begins to set in, I also recommend a flexible indoor and outdoor space. Areas of the home that connect indoor and outdoor rooms are becoming more and more popular. Extending spaces off of frequently used rooms like kitchens, family rooms, and basement recreation areas to the outside with a planned design that spans the two spaces can add versatility to your existing space. This can be achieved through non-permanent structures like a rental tent, which can be lit with hanging lanterns—just make sure your power cords are suited for outdoor use.
Master the Art of Illusion
If you're unable to connect rooms to the outside, there are still ways to create the illusion that your space is bigger than it actually is. Easy DIY fixes include moving your existing furniture around to accommodate a group of people, as well as placing chairs in a way that encourages one-on-one conversations. Also, designate more than one serving station for holiday get-togethers so that guests are almost forced to walk around the space and not stay isolated to one area.
Create a Blissful Bathroom
No matter how beautiful your home looks, an outdated bathroom can taint guests' opinions of your home immediately. If you have a ground floor bathroom that feels too cramped, lacks privacy, or needs upgrading, consider a renovation.
If space is feeling a bit tight, be sure to choose elements that open up the room. For example, rather than a curtain, install a glass door for your shower or tub. Creating a visual focal point—like paining a brightly colored accent wall—is another way to make the room feel larger than it really is. Additionally, you can add a mosaic tile pattern to the walls of your bath. This will create the illusion of a larger space without encroaching on the existing footprint.
Final Thoughts
Whether you choose to take on a DIY project or hire a professional, the options to reinvent your existing space for fall entertainment are endless. Just make sure you don't try to take on more than you can handle. Before starting any project, break it down and make a series of shorter lists with achievable deadlines, organizing to-dos by week or month—don't make a mile long list.
Also, keep in mind that in some cases, large projects can qualify for special savings on your home insurance if completed by a professional contractor—so sometimes there are perks to enlisting help.
About the Author
As the host, designer, and contractor on the series "Elbow Room," Chip Wade is there from concept through construction to show HGTV and DIY viewers how to customize their spaces and transform houses into homes that perfectly suit their lifestyles. Additionally, Chip has acted as a representative for many national brands and is currently a consultant with the Liberty Mutual Insurance New Beginnings campaign.
H.R. Helm is an accomplished DIY craftsman. He has been DIY since childhood and is now a septuagenarian. He is experienced in wood and metal construction, having designed and built several houses and metal buildings. He built every permanent building on his current homestead and did all the plumbing and electrical work. He has several years experience as a professional cabinet builder, and he is an accomplished auto repairman, having operated an auto repair business for many years. He currently has a home shop where he sharpens and rebuilds saws, repairs lawn mowers, mobility scooters, hydraulic jacks, and anything else that comes along. He also builds custom tools for metal working. Invention prototypes are another of his many accomplishments. He owned and operated a manufacturing business building Compact Utility Vehicles for homeowner use. H.R. enjoys making jams and jellies during fruit season along with cooking meals. He is committed to outdoor cooking in a Bar-B-Q pit he welded together several years ago. He maintains fruit and nut trees along with helping his wife with a vegetable garden. He farmed commercial garden produce for several years. It helps to have over 50 years of farming and ranching experience. Employment/Education Highlights ASE Certified Master Auto Technician Certified Welder Cross country truck driver -- over dimensional freight Design Engineer/Project Manager for injection molded plastic company Bus Driver/Substitute Teacher Inventor with two patents (weight training – anti-rollback for manual wheelchair) BS in Industrial Technology