Hot Chocolate Hacks That Are Sure to Hit the Spot
To ensure our content is always up-to-date with current information, best practices, and professional advice, articles are routinely reviewed by industry experts with years of hands-on experience.

Reviewed by

on Nov 22, 2019
Hot chocolate is a must-have during this time of the year. This delicious drink is especially popular on cold winter nights. Between its sweet flavor and its ability to warm the body up, hot cocoa is a drink after our own hearts.
When you've had a long day and just want to relax, it's extremely tempting to grab instant hot chocolate mix and call it a night. While the powdered kind is convenient—it doesn't deliver the full potential that hot cocoa can give.
Fortunately, you don't have to be a barista to make a gourmet cup of hot chocolate. It all comes down to simple a few simple changes that can be done right in your own home. The best part is that you don't need fancy equipment, ingredients, or skills. With these six tips and tricks, you'll be well on your way to transforming an average cup of hot cocoa into an amazing treat.
1. Replace Water with Milk
One of the easiest hot chocolate hacks is switching out the water for milk. This simple swap will not only add more flavor to your drink, but the consistency will become thicker and creamier. Simply heat milk in a pot or saucepan by stirring constantly so that it doesn't burn on the bottom of the pot or pan, and add it to your hot chocolate mix. This particular trick is sure to hit the spot on a cold winter day.
These days, you can find so many different kinds of milk at the grocery store, making it easy to customize your hot chocolate depending on your dietary needs, allergies, and preferences. Cow's milk is the most popular option, but for a non-dairy hot chocolate, try using almond, coconut, soy, or rice milk. These are all great alternatives if you are lactose intolerant or don't like dairy.

Remember, each type of milk varies in flavor and consistency. Make sure you're familiar with a specific milk before using it in your hot chocolate. This will increase the chances of a lovely cup of hot cocoa that you can truly enjoy.
2. Use Real Chocolate
While powdered hot cocoa is convenient, nothing tops the taste of real chocolate. Instead of reaching for another packet of powdered mix, use actual chocolate for an amazing treat.
The baking section of the grocery store makes this hack even easier. Chocolate morsels and chips both work great for melting into hot chocolate. They are often sold by the bag and are available in different types, from milk chocolate to dark. To use them in a drink, simmer milk over medium heat. While stirring the milk constantly, add a few spoonfuls of chocolate chips—you can use as little or as many as you'd like.

Once the chocolate melts, you'll be left with a delectable hot drink. You can even munch on the chocolate while you make the hot cocoa. Talk about a major win.
3. Add Ice Cream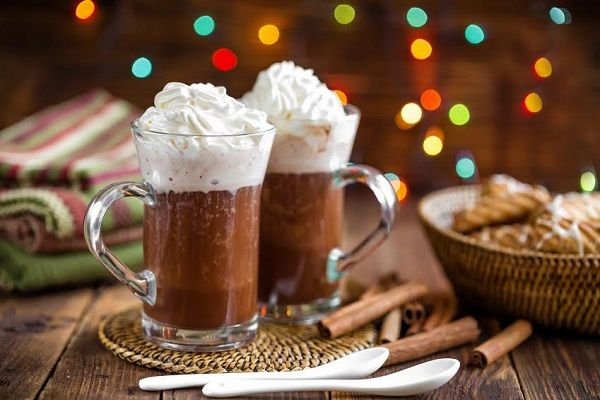 Do you have a sweet tooth or five? Consider adding a scoop of your favorite ice cream to your hot chocolate. It will melt and create a pleasantly sweet and creamy consistency.
Despite ice cream's popularity during the summer season, this simple trick proves that ice cream can be used year-round. For full-on autumn vibes use caramel, pumpkin, or vanilla ice cream. Want something a little wintrier? Opt for peppermint or coffee flavors. Regardless of your final choice, you'll be sure to create an instant delicacy.
Oh, and don't forget the whipped cream on top!
4. Mix in Peanut Butter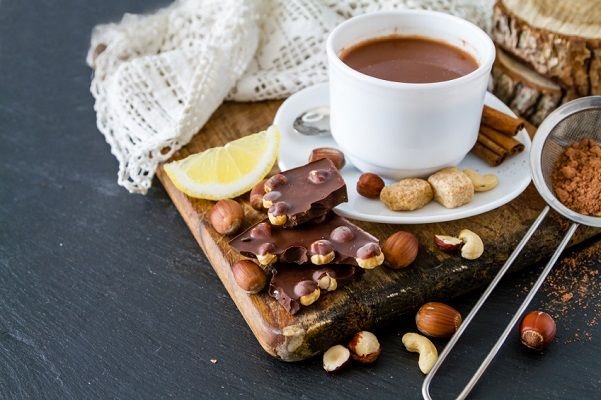 For another way to improve a basic cup of hot cocoa, add a dollop of peanut butter. This easy trick will bring in a major burst of nutty flavor. If you like sweet and salty treats, you'll absolutely adore this idea.

Like milk, there are many alternatives to this ingredient. Butters made of hazelnuts, almonds, sunflower, and cashews work just as well. These are ideal if you are allergic to peanuts or prefer different flavors. There are so many amazing options out there—have fun with it!
5. Spike with Alcohol
A cup of delicious hot chocolate isn't just for kids. If you drink alcohol and want to add a special twist to an otherwise average hot cocoa, add a splash or two of alcohol. Stouts like Guinness work especially well for this. Because stouts have a thick consistency, your hot chocolate will be nice and hearty. You can also use a chocolate stout for added sweetness and flavor.

If you're not the stout type, try a flavored liqueur or vodka. Excellent holiday options include peppermint, cinnamon, vanilla, and whipped cream flavors. The great part is that you can adjust each drink according to your preference.

Red wine also makes an awesome addition to hot chocolate. This fancier option is perfect for winding down after a long day. If using a sweeter red wine, it's a good idea to use bittersweet chocolate. This combination will balance out the flavors and prevent the drink from becoming too sweet.
6. Top It Off with Crushed Cookies
Instead of pairing your hot cocoa with a side of cookies, try combining the two treats. You'll get the best of both worlds in a single gulp.

Not sure where to start? Sugar cookies, gingerbread snaps, and chocolate cookies are all holiday-approved options. Of course, feel free to use your favorite kind of cookie. This can be anything from store-bought to homemade. There's a good chance your grandmother's secret holiday cookie recipe would go perfectly with some hot cocoa.

To crush the cookies, place them in a re-sealable plastic sandwich bag. Double check that the bag is sealed shut. Next, apply pressure on the cookies with a large metal spoon or a rolling pin. Continue until the cookies are uniformly crushed. Sprinkle on top of the whipped cream on your hot cocoa.

Even if you opt out of using whipped cream, you can still take on this crushed cookie idea. Add them directly to the hot cocoa, letting them melt slightly. It's like dipping cookies in milk, but 10 times better. What's not to love?
Kirsten Nunez is a freelance lifestyle writer and published craft book author. Born and raised in New York, she currently calls the Bay Area of California home. 

Stephini Candella is a Nutritionist, and attended the University of Texas for a B.S. in Nutrition and Didactics. She was a manager for a small gourmet restaurant, and has spent over 15 years cooking as a hobby for health. She has extensive knowledge of food science, micro-nutrition, history of the classic foods from across cultures, modern commercial and home cooking processes, disease restricted diet meal planning (cardiovascular, GAPS, diabetes), and popular diet trend (Paleo, Keto, Vegan) diets. Stephini most enjoys meal planning that focuses on simplicity and cost-effectiveness, and she strongly believes these are the foundations for delicious and healthy meals—the basis for a happy life. She is addicted to reading food labels, and uncovering the nutritional benefits of traditional cooking techniques of the classical foods across cultures. If you let her, she will talk your ear off over her fascination for how traditional fermentation cultivates the metabolic byproduct of certain bacteria into nutritional gold for human health. Stephini is also a CRLA (Certified Reading and Writing English Tutor) and has professionally tutored college students as well as K-12 students for an accumulated 15 years expanding to private school curriculum development and teaching in STEM and STEAM. She has been a professional researcher for multiple private and non-profit companies and organizations including the University of Texas Food and Housing Division. There, she researched and wrote recommendations for the University's campus wide composting and food waste reduction initiatives, design and management of campus wide food waste studies, and the procurement of technologies best suited for large scale composting and food waste reduction. As a former Red Cross shelter manager, she has worked with her National Guard, and the US Army and Marines in search and rescue, procuring, and deploying multiple shelters serving thousands of evacuees. She has overseen the management of over 25 shelters in the state emergency operation center, and was held responsible for procurement of meals, medical supplies, and basic necessities. She also assisted in local county natural disaster rescues, providing insurance evaluations and recommendations for approving families affected by natural disasters to receive financial aid, housing, and food assistance. In addition, she volunteered for her local food pantry and domestic violence shelter where she prepared food. These discovered passions for emergency aid volunteer work led her to pursue national and state EMS licensures. She has traveled from Houston to New York to Seattle on a Leadership Scholarship, listening to world renowned scholars on the values of great leadership. Her favorite being the opportunity to sit and connect with the grandsons of Gandhi, listening to their first hand childhood experiences growing up alongside their grandfather organizing and executing his activism. Presently, Stephini conducts research and assistance on customer relationship management campaigns for 30 year veteran executives and business owners as an operations manager for a small, boutique executive assistance CRM firm. She has retired into a quiet, family-centric life, and can be found living between her home and college towns where she is raising her children. There, she is imparting her love for DIY learning and food on to them in the hopes that self-directed creativity and production will bring to them the same sense of holistic wellness that she's experienced for herself.