Hot Topics: Is This Electric Box Suitable to Support a Light Ceiling Fan?
Here on DoItYourself.com we enjoy providing a place where home improvement novices and experts can come together to share ideas and advice. Inside our Forums, users can browse threads to see what exchanges are taking place on a topic of interest or start their own dialogue by posting something for the community to take part in. With over 250,000 members and counting, this resource is quite active so each week we highlight one of the conversations that may just help you with that next DIY project.
Sometimes all it takes is a good photo to get the help you need for your project from the forum experts.
Original Post: Is this electric box suitable to support a light ceiling fan?
jenny19 Member
Hi, everyone! The fan is only 17 pounds. I don't have attic access, but this is what the box looks like from below. There are two machine screws in the top. Also, can you tell me what kind of screws to use to attach it? There were drywall screws in there previously, which would be too wobbly. Thanks in advance for your help!
Donato_ Member
The two screws in the picture are not what's holding the box to the joist. They are to secure the wires that enter the box. The box will probably hold the fan, but I can't see if it's fan-rated.
jenny19 Member
Donato, thanks for your fast response! That leads me to my next question—the red wire was wrapped around one of those screws. It's copper inside. Is that the ground wire? Or should I just put it back where it was and not attach anything to the green ground in the fan fixture?
PJmax Group Moderator
That is not a fan-rated box. It's called a nail-on metal gem box. I can see the bracket that is attached to the box in the top of your picture. It could be held to the joist with screws, roofing nails, or cable staples. Basically anything went. It would need to be removed and replaced with a fan-rated box. When selecting a box with a fan, it's not just the weight; it's the movement that causes the problems that static fixtures are not subject to.
Since you are against a joist, you can use a box like shown below. It will screw directly to the joist. If you have a three-wire cable, there should be a bare ground wire. The red should not be used as a ground wire. It should be capped off.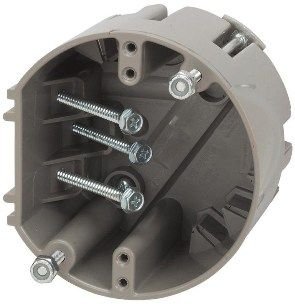 jenny19 Member
Thanks, Pete. Very helpful. I can't see how the box is connected, but I'm impressed you can. Looks like this project just got a lot bigger. Guess I need to cut through the sheet rock to remove the box and install a new one?
And there is no ground wire, but maybe because they are wrapped in metal conduit?
Donato_ Member
Normally, a red wire is not a ground. Black and red are usually hot wires. Green is a ground. You should have a tester to determine what's hot. The hot wire usually gets connected to a black wire and a blue wire in the fan itself. One is for the fan and the other is for the light assembly.
PJmax Group Moderator
I reposted the box in my post. This is what you have. If you look between the box and the Sheetrock, you can see the metal bracket. I have a red arrow pointing toward the bracket. You need to take a large screwdriver, push it up through that side, and twist and pry the box off the joist. Not always easy to do.
jenny19 Member
This is very helpful. I will give it a shot. I'm still concerned by the lack of a ground wire, though I understand sometimes wires housed in a metal conduit don't have them. So assuming I get the new box installed, what do I do with the green ground wire that's included with the fan? Should I try to remove it? Or wrap it around a screw in the box?
PJmax Group Moderator
Unless the wiring is very old, the ground may have been cut or broken off. It will be easier to tell when the box is out. If you do try to remove the box, push up on the opposite side of the box from the bracket so that when you pry, the box won't crack the Sheetrock.
ray2047 Group Moderator
Just to be clear, that isn't even a box normally used for lights. It's a switch and receptacle box that uses 6-32 fixture mounting screws. A light box is usually round or octagon and uses 8-32 screws. Fan boxes use 10-24 mounting screws.
jenny19 Member
Thanks, Ray. This is also very helpful and disappointing. These are in the ceiling all over my house. Do you have any insight on the lack of grounding wire? I keep reading that with the metal conduits it's not required, but I'm puzzled what to do with the ground wire included in the fan.
ray2047 Group Moderator
Coil the ground wire up in the box and leave it disconnected. It's not needed for operation.
To read the rest of the thread, look here: https://www.doityourself.com/forum/lighting-light-fixtures-ceiling-exhaust-fans/586111-electric-box-suitable-support-light-ceiling-fan.html