Hot Topics: Planning Garage HVAC
The Doityourself.com Forums feature conversations among more than 250,000 experts and novices in over 120 categories, so each week we highlight a conversation that may help with your next project. This transcript has been lightly edited.
Original Post: Garage Conversion HVAC
GGPHD - Member
Hello all,
I am currently converting my garage into a living space and I will be adding an HVAC duct line to this room from the main. I have a few questions and I have pictures to accompany them:
1. Attachment 1: Supplies for the rest of the house overtake the whole supply section of the furnace so I cannot pull a new line directly from the furnace. Can I pull the line from Attachment 2 (before fork) or Attachment 3 (after fork) locations?
2. What should the diameter of the new line be considering the fact that both supply and exhaust lines will have to fit through a 9"x 12" opening in a crawl space (Attachment 4)?
3. After the crawl space, there will be an opening under the floor (between concrete and sub-floor) into the garage for the new supply line between one row of joists and for the new exhaust line between another row of joists (Attachment 5 -- only supply line shown). The joist opening dimensions are 4.5" x 14" (Attachment 6). Considering this, what should be the dimensions of the duct line through here? Also, what would be the transition fitting between the crawl space line and under floor line?
4. In the garage there will be spray foam insulation in the floor. Do I still need insulated ducts for the supply and exhaust line considering the insulation can be sprayed under the duct? Attachment 7
I really hope that I didn't make it too complicated and if you have any other input, I would appreciate it. Thank you!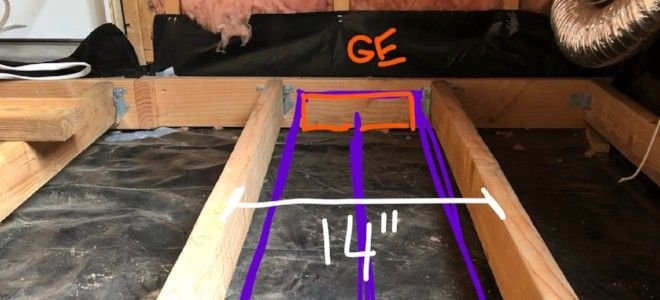 roughneck77 - Member
Ductwork is sized via a room by room manual J and manual D.
Does your current unit have enough capacity to properly condition the garage?
Someone didn't do you any favors with that duct. It's quite a mess.
Have you considered a minisplit heat pump? Just for the garage zone.
airman.1994 - Member
Mini split! You will never be able to get enough air to cool even the smallest of garages.
GGPHD - Thread Starter
I did consider a separate HVAC unit for the space but the budget is the limiting factor. The current unit does have enough capacity to add this room.
I will check the duct size charts as you recommended.
Do you have input regarding my other questions? Thanks!
roughneck77 - Member
There are no charts.
It will have to be a manual J and manual D calculation to determine duct size.
What size is the garage?
Those openings will not be sufficient for big enough duct.
GGPHD - Thread Starter
I don't know what manual D and J are but I will check.
The garage is only 20'x10'.
GGPHD - Thread Starter
I am questioning how I received quotes from two different contractors for this job before I decided to do it myself. Why didn't they tell me that the opening is not big enough?
roughneck77 - Member
In reality it's impossible to tell exactly how big of an opening you need, how large of a duct you'll need to run or if your current equipment is big enough for the extra load.
Manual J calculates heat loss/gain.
Manual D is used with a room by room manual J for duct sizing.
Are you running flex duct or metal duct?
Here's a free manual J calculator.
airman.1994 - Member
20x10, have no idea where you are, what kind of insulation, sun etc. Id say at least 10in flex for supply and 12 in for return.
GGPHD - Thread Starter
I live in CT and the insulation will be spray foam. I don't know if I will use flex or hard duct but I might be using a rectangular cross section, which means hard duct.