Hot Topics: Shower Ceiling Paint Cracking and Peeling
Here on DoItYourself.com we enjoy providing a place where home improvement novices and experts can come together to share ideas and advice. Inside our Forums, users can browse threads to see what exchanges are taking place on a topic of interest or start their own dialogue by posting something for the community to take part in. With over 250,000 members and counting, this resource is quite active so each week we highlight one of the conversations that may just help you with that next DIY project.
Unsure how to tackle a peeling paint problem in the bathroom, this DIYer turns to the forum for suggestions. How much should be scraped away, how many coats of primer is necessary, and what about joint compound for spackling? Luckily for them, the experienced forum members have answers.
Original Post: Shower Paint Cracking and Peeling
RADARC Member
The paint on my shower ceiling had been cracking and peeling and I finally decided to do something about it. So I first washed it with a bleach solution (to get rid of the bit of mold) and then I started scraping. I kept scraping and scraping and more and more came off. And it looks like the ceiling under the paint is cracking as well. I'm not sure what material the ceiling is, but it doesn't feel like drywall as it is very smooth and cool to the touch.

So what is the best way to fix this to put a new coat of paint on? Do I need to scrape the entire ceiling? Do I need to put some sort of spackle compound over the ceiling before painting? This photo is after scraping for a while with lots of paint coming off, as well as showing the ceiling cracks.
marksr Forum Topic Moderator
How old is the house? It looks like latex paint may have been applied directly over oil-based enamel. Ideally, you'd scrape, sand, and then skim coat, but you need to verify the underlying paint isn't lead-based before you sand!
Marq1 Member
So the question is, are you finding additional paint under the paint, or is that the drywall/plaster? Ultimately, you need to get all the old paint off, do any repairs, a couple coats of primer, and then paint. Another item to consider is ventilation. Lots of steam/moisture will just cause the problem to return.
RADARC Member
The house was built in 1970. The previous owner had redone the bathrooms, so I assume he repainted the bathroom ceilings. After I scrape off the paint, I am down to the drywall/plaster, not more paint. So I should be able to just repair the cracking ceiling and not have paint peeling again (assuming I do the prep correctly)?
marksr Forum Topic Moderator
The age of the house makes the odds good that the original bathroom paint was oil-based enamel. The odds are it isn't lead-based, but since lead wasn't banned from residential work until the late '70s the only way to know for sure is to test it. The two big health dangers from lead-based paint is ingestion and breathing the dust from sanding.

If all the paint comes off, you should be good to start skimming. If the drywall or plaster is dusty and that dust can't be wiped off, you'd want to prime first, and then skim coat.
stickshift Group Moderator
If you're getting down to plaster and not paint, it could be that the surface was dirty or otherwise contaminated. Did we ever determine if it was plaster or drywall?
marksr Forum Topic Moderator

Plaster has to cure before it can be primed. Painted too soon, it will 'burn' the paint, affecting how the painted wall/ceiling looks. I don't know if painting plaster too soon affects the bond. A common mistake made with drywall is painting over sanding dust.
RADARC Member
OK, I think this is all the scraping I'm going to get done without scraping for the rest of the month and since my wife would like to use the bathtub for the kids, I've decided to move on.


So at this point, do I need to sand and then skim coat or can I just go forward and skim coat? Also, do I just use any joint compound for the skim coat, or something specific?
marksr Forum Topic Moderator
It's almost always a good idea to sand first, as that helps promote a physical bond between the mud and the wall. If the underlying paint is thought to be lead-based, I'll wipe it with a deglosser instead of sanding.

Any joint compound will work. The green lid joint compound has more adhesive properties than the lightweight mud.
RADARC Member
OK, so this is a couple close-ups of what is under the paint. I'm not knowledgeable enough to be able to tell what it is, or if it really matters.
As you can see, there are some gouges from the scraping. And this is at the edge of the ceiling—there is a rough, softer surface under the ceiling material.
marksr Forum Topic Moderator
It looks like you have plaster, but you can still use joint compound to skim coat.
RADARC Member
So this is my skim coat after today. The plan is to sand it smooth tomorrow and then prime and paint.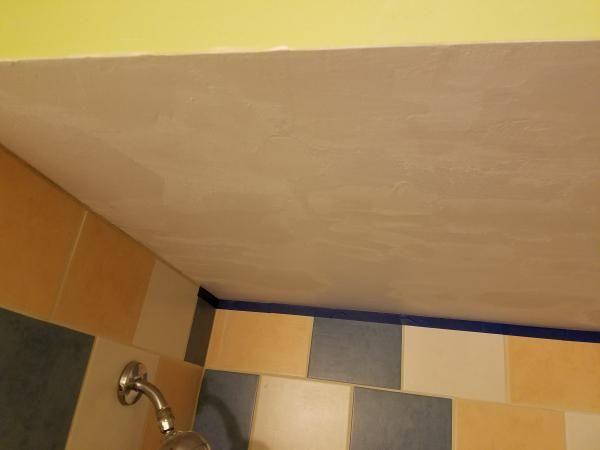 marksr Forum Topic Moderator
Looking better. After sanding, you may need to add a little joint compound here and there to make it all smooth/even.
RADARC Member
I was wondering about that. Should that layer of joint compound be pretty thin, as in viscosity, not the amount on the ceiling? It seemed kind of difficult to get a thin coat with the joint compound right out of the bucket.
marksr Forum Topic Moderator
It's usually best to thin the joint compound slightly, which makes it flow better and easier to get a nice job.
RADARC Member
Here is the ceiling after the second skim coat. This coat went on much easier. Sanding and priming tomorrow.
marksr Forum Topic Moderator
Try to get it as smooth as you can before priming and remove the sanding dust. Pay attention to the ceiling while the primer is wet, as that will highlight any areas that need more work. Remember where those areas are as when the primer dries they will be harder to spot. Then, you just need to readdress those spots, sand, and spot prime. The more sheen the finish paint has, the more important it is to get it right.
stickshift Group Moderator
Keep in mind that joint compound is water-soluble, so a wet sponge can often be used in place of sandpaper on fresh mud, which needs only a little work.
marksr Forum Topic Moderator
Smoothing the mud out with a wet sponge works well although it does require the mud to have been applied fairly even/level. I mostly use this method when making repairs in a lived-in house (eliminates the sanding dust). Dry sanding with a sanding pole is more dummy-proof.
RADARC Member
I have been not working on this for a few days because of the flu. But before that I did sand. And I did try this wet sanding sponge I found at Lowe's after the first skim coat, but it seemed to take off too much of the compound. So for the second coat I dry sanded. Last night I did apply the first coat of primer. Tonight I'll try to apply the second coat of primer and the first coat of paint. Will post pictures when done. Thank you all for your input.
marksr Forum Topic Moderator
Normally there is only need for one coat of primer. When applying three coats it's better to have one primer and two finish. Smoothing joint compound out with a wet sponge works best if the joint compound is applied fairly smooth/even.
To read the rest of the thread, look here: //www.doityourself.com/forum/painting-staining-all-interior-exterior-surfaces/575578-shower-ceiling-paint-cracking-peeling.html