How are Terrazzo Floors Made?
To ensure our content is always up-to-date with current information, best practices, and professional advice, articles are routinely reviewed by industry experts with years of hands-on experience.

Reviewed by

on Nov 18, 2020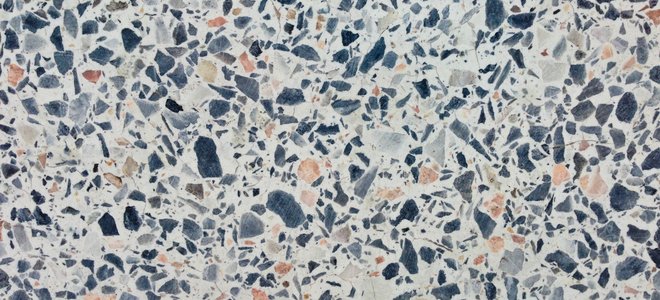 People have been using terrazzo floors since the 16th century; artisans laid this flooring in Venetian villas. The name comes from the Italian word for "terrace". Terrazzo is a perfect flooring choice because of its classic look, longevity, durability, and low maintenance cost.
Production
Terrazzo floors need three layers of materials. Terrazzo workers first create a concrete foundation that's solid and level about 3 to 4 inches deep. Once the forms are taken out from the foundation, they add a 1-inch layer of sandy concrete. Before the layer sets, the workers partly set in metal divider strips on the concrete; this divides the area where there is to be a color change in the terrazzo; thus beautiful floor designs may be created.
For the last layer, they mix and place a fine marble, granite, or glass chips combination in cement. The cement may also be color-pigment for a particular panel created by the metal strips. Terrazzo workers use a variety of colors of chips into each panel while the mixture is still wet. To achieve a smooth and uniform surface, it needs to be hand-troweled. A lightweight roller is used to smooth out the whole surface.
Once the terrazzo is completely dry, a terrazzo grinder is used to grind it. Slight dents caused by the grinding are filled with grout. The dry surface is then cleaned, polished, and sealed for a shiny finish.
Terrazzo floors can be used indoors or outdoors because of their durability. It is even perfect for high traffic areas such as hallways and lobbies. If you want a reasonably-priced, durable substitute for stone or ceramic tiles, then terrazzo is your answer.