How to Build a Butterfly Leaf Dining Table Part 1
To ensure our content is always up-to-date with current information, best practices, and professional advice, articles are routinely reviewed by industry experts with years of hands-on experience.

Reviewed by

on May 05, 2021
10-20 hours

•

Intermediate

•

500-2,500
3/4 -inch furniture grade plywood (cherry, maple or pine)
4x4-inch board, 12 feet long
2x4-inch boards, 48 feet
Carpenters square
Tape measure
Table or skill saw
Four polished brass hinges with matching screws
Portable drill and driver set
Assorted wood screws
Waterproof glue, or epoxy adhesive
Wood stain
Varnish, paint or epoxy resin
Mineral spirits
3/4 -inch furniture grade plywood (cherry, maple or pine)
4x4-inch board, 12 feet long
2x4-inch boards, 48 feet
Carpenters square
Tape measure
Table or skill saw
Four polished brass hinges with matching screws
Portable drill and driver set
Assorted wood screws
Waterproof glue, or epoxy adhesive
Wood stain
Varnish, paint or epoxy resin
Mineral spirits
A butterfly leaf dining table can be a great and useful asset if you have a large family and get together often, or it will serve as an attractive complement to any dining area. It will add charm and elegance when coordinated with the rest of the home's décor, or can be rustic, cozy and homey, especially if built with natural hardwoods that are richly stained and polished. You can build a butterfly leaf dining table exactly to the specifications you need to suit your space, and when you are done using it, fold and store it away for another time. Follow the simple instructions below to get started.
Step 1 - Butterfly Leaf Dining Table Function
The function of a butterfly leaf table is to provide extra dining space for a larger population of guests quickly and easily, and then have it folded up and put out of the way when done. The table extension opens up and closes much like a butterfly's wings, thus its name.
Step 2 - Plan, Draw and Measure
Plan out and draw a rough sketch of what the finished table should look like, where cuts will be made for the wood to be used and a rough estimate of all the dimensions. Allow approximately 30 inches from the floor to the top of the table, approximately 2½ feet of space for each seated guest and where hinges will be placed to allow for the table to be folded and stored when done using it.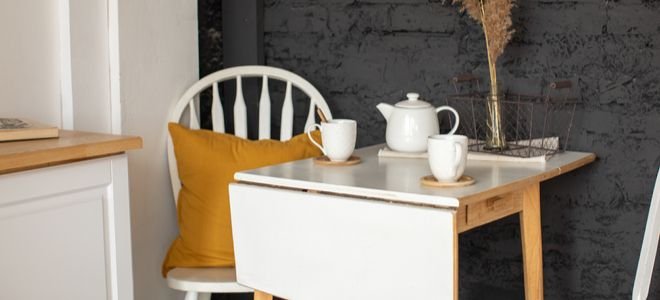 Step 3 - Cut Lumber to Dimensions
Transfer the cut dimensions from the plan to the actual lumber, marking each one clearly with a black, fine point Sharpie. Mark the underside of the plywood for the tabletop, but when cutting it be sure to keep the top side up. The saw blade must come down on the plywood of the good side to prevent splintering. Run a test cut on scrap wood to ensure all cutting machines are set to cut squarely. This can be measured with a carpenter's square, and is essential if the table is to sit squarely on all legs.
Carefully measure, mark and cut the plywood into thirds, each the size (of as precise as can be cut) of a 1x4-inch rectangle.
Cut the 4x4-inch wood into either 30-inch long pieces—for traditional table legs—or 36 inches for a higher table that would use stools as seating.
From the 2x4-inch boards, cut two pieces into 9x36-inch sections: two 6x48-inch sections, and two 72-inch sections.
Step 4 - Sand and Stain
It is much easier to sand and stain pieces of the table before it is constructed as some pieces may not be as accessible, so better to begin sanding and staining the table pieces at this point. Begin with a rough cut grit and sand all pieces to remove mill marks, splintering that may have occurred during cutting or manufacturer's marks.