How to Build a Ground Level Deck
To ensure our content is always up-to-date with current information, best practices, and professional advice, articles are routinely reviewed by industry experts with years of hands-on experience.

Reviewed by

on Apr 01, 2020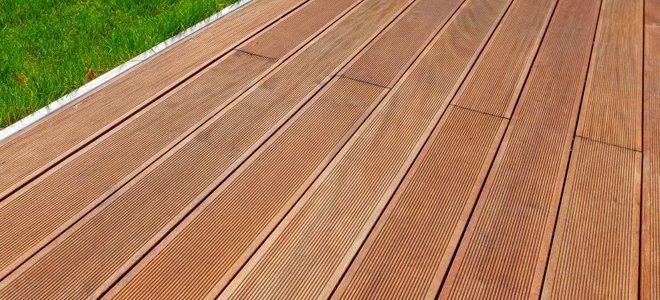 8-16 hours

•

Intermediate

•

300-2,500
2-by-6 feet boards
5-by-6 feet deck boards
Deck piers
4-foot level
2 1/2 inch and 1 1/2 inch decking screws
String
Rake
Stakes
2-by-6 feet boards
5-by-6 feet deck boards
Deck piers
4-foot level
2 1/2 inch and 1 1/2 inch decking screws
String
Rake
Stakes
A ground-level deck is a perfect spot for spending time outside with friends and family. Building a deck may seem like an overwhelming project, but if you know what you're doing, it's relatively simple. Before you start, plan out the size and shape of the deck that you want and decide how much money you want to spend on materials. Then, follow the simple steps below.
Clear the Land
Before you start construction, clear the area where you plan to put build the deck. You can do this by tilling the land or raking it. Choose a flat area that will not hinder water runoff from your roof or gutters.
Level the Ground
Next, level the ground by using a 2x4 and a 4-foot level. Lay out the corners and the middle piers to create the outline of the deck. Mark the corners with stakes and place string in the box area to make a grid. The grid will provide a reference to make it easier to place the piers.
Attach the Lumber
Attach 2-by-6 pressure-treated lumber in the notch of the pier, parallel to the length of the deck. Attach another piece of lumber to the corner. Apply coated deck screws about 2 1/2 inches along the perimeter. If you have a square-head screw, use this to prevent the screw head from stripping. Screw the 2-by-6 boards to the rim to create a single piece.
Choose Your Decking
What type of 5-by-6 decking you choose depends on personal preference. Choices include composite, pressure-treated, redwood, and white oak. Composite decking comes pre-colored and finished and is low maintenance. For regular wood, you will need to refinish and seal it as part of routine maintenance. Do not use softer woods if you don't plan on sealing it later.
Lay out the Deck Boards
Lay the deck boards on top of the framework you have created. How you space the boards will depend on the type of material you have purchased. If you are using natural wood, you must create more space between the boards to leave room for expansion and contraction. However, with composite backing, you don't have to leave extra space. In addition, natural wood doesn't require special screws, but composite does.
If you need ground-level deck plans, you can find many at your local home improvement store.