How to Build a Standing Hat Rack
To ensure our content is always up-to-date with current information, best practices, and professional advice, articles are routinely reviewed by industry experts with years of hands-on experience.

Reviewed by

on May 05, 2023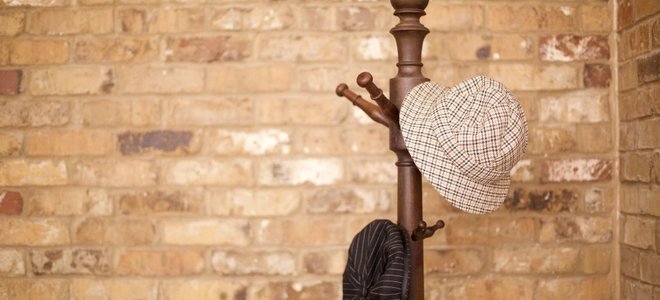 1-3 hours

•

Beginner

•

20-300
Decorative porch post
Nails
Flat wood trims
Wood glues
Crosscut saw
Wood screws
Water-based stains
Metal hooks
Paint
Paintbrush
Hammer
Variable-speed drill
Sandpaper
Rags
Putty knife
Measuring tape
Protective goggles
Protective gloves
Facial mask
Decorative porch post
Nails
Flat wood trims
Wood glues
Crosscut saw
Wood screws
Water-based stains
Metal hooks
Paint
Paintbrush
Hammer
Variable-speed drill
Sandpaper
Rags
Putty knife
Measuring tape
Protective goggles
Protective gloves
Facial mask
A standing hat rack is a useful addition to your home furnishings. To build a standing rack, here is what you need to do.
Step 1 - Design Your Standing Hat Rack
Before you start building your standing hat rack, you need to come up with a design for your rack. To get some ideas as to how your standing hat rack should look, check out some pictures of hat racks in magazines and then choose a design that suits your taste. When designing your standing hat rack, pay close attention to its size and height. If you have a small place, see to it your hat rack does not take up too much space.
Step 2 - Cut the Decorative Porch Post
After measuring the length of wood needed for your hat rack, cut the decorative porch post to your desired height.
Step 3 - Sand the Post and Fill the Cracks
Sand the post to remove rough spots then fill the cracks in the post with wood putty. When sanding the post, wear a protective face mask to avoid inhaling the work particles. Note that wood particles and dust can trigger certain types of upper respiratory ailments such as asthma so be sure to wear a protective mask when sanding the post.
Step 4 - Build a Stand for Your Rack
To build a stand for your rack, attach one piece of trim flat wood on each side of the decorative porch post. You may need to attach four trim flat woods on the decorative post to stabilize it. To make sure the flat woods are secure, nail them in place. Use small nails to avoid cracking the flat woods or the post. After nailing the flat woods in place, put some wood glue around the junctions. Use a putty knife to apply the wood glue evenly.
If you want to give your standing hat rack a more artistic look, you may use decorative wood as a stand for your rack. You may also carve the feet of your rack to provide a distinctive look.
Step 5 - Paint the Hat Rack
After setting the base of your hat rack, put the rack in a standing position. Check the pole and the base for any unfilled cracks before you start painting it. Also ensure the wood putty you applied to the post is already dry before you apply paint. After applying paint, leave the post to dry.
Step 6 - Attach the Hooks
Once the paint has dried completely, you may start attaching the hooks on your standing hat rack. To attach the hooks, drill holes into the post and then use screws to hold the hooks in place. Make sure you put the hooks around the post and not just one side.
Step 7 - Clean the Hat Rack
After putting all the hooks in their proper places get a rag and wipe the surface of your standing hat rack.