How to Build a Tile Patio Table
To ensure our content is always up-to-date with current information, best practices, and professional advice, articles are routinely reviewed by industry experts with years of hands-on experience.

Reviewed by

on Feb 13, 2020
1-4 hours

•

Intermediate

•

0-500
Safety Glasses
Work Gloves
Circular Saw
Carpenter's Level
Hammer
Ceramic Trowel
Tile Adhesive
Grout
1 piece 3/4 -inch plywood, 24x24 inches
2x2 Oak pieces, 26 inches long (4)
1x4 Oak pieces, 24 3/4 inches long (4)
4 Sq. Feet of Ceramic Tile
1x2 Pine pieces, 18 inches long (4)
Safety Glasses
Work Gloves
Circular Saw
Carpenter's Level
Hammer
Ceramic Trowel
Tile Adhesive
Grout
1 piece 3/4 -inch plywood, 24x24 inches
2x2 Oak pieces, 26 inches long (4)
1x4 Oak pieces, 24 3/4 inches long (4)
4 Sq. Feet of Ceramic Tile
1x2 Pine pieces, 18 inches long (4)
A tile patio table will add a lot of character to your outdoor living space. You can build one in a single weekend, and the project only requires a moderate amount of construction experience. The steps listed below will show you how to build a tile-topped patio table with an oak outer trim.
Step 1 - The Design
The table will stand approximately 27 inches high, with oak 1x4 pieces running around the outside edge. Four oak posts support a plywood base that has tile inlaid on top of it. To provide extra support, you will add 1x2 pine strips on the bottom edges of the plywood, giving the table more stability to support the weight of the tiles.
Step 2 - The Table Top
Center the 1x2 pieces on each side of the plywood. Nail directly through the plywood into the narrow edge of the pine wood, keeping the piece flush with the outer edge of the plywood. Line up the first piece of 1x4 with one corner of the plywood, and attach it to the table by nailing directly through the pine supports.
For best results, add a line of wood glue where the 1x4 butts against the plywood. Before attaching it, make sure that the oak sides extend ¼-inch around the plywood. This forms the edge of the area where the tile will be inset. The second piece of 1x4 will butt against the overhanging edge of the first, and lay flush against the table edge. Repeat for the remaining two sides of 1x4 oak.
Step 3 - The Table Base
Add legs to the tile patio table top. Each leg should be placed in one corner of the table. Attach the legs by nailing directly through the oak 1x4, and a single nail driven down through the table top into the leg. If the table does not stand level, sand or plane the long legs until all legs sit firmly on the floor.
Step 4 - The Tile Layout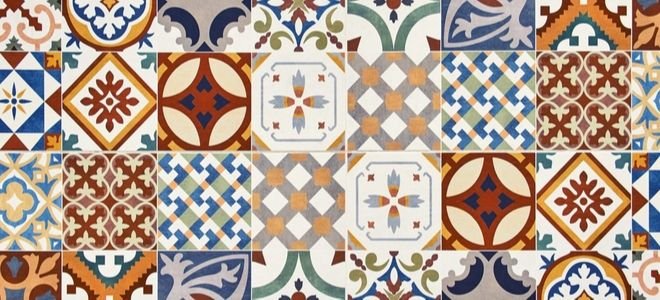 Apply tile adhesive to the plywood top of the table in a thin layer. Lay the tiles in the pattern you have chosen, being careful to keep them in place. Apply grout. Apply the tile to set for at least 24 hours.
Step 5 - Finish the Wood
Use a fine grit sandpaper to sand the exposed wood surfaces. Apply stain to complement the color of the tiles. If any stain gets on the tiles, wipe it off immediately. Use a spray lacquer to seal the wood.
Step 6 - The Feet
A tile patio table is heavier than most other types of tables. To prevent it from scratching the patio, you may need to install small pieces of carpeting or other fabric to the bottom of each leg.