How to Build a Twin Captain's Bed
To ensure our content is always up-to-date with current information, best practices, and professional advice, articles are routinely reviewed by industry experts with years of hands-on experience.

Reviewed by

on Nov 14, 2022
4-8 hours

•

Intermediate

•

0-800
2x4
3 pieces of plywood
Old dresser
Plywood
Saw
Measuring tape
Hammer
Nails
Wood glue
Sandpaper
Twin mattress
Pencil
Level
Corner brackets
2x4
3 pieces of plywood
Old dresser
Plywood
Saw
Measuring tape
Hammer
Nails
Wood glue
Sandpaper
Twin mattress
Pencil
Level
Corner brackets
A twin captains bed is a great size for most rooms, and if your space is limited, then the captain design is perfect. The idea behind the twin captains bed is that they offer a storage solution where there might have not been one previously. The twin captains bed sits on top of drawers, so it is a bed and dresser in one handy piece of furniture.
If you shop around for this type of bed, you will notice fairly high price tags. With minor wood working knowledge and some tools, you can build your own twin captains bed, and this article will show you how.
Step 1 - Cut the Wood
The best way to create a twin captains bed is get the measurements off of the twin mattress you will be using. Use the tape measure to measure the length and width of the mattress. Use these measurements to cut the three sheets of plywood to size the 2x4 also to size. You will want two pieces of 2x4 cut to the width and length. Working with the dressers is a bit more difficult. Remove the drawers and the top of the unit.
You will be able to see inside and where the slide rails are located inside. Use the ruler and pencil to mark each section of the dresser that the drawers slide into. Carefully cut the dresser in sections using the lines as a guide. Place the level along the cut lines and make sure they are true and trim as needed. If the drawers have a lip, then strip the lip off so that it is even.
Step 2 - Base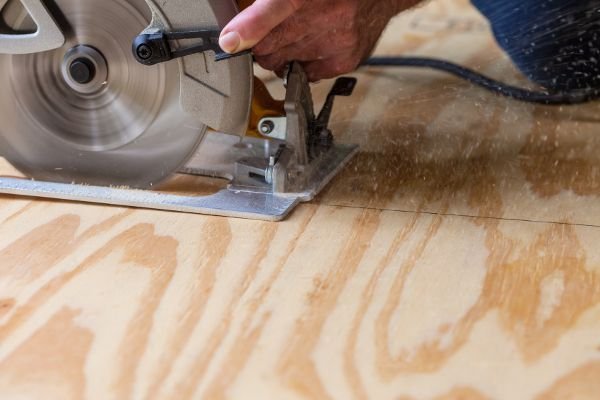 Stack the two pieces of plywood and nail them together. Start with a nail at each corner then several more nails along the edges. This offers a lot of support and strength for the base. With the stacked plywood resting on a flat area, place one of the 2x4 flush against the appropriate side.
The excess board that is taller than the plywood is the lip of the frame and holds the mattress in place. Nail the first 2x4 to the plywood and repeat with the remaining 2x4. Sand down the cut edges and install one corner bracket at each corner inside the base. Add a few drops of wood glue at each nail hole. Once dry, sand down any excess.
Step 3 - Connect the Drawers
The base is one section of the twin captains bed with the drawers being the second part. Place the drawers in a line in two columns, and place the third sheet of plywood on top. Maneuver the drawers until the face is even with the edge of the plywood. Affix them in place with nails. Turn the assembly over so the plywood is on the bottom. Place the bed base on top of the drawers and line it up, then nail in place to finish the twin captains bed.