How to Choose Window Treatments
To ensure our content is always up-to-date with current information, best practices, and professional advice, articles are routinely reviewed by industry experts with years of hands-on experience.

Reviewed by

on Nov 22, 2022
Window treatments can really add to a space, but with so many options it can be difficult to decide exactly what to put on and around your windows. Some treatments are functional, such as to manage lighting, while others are mostly decorative. Check out the tips below and the pros and cons of a few types of window treatments to help you make the best decisions for your personal space.
Vertical Blinds
Vertical blinds are super practical for sliding glass doors or very tall windows. They can be cut to any size, are easy to clean, and tend to last a long time. However, they can break easily if you have children or rambunctious pets. Pushing or pulling on them too hard will pull them right off of the small hooks, or tear the blind altogether. While easy enough to repair or replace, they are irritating if they break. Vertical blinds can be ordered in a variety of colors (at least in vinyl) but are typically cream or white colors, which don't do much for the décor of a room. Wooden ones are also available, but cost a pretty penny more than vinyl.
Horizontal Blinds
Great for small windows around the house, horizontal blinds will block out a large fraction of light and heat coming in through your windows. They can be used on larger windows as well, but due to the small pieces they're made of, cleaning horizontal blinds can be a project once the dust settles. Horizontal blinds, much like the vertical ones, can be ordered in bright colors or in wood, which can add character to a space but costs substantially more than the cream or white vinyl selections. Measure your windows before purchasing horizontal blinds, as they can be ordered to fit your windows exactly.
Curtains
Typically for decoration, curtains can come in just about any color, size, or length. They can simply be hung on a curtain rod which is mounted above the window, or they can be swooped to the side and tied back with pretty ropes. Some folks have gotten really fancy with their curtains by wrapping them around the curtain rod to create pretty little swoops and bumps with the fabric before hanging it down each side of the window. A benefit of choosing curtains over other window treatments is that they're easy to clean. You simply take them off the curtain rod and wash them in the washing machine, as long as the fabric is not a super delicate.
Valances
Typically, valances are hung on rods at the tops of windows with amazing lighting and views. Valances can be really beautiful on large windows that have just the right amount of light coming in during the course of the day. Brightly-colored valances can add a nice pop of color to the room, drawing your eyes to windows you want to accentuate. Simple valances can add a touch of elegance.
Blackout Curtains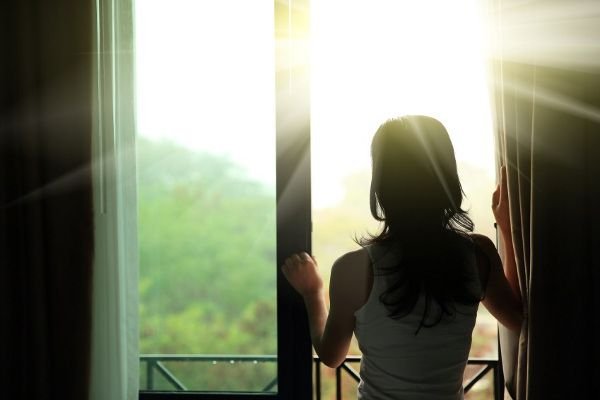 Managing the light that comes through windows in your home or getting rid of it altogether can be difficult, especially if you live somewhere bright and sunny. Blackout curtains, while they come in a variety of colors, aren't designed to add too much pizazz to a room. They serve a mostly singular purpose: to block out the light completely. Hang these curtains in your bedroom if you have trouble sleeping when the sun comes up, or if you work irregular hours. They literally stop much of the light from coming in through a window, and they block heat, cold, and substantial amounts of sound.
Combinations
Take a few of the window treatments above and combine them for more options. Combine a valance with horizontal blinds if you have an amazing window that has strong light streaming in at certain times of the day, such as the sunrise or sunset. This way, you can close the blinds to block out the blinding light, but leave them open the rest of the day. Combine curtains and blinds for the same reason, especially if you would like to use the curtains primarily for decoration. Blinds also can be combined with curtains or valances to keep the neighbors from seeing in.