How to Clean a Nonstick Iron
To ensure our content is always up-to-date with current information, best practices, and professional advice, articles are routinely reviewed by industry experts with years of hands-on experience.

Reviewed by

on Nov 15, 2019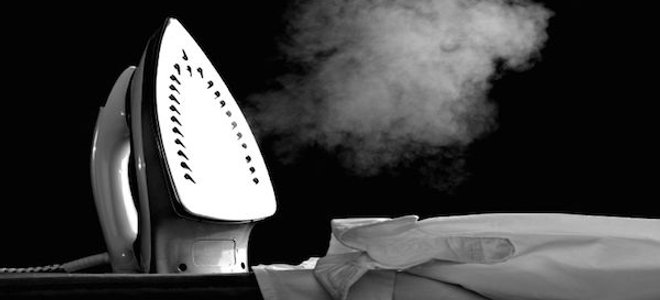 Baking soda
Distilled water
Oven cleaner
Salt
Soft cloth
White vinegar
Toothpaste
Paper
Nylon pad
Mild soap
Most people have irons in their home to straighten out clean, wrinkled clothing. However, not everyone know that you should clean your nonstick iron's stick plate, or sole plate, and its water reservoir. If your iron isn't already nonstick, you can make it nonstick in a few steps to make it easier to clean.

Detergents and starch can get stuck to the sole plate and minerals from water clog the holes from where the steam is released by the iron. Follow these simple steps below to easily clean your iron.
Step 1 – Taking Safety Precautions
Switch off or disconnect the iron and leave it to cool off before cleaning it. If you start cleaning the iron while it is still plugged in, you might get an electric shock or burn.
Step 2 – Cleaning the Non-Stick Sole Plate
First, use a damp cloth with a little bit of salt on it to rub the bottom of the iron. Or, you can use a nylon pad with water and soap. Do not use wire gauze pads or any other kind of pads that could scratch the iron's nonstick surface. Also, do not use any abrasive cleaners.
Dealing With Stubborn Stains
If you have any stubborn stains, you can also rub some toothpaste on the sole plate with a soft cloth. If the plate has starch buildup, you can use white vinegar, just like you can use it for cleaning sinks and faucets.
Removing Burn Marks
If there are burn marks on the sole plate of the iron, make a soda paste using 2 teaspoons of soda mixed with one teaspoon of water. Lather the paste onto the iron plate and leave it there for 5 minutes. Then, use a wet cloth to wipe off the paste.

Alternatively, you can use the oven cleaner. Take the iron out to the open air so that the oven-cleaner fumes do not spread inside the house. Directly spray oven cleaner on the bottom, and leave it for three minutes. Then, wash the bottom with cold water.
Step 3– Cleaning the Water Container
Fill 1/4 of the container with vinegar. Then, empty the container by steaming the iron. You should do this in a well-ventilated area because vinegar fumes can irritate your nose and lungs. The vinegar will open the holes that were once clogged by mineral deposits.

Fill the container again with vinegar and repeat the process. Continue repeating the process until the holes are totally devoid of the deposits. Then, fill the container with distilled water and wash it thoroughly, making sure no vinegar remains in the reservoir or the holes.
Your clean nonstick iron is now ready to be used again.
Natasha is a contributing writer for DoItYourself.com. She's an experienced home improvement researcher and project builder with a wide range of interests, and especially enjoys learning about gardening, power tools, and patio design.

With over 20 years of professional home cleaning experience, Lindani has extensive knowledge about best practices, space management, and cleaning solutions. Lindani especially loves researching natural, non-harmful ways to clean. She holds an LLBS from the University of Zimbabwe, and is a lifelong learner who always seeks to improve the world around her.