How to Convert a Closet into Shelving
To ensure our content is always up-to-date with current information, best practices, and professional advice, articles are routinely reviewed by industry experts with years of hands-on experience.

Reviewed by

on Mar 29, 2023
2-4 hours

•

Beginner

•

0-200
Stud finder
Rag
Cleaner
Putty knife
Spackle
Sander
Sand paper
Paint
Rollers
Paint brush
Drill
Screws
Goggles
Measuring tape
Brackets
Shelves
Level
Stud finder
Rag
Cleaner
Putty knife
Spackle
Sander
Sand paper
Paint
Rollers
Paint brush
Drill
Screws
Goggles
Measuring tape
Brackets
Shelves
Level
One great way to find more room in your home is by installing closet shelving. This can be done pretty easily in a regular closet with the installation of a few well-placed shelves. Here are a few steps to help you convert a regular closet into a shelving unit.
Step 1 - Prepare the Area
You will first want to make sure you remove everything from the closet. Once it has been cleared out you can vacuum if you have a carpet and clean the entire inside. If you plan on completely starting over then you will want to remove everything in your closet including any shelves or bars that are installed.
However, if you want to keep the bar and build shelving around it, this is an option as well. You may want to draw out a plan so you can work in the bars as well as the shelves without the two affecting each other.
Step 2 - Repair Any Damage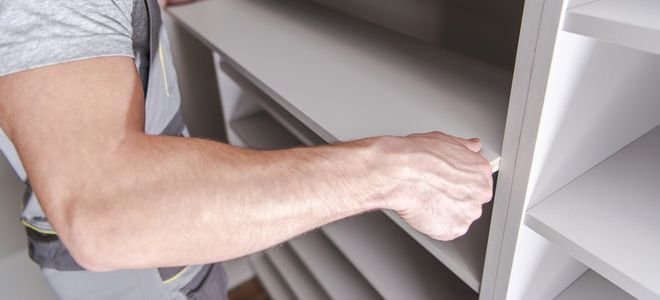 Next you will want to repair any damage or holes in the closet. Use spackle to cover the holes and a putty knife to smooth it out. Then, use a sander to sand down the walls and areas that were fixed. If you plan on painting the closet, you will want to do it now while you have everything out and clean. Use an interior paint as well as rollers and a paint brush to cover the area. Once you are finished, allow it to dry for a day or two before you put any of the shelving up.
Step 3 - Clean and Stain
If you did not buy pre-stained or painted shelves, then you will want to stain them. Use a small paint brush and paint the stain on. Allow it to dry for a few hours and then apply another coat. Let them dry and sit for a day or so before installing.
Step 4 - Install Shelves
Make sure you are wearing safety goggles because sand or debris from drilling can fall into and harm your eyes. Measure the area so you know what size shelves and how many of them you are supposed to get. Then, use a stud finder to help you to install heavy bars for your shelves. It is important to make sure they are installed in the studs because drywall is not secure or sound enough to be able to hold up and shelf as well as everything on it.
Use the drill to install the brackets for the shelves. Use a level so you are certain they are even. Then attach the shelf by slipping it onto the bracket and making sure everything is secure.
Do the same for each one of the shelves you want to install. Make sure each is secure and can hold the weight you plan on putting on it.
Heather is a contributing writer for DoItYourself.com. She has a wide range of experience with researching and creating home improvement projects, and especially enjoys learning about interior design, automotive upgrades, and sustainable materials.

H.R. Helm is an accomplished DIY craftsman. He has been DIY since childhood and is now a septuagenarian. He is experienced in wood and metal construction, having designed and built several houses and metal buildings. He built every permanent building on his current homestead and did all the plumbing and electrical work. He has several years experience as a professional cabinet builder, and he is an accomplished auto repairman, having operated an auto repair business for many years. He currently has a home shop where he sharpens and rebuilds saws, repairs lawn mowers, mobility scooters, hydraulic jacks, and anything else that comes along. He also builds custom tools for metal working. Invention prototypes are another of his many accomplishments. He owned and operated a manufacturing business building Compact Utility Vehicles for homeowner use. H.R. enjoys making jams and jellies during fruit season along with cooking meals. He is committed to outdoor cooking in a Bar-B-Q pit he welded together several years ago. He maintains fruit and nut trees along with helping his wife with a vegetable garden. He farmed commercial garden produce for several years. It helps to have over 50 years of farming and ranching experience. Employment/Education Highlights ASE Certified Master Auto Technician Certified Welder Cross country truck driver -- over dimensional freight Design Engineer/Project Manager for injection molded plastic company Bus Driver/Substitute Teacher Inventor with two patents (weight training – anti-rollback for manual wheelchair) BS in Industrial Technology