How to Convert a Golf Cart From Electric to Gas Powered
To ensure our content is always up-to-date with current information, best practices, and professional advice, articles are routinely reviewed by industry experts with years of hands-on experience.

Reviewed by

on Jun 26, 2023
10-20 hours

•

Advanced

•

2,000-5,000
Conversion kit
Gas tank
Wrenches
Screwdriver
Pliers
Conversion kit
Gas tank
Wrenches
Screwdriver
Pliers
Converting a golf cart that is electric powered to a gas powered golf cart is not an easy project for a do-it-yourselfer. That is not to say it cannot be done, but understand there is a lot of process involved in the conversion. To begin, if you own an electric golf cart you will need to obtain a conversion kit that allows you to change the engine and transmission that is currently being operated on electricity. You will also need a way to jack up the golf cart in order to get to the transmission and work on making the new connections for your gas powered golf cart.
If you choose to do this type of project, here are the steps and processes that should help you accomplish the conversion from electricity to gas.
Step 1 - Acquire Materials to Accomplish Conversion
You will need to purchase a conversion kit that allows you to change the electric golf cart to a gas powered golf cart. This includes a new gas tank, transmission, and engine that will be fitted onto the existing golf cart. If you cannot locate such a kit, you will need to find a used golf cart that is gas powered and strip it for its parts in order to accomplish your conversion.
Step 2 - Disconnect the Battery and Other Electronic Components
Place the golf cart on jacks while it is still being operated as an electric golf cart. With the golf cart properly secured on the lifts, you need to disconnect the battery and remove it from the golf cart, along with the starter and other components that are incompatible with a gas powered golf cart. Use the owner's manual as a guide to see what components and parts need to be removed and replaced.
Step 3 - Take out the Engine and Transmission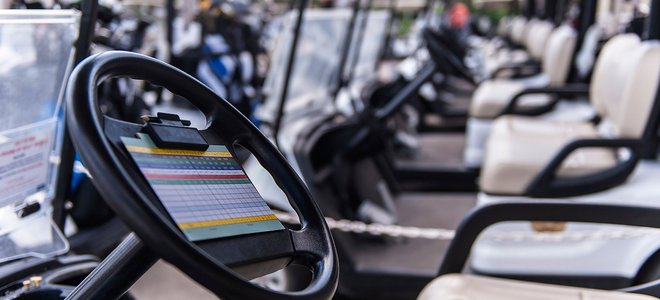 You will need to remove the engine and transmission from the electric golf cart. These parts should be placed on the side and sold as spare parts or given to a salvage yard. With the removal of the engine and transmission complete move the gas transmission and engine from the conversion kit or used gas powered golf cart in place for installation.
Step 4 - Install the Gas Transmission and Engine
You will now need to fit the transmission and engine for the gas powered golf cart in the housing that held the electric parts in place. Secure the transmission and engine with the appropriate mounts that came with the conversion kit.
Step 5 - Install the Gas Tank
You may need to drill a hole in the engine compartment or rear of the golf cart in order to mount the gas tank. Make sure the gas tank is located in a place on the golf cart where it is not near any combustible materials and it can be accessed in order for you to refuel the gas powered golf cart.
Don is a contributing writer for DoItYourself.com. He's an experienced home improvement researcher and project creator with a wide range of interests, and especially enjoys learning about industrial appliances and carpentry.

H.R. Helm is an accomplished DIY craftsman. He has been DIY since childhood and is now a septuagenarian. He is experienced in wood and metal construction, having designed and built several houses and metal buildings. He built every permanent building on his current homestead and did all the plumbing and electrical work. He has several years experience as a professional cabinet builder, and he is an accomplished auto repairman, having operated an auto repair business for many years. He currently has a home shop where he sharpens and rebuilds saws, repairs lawn mowers, mobility scooters, hydraulic jacks, and anything else that comes along. He also builds custom tools for metal working. Invention prototypes are another of his many accomplishments. He owned and operated a manufacturing business building Compact Utility Vehicles for homeowner use. H.R. enjoys making jams and jellies during fruit season along with cooking meals. He is committed to outdoor cooking in a Bar-B-Q pit he welded together several years ago. He maintains fruit and nut trees along with helping his wife with a vegetable garden. He farmed commercial garden produce for several years. It helps to have over 50 years of farming and ranching experience. Employment/Education Highlights ASE Certified Master Auto Technician Certified Welder Cross country truck driver -- over dimensional freight Design Engineer/Project Manager for injection molded plastic company Bus Driver/Substitute Teacher Inventor with two patents (weight training – anti-rollback for manual wheelchair) BS in Industrial Technology