How to Create Outdoor Dining Ambiance With Plants
To ensure our content is always up-to-date with current information, best practices, and professional advice, articles are routinely reviewed by industry experts with years of hands-on experience.

Reviewed by

on Jan 03, 2020
1-2 hours

•

Beginner

•

1-10
Your outdoor dining space can say so much about who you are. But there tends to be a lot of pressure to make it perfect, especially when hosting events. One thing that can really set the tone for the entire space is the plants with which you choose to garnish the area. Each different flower or plant can give off a different vibe, so make sure you're being true to yourself with the plants you choose. Here are a few different ways to use plants to enhance your outdoor dining experience.
Say it With Succulents
Succulents are all the rage right now and will make stunning additions to your next dinner party or brunch. An alternative to traditional flowers, succulents are a sweet surprise. These exotic-looking plants come in a variety of sizes, colors, and shapes. Maintenance is also fairly easy with succulents. Most succulents only need watering every week or so and they thrive in sunlight (unless it's unbearably hot). Succulents are subtle but can be styled in many different ways to add to the overall atmosphere. Try placing them in tiny terrariums on your table or in terracotta pots lining a fence.
Let the Vines Climb
You might want to consider adding climbing vines to your space. Ivy, climbing roses, or climbing hydrangea are all wonderful options to grow your garden upward. These vines may take a while to develop and train properly, but they can add a vertical element to any outdoor space. You can grow them on the exterior of your house using a trellis or you may prefer them over your pergola. Either way, climbing plants make your space look more expensive and give it a romantic feel.
Box in Your Blooms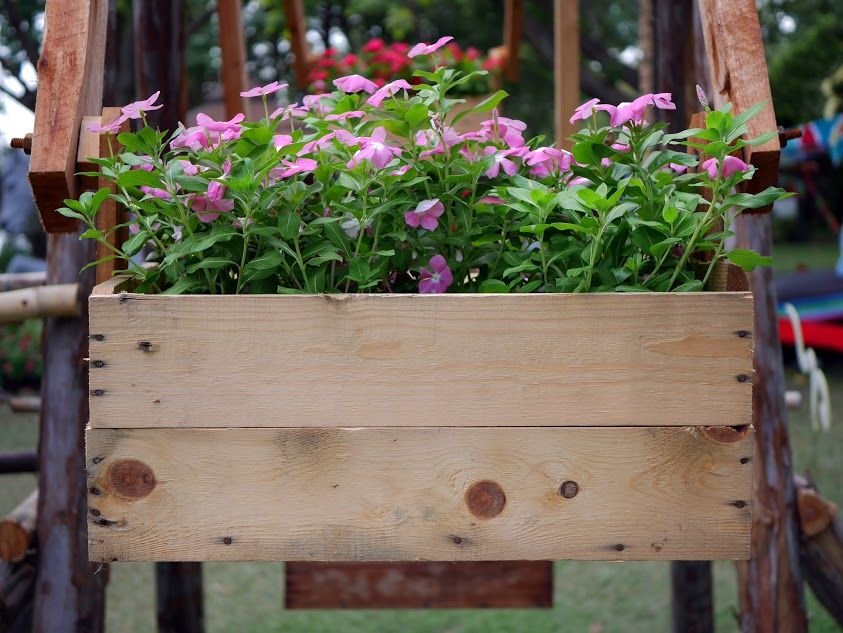 Trade-in your traditional round pots for charming flower boxes. These boxes are easy to construct and customize. The idea is to make boxes that complement your table. You can build these yourself using some materials around your house. Just cut some 2x4s down to the desired size with a saw, and nail them together in a square or rectangular shape. For a rustic look, you can coat the boxes with either chalk paint or wood stain. Finish off the bottom of the boxes with additional wood and place a plastic tray down inside the box to catch the water when your water your plants. Then, fill your boxes with your favorite potted plant or grow some from seeds.
Grow Practical
Instead of growing flowers just for show, why not grow something useful? Establish some pretty plants you can reap the benefits from again and again. For example, herbs are multipurpose plants. Not only do they often look elegant and smell nice, but you can also use them in your cooking. Stack your herb plants in troughs on the wall, or pot them as a centerpiece. Basil, mint, laurel, and lavender are some popular varieties that can bring an earthy touch without being overbearing.
Finish With Floral Accents
Another dreamy option is to add "floating" flowers in the air. If you have a special dinner planned with nice lighting, you can add a few flowers and make a big impact on the ambiance of the area. The easiest way to achieve this is to tuck some blooms into your existing light fixtures to make them look like they're sprouting flowers amid the glow. Or, create a floating flower garland. To achieve this look, cut off the stems of some fresh flowers. Then, string the flower blooms on the fishing wire using a needle. Find a way to drape them above your dining area using trees for anchors or under your pergola. Several strands of this floral garland will add an ethereal garden party essence to your event. When you're finished, the flowers will look like they are floating in the air.