How to Design a Rock Garden
To ensure our content is always up-to-date with current information, best practices, and professional advice, articles are routinely reviewed by industry experts with years of hands-on experience.

Reviewed by

on May 13, 2022
If you're looking for a garden that's low on maintenance needs but high on looks, a rock garden is the way to go. Many may think of these as boring and drab, but they're actually a great addition to a yard or landscape to create a serene environment. Keep reading to learn how to create and design your own rock garden for an easy-care landscaping option that doesn't disappoint on aesthetics.
The Best Spots for Rock Gardens
Choosing a spot for your rock garden is the first step to designing one that you'll love. One great thing about rock gardens is that they're perfect for spaces that are typically troublesome for planting or gardening. For instance, a rocky slope or spot that is prone to droughts or dry soil makes for an ideal rock garden environment. The reality is that rock gardens fit in anywhere, including spots that are flat or larger areas that you're looking to fill.
Where to Source Rocks
You're probably wondering where to get the beautiful rocks for your new yard addition. Luckily, this is an easy task. There are several avenues to pursue when you're in search of rocks. First, you can purchase them from a local home improvement store or nursery.
Another option when it comes to acquiring your rocks is to get a little resourceful! This is a solid option if you're willing to put in the work, as these rocks can be obtained for free. Try visiting a construction site in search of rocks that have been excavated or scour websites like Craigslist and Freecycle to look for listings of people getting rid of rocks.
Another way to source rocks is to go rockhounding, which means that you search areas like a national forest or park for rocks. Check your state laws before doing this, though, to ensure you're searching for rocks in places where it's okay to remove them and to ensure that you don't take more than the daily allotted weight limit.
Designing Your Rock Garden
Now onto the fun part: designing your rock garden. Here are some design tips to attain the best possible aesthetic for your personal oasis.
Map Out Your Garden
Before you get to work placing your rocks, use a pencil and paper to draw out how you want your rock garden to look. Even if you don't follow it exactly, this will act as a good guide to follow as you're working.
Use Rocks of Different Sizes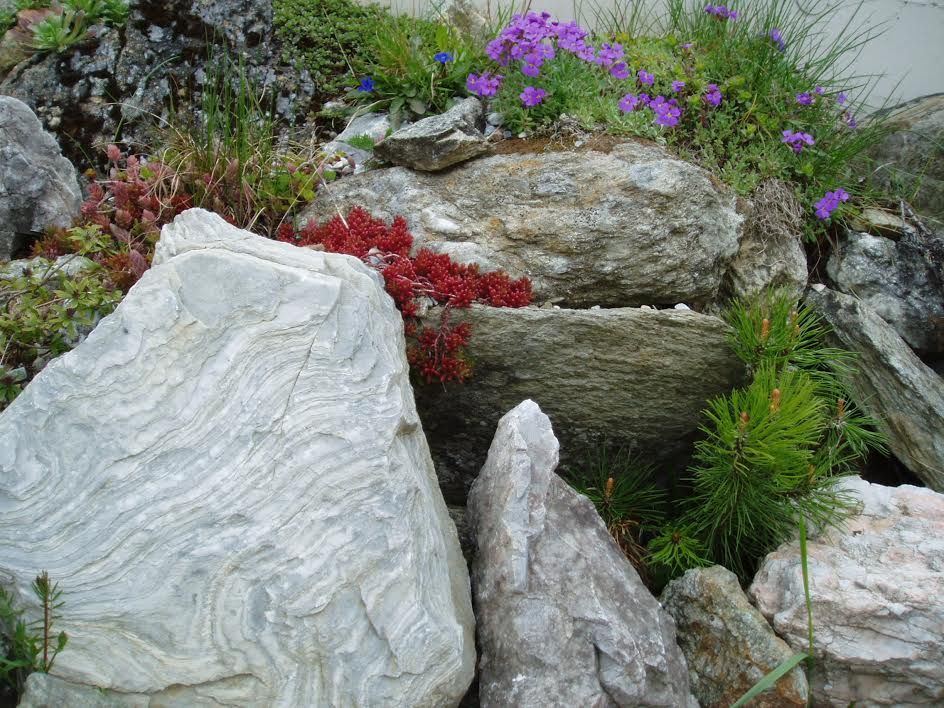 Rock gardens should look natural, so choosing rocks of varying sizes is a good way to achieve that goal. This will add dimension to your garden, too.
Pair With Plants
If you don't want to stick strictly to rocks for your garden, it's always an option to pair rocks with actual plants for a varied and natural look. Rocks go best with smaller plants that are alpine in origin and typically drought-tolerant. Smaller bulbs like daffodils, wild tulips, and blue eyes grass or brodiaea are perfect choices for any rock garden.
Rock Garden Maintenance
As mentioned above, rock gardens are typically low maintenance, but they do require some care and attention, especially when stones are paired with plants.
Weed Your Rock Garden
Regularly weed your rock garden and remove debris to keep your garden neat and tidy. This also ensures that plants can take root where applicable. This should be done by hand rather than with a weed killer.
Water and Fertilize Often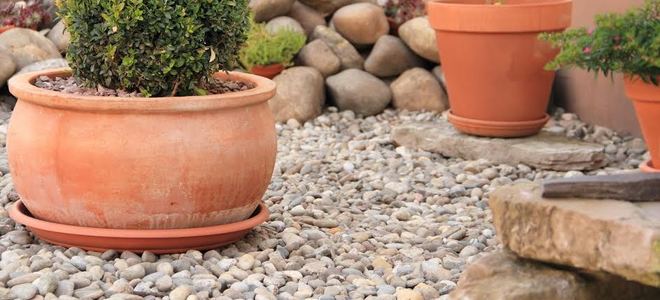 Take care of the plants and soil that accompany your rock garden to ensure its prosperity. Water the garden regularly and also apply fertilizer at least a few times each season to keep it in tip-top position.
Divide Overgrown Plants
Remember that rocks go well with smaller plants. If flowers or shrubs planted alongside your rocks begin to grow too large, divide them and replant in different areas as appropriate to keep nearby plants to a reasonable size.
Rock gardens add a new level of texture to any yard and are a great year-round look. These gardens add to the curb appeal of any home and are fun to design as well as easy to maintain, making them a no-brainer for any home.