How to Eliminate Boxelder Bugs
To ensure our content is always up-to-date with current information, best practices, and professional advice, articles are routinely reviewed by industry experts with years of hands-on experience.

Reviewed by

on Jun 22, 2022
1 hours

•

Beginner

•

10-50
Neem oil
Peppermint oil
Vacuum
Caulk
Sevin powder
Marigolds
Neem oil
Peppermint oil
Vacuum
Caulk
Sevin powder
Marigolds
Whether you know these bugs as boxelder bugs or one by of their many other buggy aliases, these pesky pests can creep into your home and stage a full-on takeover. While these bugs pose no danger to people, an infestation of boxelder bugs can certainly be irritating. These bugs hatch in the spring and the summer and can enter your house on a solo mission or in droves.
Once you have these bugs in your home, there aren't many organic options to get rid of them, unfortunately. But there are a few ways to prevent getting boxelder bugs to begin with and a few ways to minimize the infestation.
Purge with Sevin Dust
Sevin dust is one hundred percent biodegradable and kills approximately a hundred types of insects, including boxelder bugs. Sevin dust is not poisonous to pets, plants or livestock, and can be washed off the surfaces of fruits and vegetables with plain water. Sevin dust is a fine powder and is generally broadcast by hand, covering an entire area.
You can purchase Sevin dust at most stores that have a garden section. This dust can be spread around your home before bugs get in to keep them out, or after bugs get in to help you control the infestation. This dust is best by doors or windows where bugs enter the house.
An Organic Solution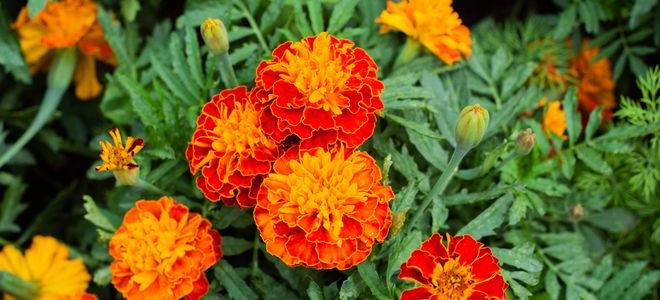 To repel the boxelder bug, consider planting marigolds around your yard. Along fences, space marigolds four to six inches apart to help repel dozens of bugs, and keep marigold in fertile pots on the patio or deck.
Even if marigolds aren't your favorite plant, the living plants will result in a big improvement with your bug problem. If you're looking for a natural solution over a chemical one, this is one that causes no harm to the environment and keeps Boxelder bugs away from your home.
Marigolds can be purchased at local nurseries or grown from seeds. Because Marigolds do not bloom all year round, you may need to find a second pest solution for times of the year when the marigolds are not in bloom.
Neem Oil
Another popular method of pest control is to spray neem oil on surfaces that need to be protected. It may not be feasible to spray your entire lawn, but you can spray around the house, or along fence lines to minimize the invasion of insects. Neem oil is popularly used on plants to keep bugs off of them and protect the leaves, but it works to keep bugs out of your house too.
Neem oil can be hard to find in stores, so you may have to look online or at a specialty garden or hardware store. Each bottle of neem oil will have different application instructions, so make sure you follow them carefully.
Peppermint Oil
Peppermint Oil is a great oil to have on hand if you want to keep most bugs and spiders out of your house. Dilute a little peppermint oil in a spray bottle and cover the thresholds of your home with the solution. This solution is safe around kids and smells great, so it's a win-win. The chemical makeup of the essential oil will keep bugs out of your house.
There are tons of fake, imitation essential oils on the market so you need to make sure that you are actually buying real peppermint oil. Essential oils are made through a special extraction process and have a much different chemical makeup than fake oils.
You want pure, unadulterated essential oils for this hack to work. You don't need to buy over-priced peppermint oil from a large company, there are lots of smaller companies that sell more affordable, pure oils.
Suck It Up
If your home is already full of these curious bugs, vacuum them up. Vacuuming these bugs up is a fast, easy way to make sure you catch all of these bugs quickly and get them out of your house.
Once you've vacuumed them up, check your house for cracks and gaps that need to be filled or caulked. It's a fast, simple solution that doesn't require any squishing of bugs, which is a win in our books.