How to Extend a Portable Dishwasher Hose
To ensure our content is always up-to-date with current information, best practices, and professional advice, articles are routinely reviewed by industry experts with years of hands-on experience.

Reviewed by

on Mar 26, 2020
Drain hose
Water hose
2 couplers or unions
4 adjustable metal clamps
Screwdriver
Drain hose
Water hose
2 couplers or unions
4 adjustable metal clamps
Screwdriver
Portable dishwashers are ingenious solutions. Even without the space necessary to have a built-in dishwasher, you can have a working dishwasher in your kitchen. Portable dishwashers are smaller than the average dishwasher and are usually on rolling casters that allow it to be moved in place and out of place when you're ready to wash dishes. There is one common complaint associated with portable dishwashers: the hoses are too short. Most portable dishwashers come with hoses no longer than 2 feet. Depending on the set-up of your kitchen, two feet is typically not long enough. With a trip to the hardware store, you can lengthen the hose on your portable dishwasher in just a few minutes.
Step 1 - Take a Trip to the Hardware Store
The tools and materials needed for this job are best found at a hardware store with a large plumbing department. You can either note the dimensions of your hoses or simply remove them and take them to the store with you. Because there are two hoses on the back of the dishwasher, you will need to purchase a hose in the desired length for each. While you are at the store, use your hoses to help you determine which size coupler and adjustable metal clamps you need.
Step 2 - Fit the Coupler
With the original hose attached to the dishwasher, slide the metal clamp on to the hose and tighten it a bit. These clamps are going to secure the coupler between the two hoses. You don't want the clamp to be so tight that you have to do a lot of adjustments once the coupler is in. You want it just tight enough to stay on the hose at this point. Insert the coupler into the exposed end of the original hose. Insert the other end of the coupler into the extension hose.
Step 3 - Tighten the Adjustable Metal Clamps
Move the clamps up the length of the hose so that it is sitting on top of the coupler and tighten. Lightly tug on the hose to make sure that it is secure. Complete steps 2 and 3 for the second hose. One of the hoses on the dishwasher will more than likely be smaller than the other. If you weren't able to find a coupler this small, you can attach the coupler on the outside of the two hoses meaning the hoses go inside it instead of the other way around.
Step 4 - Test the New Hoses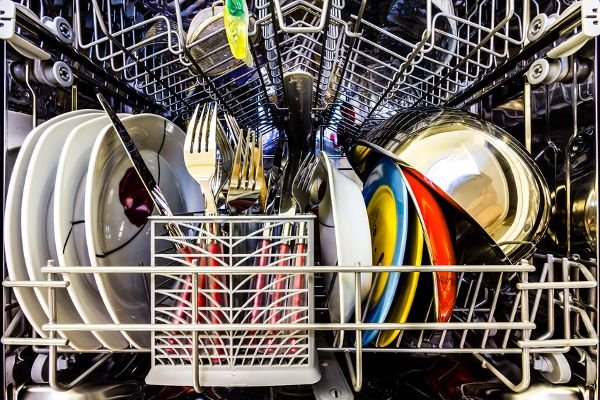 Roll your dishwasher over to the desired position and attach the hoses to the faucet adapter. Insert everything just as you would with the original hoses. Run a short cycle to test the soundness of your extensions. You should have no problem using the dishwasher with the hose extensions.
With just a little bit of time and even less money, you've enhanced the convenience of your portable dishwasher. Now you can clean your dishes however you like.