How to Fit a Bathroom Pedestal Sink
To ensure our content is always up-to-date with current information, best practices, and professional advice, articles are routinely reviewed by industry experts with years of hands-on experience.

Reviewed by

on May 16, 2022
2-4 hours

•

Intermediate

•

150-500
The bathroom pedestal sink is a great solution for saving space in small bathrooms, and larger bathrooms with a minimalist design.
Pedestal sinks are generally constructed of either vitreous china or enamel cast iron. Cast iron sinks tend to be more expensive but will last longer.
Vitreous china sinks are less expensive and more easily obtained at home improvement centers.
Step 1 - Remove a Vanity Cabinet
Before installing a pedestal sink, consider whether you will need to also remodel or repair the floor in your bathroom.
If you are removing an existing bathroom vanity cabinet to make room for your new sink, you will find yourself faced with exposed flooring that may be unsightly and fail to match the surrounding floor.
If you remove an existing vanity, you will expose a portion of the bathroom wall that has been behind the vanity. Consider either painting or refinishing the bathroom wall before placing your new pedestal sink.
Another consideration to note is you lose valuable storage space by removing a vanity cabinet for a pedestal sink. If that is going to be a problem, install a wall-mounted cabinet over the toilet or sink.
There are many wall-mounted cabinets that have mirrors attached that are extremely attractive and reasonably priced.
Step 2 - Create Support
You must support the weight of your new sink. If needed, cut a section of the wall and fit a support board flush with the studs. Align the sink with the support board and mark where you will place your drill holes.
Step 3 - Set the Sink
Set the basin and pedestal in position. Ensure it's level from front to back and left to right. Once you have adjusted it, mark the spot for the hole to mount the basin and pedestal on the wall.
Step 4 - Set the Pedestal
Decide where the center of the sink should be located. Place the sink in position on top of the pedestal to ensure the height and alignment are correct. Mark the wall for correct mounting and set both the sink and pedestal aside.
If you need to drill floor holes, do so before continuing with your installation in order to ensure that everything aligns correctly. Be especially careful of water and electrical lines.
Step 5 - Address Plumbing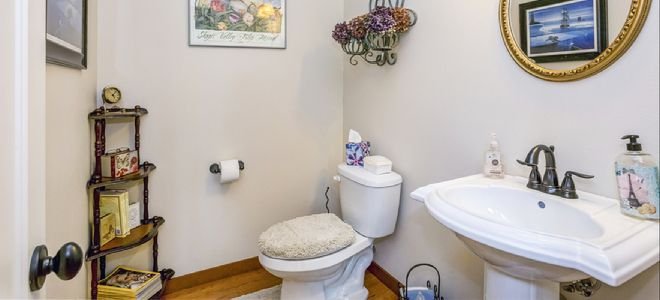 If your water supply must be moved to install your pedestal sink, you should have a plumber complete this task unless you have experience and knowledge on this particular task.
If it will not be possible to hide your water supply lines inside your pedestal, purchase chrome or brass fittings to create a finished look for your pedestal sink.
Step 6 - Installation
Install the faucet and drain assembly. First, hook the water supply lines to the faucet. Then place the basin and pedestal in position. Bolt the basin in place, taking caution not to over-tighten the bolts. Test for leaks.
Step 7 - Final Steps
Secure the pedestal sink to the floor, either by bolting it to the floor or with adhesive caulk. Also, caulk along where the sink meets the wall. With your new beautiful pedestal sink installed, you can enjoy your new bathroom.