Glue Extensions in Short Hair
To ensure our content is always up-to-date with current information, best practices, and professional advice, articles are routinely reviewed by industry experts with years of hands-on experience.

Reviewed by

on May 11, 2020
2-5 hours

•

Intermediate

•

20-200
Hair extensions
Bonding glue
Glue remover
Fine-tooth comb
Hair clips
Hair extensions
Bonding glue
Glue remover
Fine-tooth comb
Hair clips
Glue extensions are a temporary method for adding instant volume and length to short hair. Many women have followed the lead of celebrities by using hair extensions to change their look. Here is some information and simple tips for achieving your own hair transformation.
What Are Extensions?
Hair extensions come in sections of synthetic or human hair that are sewn together at the top. They can be found in various lengths and colors so it's best to choose the specific type that matches your hair. Human hair extensions can be dyed, curled, and styled while synthetic types can't be colored or withstand the heat from flat irons and hair dryers. As such, human hair extensions tend to be the more expensive of the two.
Usage
Extensions can be used to instantly achieve longer, thicker hair without the wait of growing it out, but they can also camouflage hair loss. Fill in bald spots with short extensions to make your hairstyle fuller.
To use glue extensions in short hair, you will need hair thick enough to cover the bonded areas. It must be able to support the weight of the glue extensions as well.
Glue Extension Products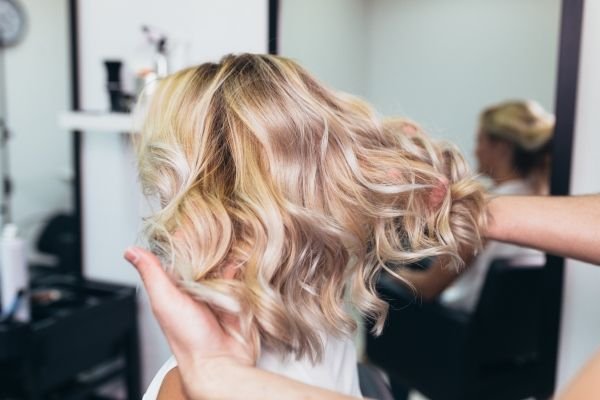 The two main products you will need for adding extensions, besides the hair itself, are bonding glue and glue remover. Obviously, the bonding glue is the material used to secure the extensions to your hair. However, a glue remover is also necessary so you can take out hair extensions easily and without damaging existing hair. If you have this product from the beginning, you don't need to worry about the pain of potential mistakes during the process. These supplies are available in hair salons and online.
How to Attach Glue Extensions
Using a fine-tooth comb, horizontally part your hair where you want to begin attaching the extensions, and clip your natural hair out of the way. Apply glue to the hair extension and place it on your hair as close to the part as possible without putting it on your scalp. Set the glue with a hair dryer. You may need a friend to help you to continue applying hair extensions around your head.
Once you're finished with the first area, comb your hair over the added section. Depending on how thick you want your hair, you can continue the process with another part.
How Long Do Glue Extensions Last?
Glue extensions can last two to three weeks with proper care. They are designed for more temporary changes in your look, usually for occasions like parties and weddings, so they only stay in for short periods of time. Other kinds of more permanent extensions do exist, however.
Caring for Glue Extensions
Glue extensions will stay in through washing if you use a gentle shampoo and conditioner. Be careful when washing that you don't rub the shampoo and conditioner directly on the area where they are attached to your hair. Conditioner should be used regularly on your extensions, since they have a tendency to become dry and frizzy, especially the synthetic type. Also, avoid extended exposure to chlorine, and wash your hair immediately if you swim in a chlorinated pool. It is best to sleep with your hair completely dry and kept in a ponytail or braid to avoid unnecessary stress on the glue.
Are Glue Extensions Healthy for Your Hair?
Glue extensions can cause damage, as the glue itself can burn and dry out your hair. Allergic reactions to the glue itself have been known to happen as well. Heavy extensions also pull on your scalp, resulting in thinning hair or headaches from the weight, and since it is difficult to clean your scalp with glue extensions, you can also have problems with unhealthy hair growth.
Donna is a contributing writer for DoItYourself.com. She has experience researching and creating a wide range of home improvement and garden projects, and especially enjoys learning about renewable energy sources and growing blueberries.

With over 20 years of professional home cleaning experience, Lindani has extensive knowledge about best practices, space management, and cleaning solutions. Lindani especially loves researching natural, non-harmful ways to clean. She holds an LLBS from the University of Zimbabwe, and is a lifelong learner who always seeks to improve the world around her.