How to Install a Built In Barbecue Grill
To ensure our content is always up-to-date with current information, best practices, and professional advice, articles are routinely reviewed by industry experts with years of hands-on experience.

Reviewed by

on Jun 26, 2023
6-10 hours

•

Intermediate

•

200-500
Shovel
2 inch by 4 inch timber
Concrete
Bricks
Mortar
Trowel
Galvanized bolts
Grills
Level
Shovel
2 inch by 4 inch timber
Concrete
Bricks
Mortar
Trowel
Galvanized bolts
Grills
Level
A built-in barbecue grill is a wonderful addition to any yard. You don't need to set up your grill each time you want to use it. All you have to do is go out and fire it up. It's a vital part of any outdoor kitchen. Building a built-in barbecue grill can take a while, but it's worth the effort to be able to use the grill whenever you want.
Step 1 - Prepare the Ground
You need a flat area of ground. Remove and debris and then use your shovel to remove the topsoil in an area four feet by four feet. Ensure that the ground is level after you finish digging. Use your level to check the earth and add or remove dirt as needed until the area is level in all directions. Line the area with two-inch by four-inch lumber so it makes a frame around the edges. Nail the ends of the wood together for strength.
Step 2 - Concrete
You need to make a concrete foundation for your built-in barbecue grill. Mix your concrete according to the manufacturer's instructions and spread in the frame. Use a piece of wood to make the concrete level. Leave it several days to fully cure before moving on. Remove the wooden frame around the concrete once it's cured.
Step 3 - Bricks
Now you're ready to build the built-in barbecue grill. It should be about 30 inches by 30 inches. Mix up your mortar and begin laying course of bricks. Remember these courses should be staggered to give greater strength. Use your level to make sure each course of bricks is level. Go up to a height of 30 inches.
As you lay the brick, tape each brick into place and scrape off any excess mortar. It will be better if you mix up relatively small batches of mortar at a time for your built-in barbecue grill. This will ensure it doesn't dry out too much as you work. If it seems too dry, add a little more water and mix it up thoroughly before applying to the bricks.
Step 4 - Grill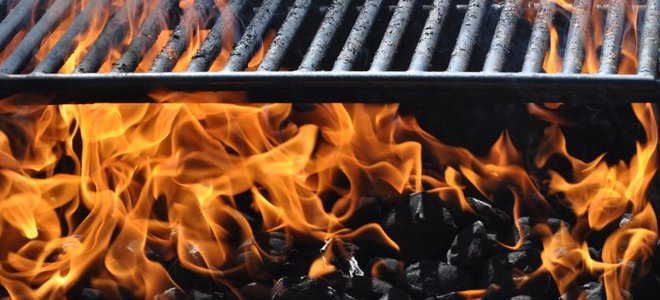 Before laying your next course of bricks, put two galvanized bolts on each side, with each bolt facing into the square to a length of four inches. Continue to add more courses of brick. At 34 inches in height add four more bolts. From there just add one more course of bricks so that the built-in barbecue is 36 inches tall. You'll now have to leave the grill for a week in order for all the mortar to dry fully. Before you do, take a stiff wire brush and scrub off excess mortar. As the mortar dries a little, wet the brush and scrub any mortar off the bricks.
To complete the built-in barbecue grill, buy two metal grills, each 30 inches square and lay them on the blot. The bottom one is for your coal or wood, the upper one for the food.