How to Install a Pergola Cover
To ensure our content is always up-to-date with current information, best practices, and professional advice, articles are routinely reviewed by industry experts with years of hands-on experience.

Reviewed by

on Jul 19, 2019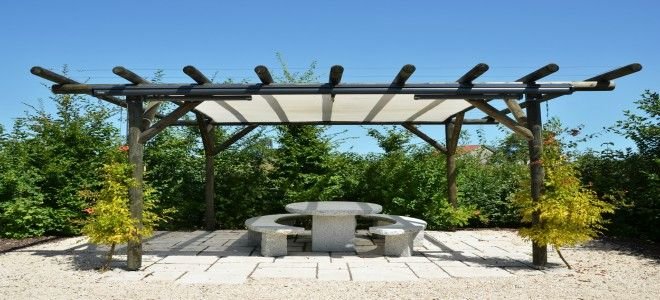 Carpenter's tape measure
Hammer
Screwdriver
Straightedge
Utility knife
Rolled fabric shade cover
Safety glasses
Nails
Screws
Staple gun and 3/4 inch staples (optional)
Adding a pergola cover to your existing backyard pergola will do much to provide shade in sunny weather. A popular type of cover for this DIY project uses a fabric cover, and it is fairly simple to measure and install by applying some basic construction concepts.
When selecting a shade cloth, it is recommended to get one made of vinyl, since vinyl will not warp, crack, rot, or become discolored over time due to the elements. Keep in mind that vinyl pergola covers are usually available only in white.
Step 1 - Measure and Fit Cloth
Your fabric shade should measure the same dimensions as the top area of your pergola, plus 25% more fabric for installation room. It should have an overhang of about 8 to 12 inches on all four sides of the pergola structure. Rolled fabric shade often comes in an installation kit that includes hardware and instructions. Before starting this project, check any manufacturer's documentation to make sure the fabric shade cloth meets all local building code.
Step 2 - Attach Shade Cloth
Begin attaching your cover with your choice of attachment hardware, whether it be by nails, screws, or staples. Start with the longest side of the structure that is closest to your house, and stretch the fabric with enough pressure to remove all wrinkles. Attach hardware at least every 10 to 12 inches. If you are using screws to install your cover, it is a good idea to have a helper stretch and hold each section of fabric tightly against each attachment while you secure each screw.
Make sure that all sides of your fabric are completely straight, and that you leave enough space at the very edges where you will trim off the excess fabric. Do this by moving the attachment points inward from the outside edge of the pergola. It is recommended to attach all edges in a consistent clockwise or counterclockwise direction around the top of the pergola, depending on which direction you started. Doing so creates more uniform shade cloth tension.
Step 3 - Join Edges
If you need to join together any fabric edges, do this without overlapping them. Place an equal number of attachment points on each cloth panel; this will create a more durable result. For added strength, you can attach them with a pinch pleat, which is similar to a tailoring hem. After this is completed, tack down any remaining fabric edges to inner support beams or posts.
Step 4 - Trim Overhanging Fabric
Use your utility knife to carefully cut away the extra shade cloth. Cutting along a straightedge can be helpful for this step. If installed properly, these types of pergola cover will last for many years and stand up to harsh weather if maintained on a regular basis.