How to Install Wall Panels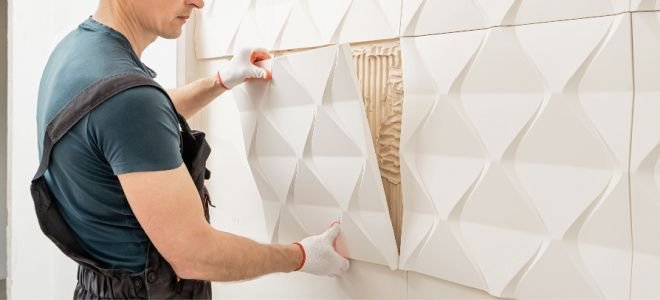 5-50 hours

•

Intermediate

•

50-2,000
Wall panels are a popular choice for an inexpensive and rewarding DIY project you can tackle in just about any space.
You can make wall panels from MDF materials or solid wood. Use what you have, buy raw materials, or hunt down prefabricated options. These include traditional paneling and new, similar products.
Depending on the materials and process you choose, you'll have an opportunity to learn and further develop new home improvement skills. Plus, you'll end up with a great new look for your room.
Benefits of Wall Panels
Obviously wall panels are a short-term project with long-term results. Since they are easy to install and create such a dynamic impact, it's easy to see how they are beneficial. However, there are even more reasons to consider wall panels in your living spaces.
1. Protection
The surface of the wall panel adds a layer of protection for your walls. When dings, scrapes, and spills target your walls, the panels will take the damage, leaving the walls unharmed.
2. Cover Wall Damage
On the other hand, if your walls are already marred, wall panels will cover up the damage, giving you an alternative to making repairs. In addition to giving you a shortcut solution, the room will develop a fresh appeal. Out with the old and in with the new.
3. Change of Interior Design
Wall panels come in a wide array of finishes so there's an option for every type of interior design. With this simple addition, you can create the foundation for a Victorian, cottage, country, or craftsman design.
DIY or Prefabricated
You'll need to make a decision about whether to make your wall panels from scratch or to go with prefabricated options. Consider your skill set, tools, time, and budget in your decision.
If you have the budget and want to take the quickest and easiest route, choose a prefabricated product that fits your decor goals.
On the other hand, if you're looking to expand your woodworking and power tool acumen, you might want to build your own wall panels rather than simply installing store-bought panels.
Wall Panel Styles
While you might already have a certain look in mind, before you begin, consider all the options.
Grand Period
Think of a Victorian sitting room. Now focus on the walls. If they aren't finished with wallpaper, they are likely adorned with wall panels that are ornate. The wall may also have a combination of both.
Grand period paneling brings bold colors, rich prints, and the grandiose vibes of everything from medieval influences to gothic elements.
Detailed carvings and embellishments are standard additions to grand period paneling and other interior design materials. The design is often described as formal and perhaps even excessive. It's an eye-catcher to be sure.
While the Victorians used real wood, since it was the only option available to them, in modern days you can recreate the look with MDF and other materials.
Tongue and Groove
The term "panels" can mean many different things. They can be described as tiles, planks, or sheets. A panel can be an eight-foot, thin sheet of traditional paneling or a small rectangle the size of a cabinet door.
Wall panels are linked together in a variety of ways too. For example, while big sheets of wall panels are typically glued to the wall surface beneath, tongue and groove planks are fitted together like laminate or hardwood flooring.
Like with other wall panels, tongue and groove can come in many different materials. It's really more of a type of product design than a specific material.
Consider wood paneling for walls. It comes in prefabricated sheets of manageable sizes, or you can source it in individual planks.
If you really want to take it to the ultimate DIY level, you can plane each plank from old barn wood or pallet boards for a rustic vibe.
Modern tongue and groove wall and ceiling materials are fitted with an edge that juts out on one side and a groove on the other. This allows the boards to slide together for a traditional ship-lap design.
Tongue and groove boards can be made from real wood, MDF, PVC, and other options.
Shaker-Style
Shaker-style cabinets have been around for generations. They emphasize the look of woodworking techniques with rectangular shapes framed in and evenly spaced apart. This is one of the most common types of wall paneling and can be found anywhere from grand estates to commercial buildings.
Again, Shaker is a style of design rather than a specific material so they can be found in wood, MDF, and other materials and can be painted any color or stained to retain the wood's appeal.
Jacobean-Style
Sometimes confused with shaker design, Jacobean wall panels are square instead of rectangular. They are also pressed together without spacing so it creates a cohesive checkerboard design.
This is a popular design in a variety of living spaces.
Geometric
Anything but classic or traditional, geometric wall panels speak to the modern interior design style. The premise is to use thin strips to create a pattern. This is typically done on an accent wall rather than an entire room because the look is busy and makes an impact.
Geometric walls can take many forms, giving you the opportunity to create an artistic look. The thin strips can be linked horizontally, vertically, or even diagonally. This technique allows for a lot of personal and artistic expression.
If you like to have a lot of creative control in your DIY projects and appreciate a contemporary interior design style, a geometric design might be perfect for you.
Wall Panel Installation
While each process is a bit different, each type of wall panel shares some common application techniques.
Step 1 - Prep Wall
You may or may not have to do some wall prep in order to receive your wall panel materials. If you have bulges, panels may not sit right so you'll need to repair them before wall panel installation.
However, if your goal is to cover up wall damage, you may not have to make repairs beforehand. Imagine the end product. Any area of wall that will be exposed will need to be repaired and prepped. Similarly, any portion of wall that interferes with a cohesive wall panel installation will also need attention.
Step 2 - Measure Wall Surfaces
To ensure an accurate quantity of materials, you need to have a solid understanding of how much area you're covering. Take precise measurements and anticipate 10% waste.
Remember to consider how the materials will be laid out. For example, if you use one-half of a panel in one spot, can you use the remaining half elsewhere? Will you stack one panel on top of another as you progress up the wall? Will you need to make cuts at the corners of the wall?
Step 3 - Map Out a Design
In order to get the result you want, you'll need to plan out the design of the wall panels. Each material selection and installation method brings a different look to the space.
Spend some time scouring the internet and books to get a good feel for what appeals to you. Then create a plan to achieve the finished design.
Ask yourself how many spaces you'll be adding wall panels to. Are you tackling one wall, one room, or an entire level of your home? The quantity you're installing makes a difference when balanced with other aspects of the interior design.
For example, in a room with few windows, a dark, heavy wall panel on every wall will make the space feel small. If you're looking for a cozy library vibe it might be perfect. However, for a living room, it might just be depressing.
On the other hand, if you drape the entire space in white panels, it may feel stark and institutional. Remember you can not only work with different materials, but also colors.
Play with the temperature in the room through shades. Dark blue is classic and comforting. A lighter gray-blue is more modern. On the other hand, a greenish blue may set the perfect coastal vibe.
The combination of wall panels with other materials further develops the overall look of the room. Imagine a wall with wainscoting on the bottom part of the wall and wallpaper above it.
Similarly, visualize a room with rectangular panels that go to the ceiling in some areas, but leave exposed walls in other areas. There are endless ways to use wall panels to change or update the look of a room.
Map out your entire design on paper or using CAD software, including materials, colors, textures, patterns, locations, heights, etc.
Step 4 - Gather Materials
Next, locate and source all required materials. This can include barn wood, sheets of paneling, MDF, and other wall material in addition to glue, glue gun, nails, nail gun, saws, tape measure, pencil, etc.
If your plan is accurate, it's not difficult to purchase the right amount of materials.
Step 5 - Make Cuts
With your tools and supplies ready to go, start making cuts. It's best to cut one board at a time as you work across a wall. However, some people choose to make all the cuts and fill in gaps later as a finishing touch. In reality, it will probably require a bit of both techniques.
Since few walls are square, you'll find there's a larger gap at the top of the wall than the bottom or vice versa. If the walls are a half-inch further apart on the top than near the floor, you'll find your boards are too short as you climb the wall.
Although it's less efficient as a production line, making cuts as each one is needed will likely save you in material costs.
Tip: When making many material cuts, always start with the longest sections. That way, if it ends up being too short, you can use it in another spot.
Step 6 - Sand Ends
To help make a smooth connection between the ends of different boards, give them a light sanding at the connection points. You can do this by hand with a small piece of sandpaper, use a sanding block, or carefully guide a power sander over the surface. Just be sure you don't round off the corners of trim or panel pieces.
Step 7 - Begin Installation
For nearly all projects start at the bottom of the wall and work your way upward. This allows the lower panels to support the upper ones as you work.
Whether your panel is large or small, glue or nail it into place. Some applications suggest doing both. In this case, glue it first. Then reinforce it with nails.
Step 8 - Progress up the Wall
If you're stacking planks, squares, or panels, move up the wall, making additions. You may or may not be adding trim to the top and/or bottom of your panels. If you are, now is the time to do it.
A note: One of the most common ways to make a wall-panel look without actual panels, is to cut and mount trim that deceives the eye into thinking there are panels on the wall. If this is the case for you, installation simply means applying those trim pieces to the existing wall surface rather than providing complete wall coverage.
Step 9 - Caulk and Fill Holes
Like any paint or stain job, you'll need to start by properly prepping the surface. That means filling holes with the appropriate caulk or other hole filler.
Also add caulk to gaps around the perimeter of the wall panels and along the edge of where trim meets the paneling, as needed.
Step 10 - Paint
Finally, it's time to add paint or stain to your nearly finished wall panels. Some panels will come prefinished, in which case you'll simply need to do a few touch-ups in order to cover nail holes or caulking.
By the way, make sure your caulking is paintable or it will repel paint when applied.
Apply paint or stain to achieve your final look. You can even experiment with faux paint techniques for a personal touch.
Conclusion
Wall panels are an inexpensive and impactful option for just about any room. There are countless materials, styles, colors, and textures to change the look of a bedroom, living room, or even a hallway.
Get some more information on the topic in our articles Create a Paneled Wall With Molding and How to Reseal Wood Paneling for Walls.