How to Iron a Wedding Dress
To ensure our content is always up-to-date with current information, best practices, and professional advice, articles are routinely reviewed by industry experts with years of hands-on experience.

Reviewed by

on Jun 01, 2021
1 hours

•

Intermediate

•

0-100
Know how to properly iron a wedding dress to keep it looking nice and prevent damage. Most wedding dresses are made of delicate fabrics such as satin, lace, tulle, taffeta, and chiffon. These are not suitable for regular ironing and instead require some special techniques.
1. The Steamy Hot Bathroom
The most widely known way of getting the creases out of a wedding dress is the trick with the steamy hot bathroom. Simply hang the dress, turn on the shower and let the steam relax the wrinkles. However, this method will not address deeper creases. Unless you send your dress to a specialized dry cleaner, you'll need to iron it yourself. Get a sample piece of fabric from a dress store and try out the following techniques.
2. Iron Delicate Fabrics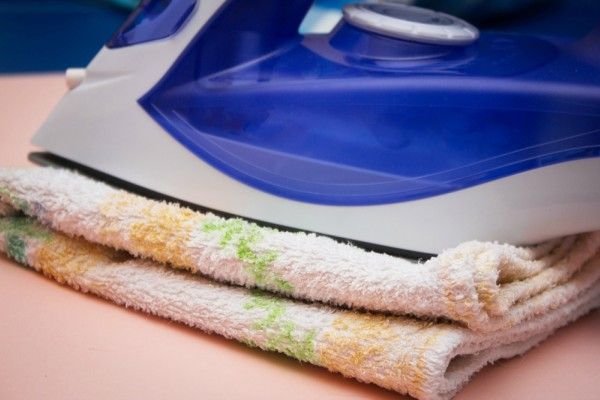 Place the iron on the lowest setting, usually denoted as suitable for synthetics. Use a piece of ironing fabric to put between the dress and the iron. Have a spray bottle with clear water handy to spray on the ironing fabric. Your movements with the iron should be very quick and light. An additional option is to turn the dress inside out so you iron over the inside. This way, if any damage is done, it won't show.
Always iron from the top of the dress down. Iron each layer separately—from the underskirts to the outer layers, taking care not to crease the one beneath while ironing the next one. Gradually increase the temperature setting on the iron until it is in the middle position.
3. Iron Satin
Satin creases very easily. For this reason, using the iron straight off is not suitable as it may damage your dress. It is best if you have a steamer on satin, but if you don't have one, a little trick with the iron will also do the job. Load the iron with plenty of water and set it on one of the steam settings. Place a piece of ironing fabric on the part of the dress you want to iron.
Hold the iron seven to 10 inches away from the dress. Press the button to let the steam out. Pull down the dress fabric at the same time to straighten it. Never touch the dress with the iron! Be careful not to get water from the steam onto the dress as it might leave spots.
As an alternative, cover the ironing board with aluminium foil and place the dress on top. Use the steam setting again. With this method, the heat from the aluminium foil smoothes out the creases. This steaming technique can also be used on other wedding dress fabrics.
4. Professional Services
Caring for your wedding dress is very important as the gown can easily get wrinkled. With the simple techniques outlined above, you can make sure it is in perfect shape. However, if you don't feel at ease using any of them, it is always best to consult and use the services of a professional dry cleaner who specializes in wedding dresses.
Militsa is a contributing writer for DoItYourself.com. She has a wide range of experience with researching and creating home improvement projects, and especially likes learning about kitchen design, carpentry, and flooring.

Dawn Hammon has thrived in freelance writing and editor roles for nearly a decade. She has lived, worked, and attended school in Oregon for many years. Dawn currently spends her days convincing her children she is still smarter than them while creating new experiences with her husband of 24 years.  Her multiple interests have led her to frequently undergo home improvement projects. She enjoys sharing the hard-earned knowledge that comes with it with the audience of DoItYourself.com. Dawn and her sister make up a power-tool loving duo that teaches classes to local women with the goal of empowering them to tackle their fears and become comfortable with power tools. Tapping into her enthusiasm for saving money and devotion to sustainable practices, Dawn has recently launched a passion project aimed at connecting eco-friendly products and socially-responsible companies with consumers interested in making conscientious purchases, better informing themselves about products on the market, and taking a stand in favor of helping to save the planet. When she is not providing stellar online content for local, national, and international businesses or trolling the internet for organic cotton clothing, you might find her backpacking nearby hills and valleys, traveling to remote parts of the globe, or expanding her vocabulary in a competitive game of Scrabble. Dawn holds a bachelor's degree in psychology, which these days she mostly uses to provide therapy for her kids and spouse. Most recently, I worked for a small local professional organizing and estate sale company for four years where I learned a ton about organizing and/or disposing of just about anything. She was raised in a tool-oriented, hands-on, DIY family. Her dad worked in the floor covering business and owned local floor covering businesses, so of course selling floor covering was one of her first jobs. Her brother was a contractor for about 30 years and site supervisor for Habitat for Humanity. I worked with him often, building decks, painting houses, framing in buildings, etc. With her sister, she holds power tool classes to empower women who are scared or have never used them. Not quite homesteaders, she did grow up with a farm, tractors, motorcycles, expansive gardens, hay fields, barns, and lots of repairs to do. Plus she and her family preserved foods, raised cattle and pigs, chopped and hauled firewood, and performed regular maintenance on two households, outbuildings, fencing, etc. As an adult, she has owned two houses. The first one she personally ripped out a galley kitchen and opened it up to the living area, plus updated every door, floor covering, and piece of trim in the place. In her current home, she's tackled everything from installing real hardwood flooring to revamping the landscape.