How to Lay Floating Tongue and Groove Flooring Part 2
To ensure our content is always up-to-date with current information, best practices, and professional advice, articles are routinely reviewed by industry experts with years of hands-on experience.

Reviewed by

on Jan 07, 2021
At this point, you should already be started with your tongue and groove flooring installation project. You should have a vapor barrier and the underlayment on the floor as well as your first board. You are now ready to continue laying more cut boards and keep the project moving. Here are the basics of how to continue your floating tongue and groove flooring installation. (This is Part 2 of a 3 part series. Click to view Part 1 or Part 3.)
Step 1 - Lay First Row
You want to attach the second board to the narrow end of the first board. You are going to be forming a vertical row of boards all the way across the room. The boards should easily slide together with the tongue and groove system. Before sliding the boards together, you should apply a bead of wood glue to the groove of one of the boards. Then press the tongue into the groove firmly. Continue laying boards vertically across the room until you get to the wall. You will also want to continue putting wedges on the edges of the boards to ensure the proper expansion gap along the row.
Step 2 - Fit the Last Board in the Row
When you get to the end of the row, you will need to cut a board to fit in the gap. Take your tape measure and determine the distance between the last board and the wall. Now that you have the dimension, measure out the appropriate distance on a new board. Make a mark with a pencil on the board. Place the board underneath your saw and make a cut in the appropriate dimension. You should be able to now place this cut board into the gap between the wall and the other boards. Be sure to allow enough room for an expansion gap in the other direction as well.
Step 3 - Start the Second Row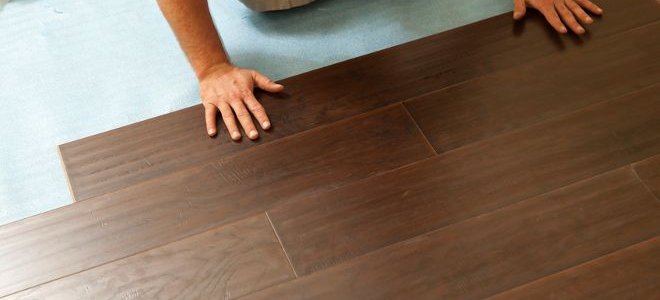 After you finish the row, you are ready to start your next row. Take the piece that was left over after making the cut on your last board. Use this smaller piece to start your second row. This will allow the boards to be staggered, which will keep the end joints of the boards from lining up. This will provide you with a much better look when you are finished. Take the board and apply wood glue to the groove. Then press it together with the first board from the first row. Use a tapping block and a rubber mallet to tap the boards together firmly. This will ensure that the tongue and groove fit together properly and securely.
Step 4 - Continue the Row
After starting the second row, continue installing boards vertically as you did with the first row. You will need to continue applying adhesive to the new boards and pressing them firmly into place against the first row. Keep tapping them with your tapping block and rubber mallet. You could also use a ratchet clamp to tighten the joints of the boards if you have one available.