How to Make a Leather Cuff
To ensure our content is always up-to-date with current information, best practices, and professional advice, articles are routinely reviewed by industry experts with years of hands-on experience.

Reviewed by

on Sep 17, 2019
Leather strip
Ball-peen hammer
Awl
Shears and/or utility knife
Fastener
Edge beveler or X-Acto knife
Hole punch (either rotary or drive punch)
Rivet stud (for button)
Leather strip
Ball-peen hammer
Awl
Shears and/or utility knife
Fastener
Edge beveler or X-Acto knife
Hole punch (either rotary or drive punch)
Rivet stud (for button)
If you have extra leather leftover from a project, you can easily make a leather cuff. It's a good project to practice leatherwork on and can be customized to make a unique accessory.
We worked with Will Lisak at Craftsman MAKEcation to make our cuff and to make a full leather belt and you can too!
Step 1 – Size Your Cuff
Wrap the leather around your wrist and decide how you'd like it to fit. Make a light mark using your awl and measure out an extra inch to make room for the button. Cut the leather using a utility knife or shears and make another mark a ½ inch in from both sides.
Step 2 - Cut Your Holes
Use a hole punch on each of these marks. If you are using a rotary hole punch, it works similar to a normal paper hole punch. Traditional drive punches require a hammer. Line up the hole punch and strongly hammer down like you would a nail until it's fully cut through the leather.
Choose one hole to enlarge so the button fits easily. Use the utility knife to stretch the hole in a way that will make it easier for you to remove the button while you're wearing it. We cut a teardrop shape, but also cut a line deeper in, just in case the button got stuck.
Step 3 - Smooth the Edges
Use an edge beveler to create more rounded, softer edges along the cuff. Place the beveler at a 45-degree angle; you can rest one side against the table to steady your movement. Use long, firm movement as you guide the beveler along the length of the leather. Aim for long strips so the edge feels consistent and smooth. Repeat on all sides.
An X-Acto knife can also be used if you don't have an edge beveler, but it will be more difficult to get consistent lines safely. Some people also sand the edges as an alternative to the beveler.
Step 4 - Secure Your Button
Put the long part of the rivet stud through the leather and second piece of the stud. This will be your button. Use a ball-peen hammer to secure the two pieces together like a rivet.
If the long piece pokes out too far, cut off the excess. The edge should not be flush against the metal, but should have a peak poking out for you to work with.
Use your ball-peen hammer to mash the peak down so it flattens out and creates an edge that secures it to the other metal. Work with the metal, hammering at a diagonal in a circular motion to shape it into a mushroom shape. Finish it off with a decisive hit on the center and you're all set.
Optional – Finishing Touches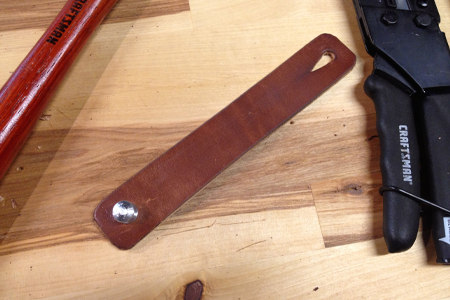 Before adding on the fastener, you can apply a stain, balm, or conditioner to the belt to get the look you want. If your leather is completely untreated, you'll want to treat it to keep it from staining from water contact. Make sure to follow the specific product's instructions, but be prepared to get a little messy and have rags handy. You want to use smooth strokes to let the product penetrate the leather evenly throughout.
Different types of leather wax can also help keep any frays in place. This can be applied after the products listed above to finish off your new accessory.
Kimberly Keller was a senior content manager for DoItYourself.com from 2015 to 2022. Starting out in the entertainment industry as an assistant director, her passion for writing and website coding lead her to pursue a career in online media. An accomplished journalist, Kimberly has received awards from USC, CSUN, and A'Design Awards and has worked abroad in Italy. From building websites to writing and editing, Kimberly has worked on both sides of the web publishing world throughout her professional life. Through her work on Internet Brands' websites, she focused on creating a user experience that brings carefully researched content to DIYers across the globe. An avid DIYer from a young age, her grandfather was a general contractor, her uncle is a carpenter, and her father is an electrical engineer. These skills were passed on to her along with a passion for taking on new projects inside and outside the home whenever possible. In her spare time, Kimberly enjoys working on various DIY projects, travelling, and volunteering with local animal rescues and Habitat for Humanity. Her favorite DIY project is the "clubhouse" she built with her dad and friends as a kid that is still standing her parent's home. Built on stilts, it still has the best views of the neighborhood.

Hannah is a contributing writer and former editor for DoItYourself.com. She has a wide range of interests in home improvement and gardening subjects, and particularly enjoys learning about interior design, landscaping, and carpentry.