How To Make Braided Rugs
To ensure our content is always up-to-date with current information, best practices, and professional advice, articles are routinely reviewed by industry experts with years of hands-on experience.

Reviewed by

on Apr 18, 2022
40 hours

•

Intermediate

•

20
Braid Material (wool or cotton)
Lacing thread
Darneedle
Large darning needle
Sewing machine
Scissors
Braid Material (wool or cotton)
Lacing thread
Darneedle
Large darning needle
Sewing machine
Scissors
Creating a braided rug is an inexpensive and creative way to decorate your home. In this article, you will learn just how easy making a braided rug can be!
Step 1 - Create a Plan
There are a few things to consider before you begin making your braided rug. You should have an idea of how you would like the rug to appear, and the shape you would like the rug to be.
You may also want to consider whether or not you wish to incorporate a specific design into the rug. Most people use one color per section, while others will make the rug entirely of one color.
In addition to the color, you will want to decide the material of your rug.
Wool is a very good and durable material that can last a lifetime when cared for properly but requires special care when cleaning. Cotton seems to be the most popular choice, and while perhaps not as durable as wool, will still certainly last a good many years.
Step 2 - Make your Braids
Create the sections by braiding three pieces of material together much like you would braid hair.
Sew the strips together as you go. When you start the braiding, turn the sides on the strip into the middle, first one then the other. By doing this, the frayed edges won't show or begin to unravel. It won't be long before your braided rug begins to take shape.
Step 3 - Determine Your Shape
In making a square braided rug, the first strip is what determines the size of the rug. The remaining pieces will then of course be made the same size.
If you are making an oval rug, start with the centerpiece being 1/3 of the total length you want the rug to be. For example, if you want a three-foot rug, your first piece would be one foot long.
For a round rug, the first piece will be very short and turn so the ends face each other to form a circle. You will then work out from there.
Step 4 - Put it Together
Use heavy string or special lacing thread to lace the braided rug together. Lace the pieces together much like you would string a pair of shoes. Pull the laces back and forth inside the braids, lacing them snugly so the rug doesn't separate.
Step 5 - Proper Care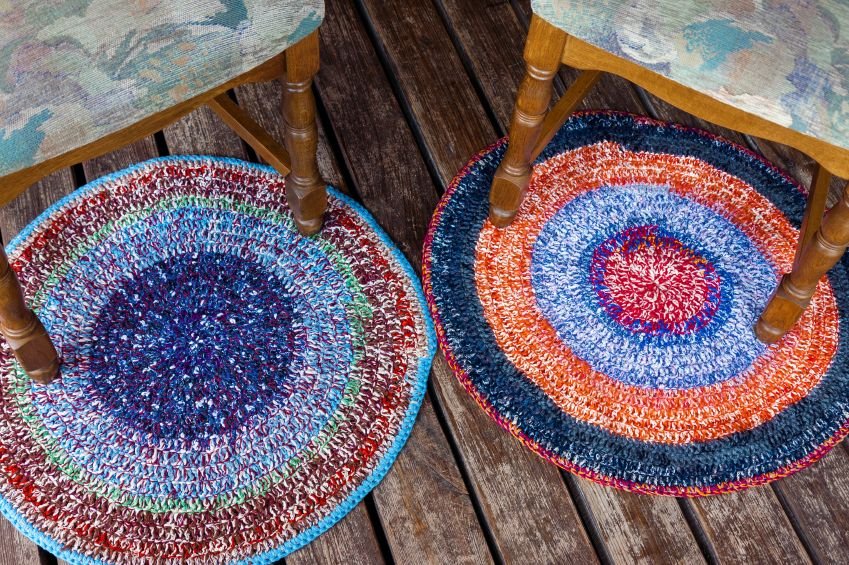 Regardless of the material you use, as long as you take proper care of the braided rug, it will give you years of excellent use.
Gently vacuum both sides on a regular basis. This will help to ensure the dirt is removed from the rug. Attend to stains as soon as they happen. You can use ammonia to spot clean but don't rub! Blot it gently and repeat until the stain is gone.
When cleaning the rug, do so with a plastic tarp or something similar underneath it, as it may damage any surface under it.
Additionally, do not "beat" the rugs as it may cause them to become misshapen. Use dry cleaning solvent periodically to clean the rugs thoroughly and always dry on a flat surface to prevent puckering.