How to Make Homemade Playdough
2 cups white flour
1 cup salt
2 tablespoons oil (any kind)
2 cups water
4 teaspoons Cream of Tartar
Food coloring if desired
2 cups white flour
1 cup salt
2 tablespoons oil (any kind)
2 cups water
4 teaspoons Cream of Tartar
Food coloring if desired
Playdough is a childhood staple. Even though it is ubiquitous in the stores, it's also easy to make yourself. It makes great party favors, birthday presents, and Christmas gifts. Plus, it's just as much fun to play with now as it was when you were a kid. Here is an easy step-by-step guide to make your own playdough. This recipe makes about two cups.
Step 1 - Mix It Up
Begin by mixing the flour and salt together in a pot. Then add the oil and water to the mixture and cook it over low heat on your stove. Stir it frequently with a wooden spoon until the mixture thickens and then cook it for about five minutes longer until the dough pulls away from the sides of the pot. Turn off the heat.
Step 2 - Knead It
Move the dough to a lightly floured surface and knead it. Although it will be sticky at first, you won't need a lot of flour. Just work out the air bubbles until it becomes smooth.
Step 3 - Add Color (Optional)
Your playdough is ready to go, but if you would like to color it, simply add a few drops of food coloring to the mix. You can break your playdough into smaller balls and make each one a different color if you want. This is the messiest part of the project so protect counters and clothing as needed. Alternately, you can add the food coloring when you add the other liquids if you want the entire ball to be the same color.
Step 4 - Store It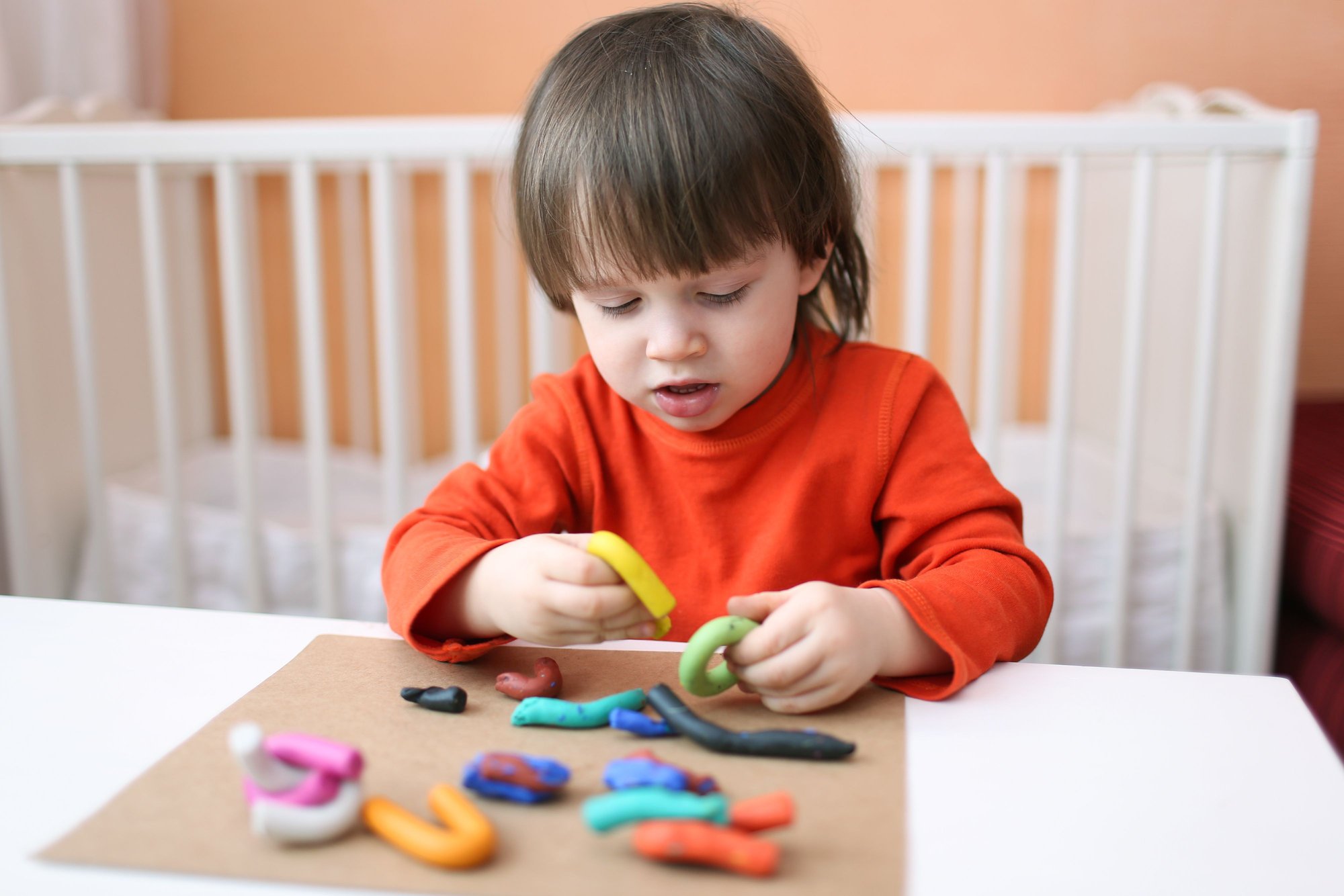 This playdough will dry out so make sure to store it in an airtight container or a tightly-sealed plastic bag.
Playdough is a lot of fun and when you make it yourself, and you know that it is non-toxic. But, it's not just for the tiny tots. Recently when we were in a pinch the night before a science project was due for our middle schooler, we whipped up a batch and recreated the human brain. We've made the solar system before too. Have fun.
Dawn Hammon has thrived in freelance writing and editor roles for nearly a decade. She has lived, worked, and attended school in Oregon for many years. Dawn currently spends her days convincing her children she is still smarter than them while creating new experiences with her husband of 24 years.  Her multiple interests have led her to frequently undergo home improvement projects. She enjoys sharing the hard-earned knowledge that comes with it with the audience of DoItYourself.com. Dawn and her sister make up a power-tool loving duo that teaches classes to local women with the goal of empowering them to tackle their fears and become comfortable with power tools. Tapping into her enthusiasm for saving money and devotion to sustainable practices, Dawn has recently launched a passion project aimed at connecting eco-friendly products and socially-responsible companies with consumers interested in making conscientious purchases, better informing themselves about products on the market, and taking a stand in favor of helping to save the planet. When she is not providing stellar online content for local, national, and international businesses or trolling the internet for organic cotton clothing, you might find her backpacking nearby hills and valleys, traveling to remote parts of the globe, or expanding her vocabulary in a competitive game of Scrabble. Dawn holds a bachelor's degree in psychology, which these days she mostly uses to provide therapy for her kids and spouse. Most recently, I worked for a small local professional organizing and estate sale company for four years where I learned a ton about organizing and/or disposing of just about anything. She was raised in a tool-oriented, hands-on, DIY family. Her dad worked in the floor covering business and owned local floor covering businesses, so of course selling floor covering was one of her first jobs. Her brother was a contractor for about 30 years and site supervisor for Habitat for Humanity. I worked with him often, building decks, painting houses, framing in buildings, etc. With her sister, she holds power tool classes to empower women who are scared or have never used them. Not quite homesteaders, she did grow up with a farm, tractors, motorcycles, expansive gardens, hay fields, barns, and lots of repairs to do. Plus she and her family preserved foods, raised cattle and pigs, chopped and hauled firewood, and performed regular maintenance on two households, outbuildings, fencing, etc. As an adult, she has owned two houses. The first one she personally ripped out a galley kitchen and opened it up to the living area, plus updated every door, floor covering, and piece of trim in the place. In her current home, she's tackled everything from installing real hardwood flooring to revamping the landscape.