How to Make Acid Etched Glass
To ensure our content is always up-to-date with current information, best practices, and professional advice, articles are routinely reviewed by industry experts with years of hands-on experience.

Reviewed by

on Jun 26, 2023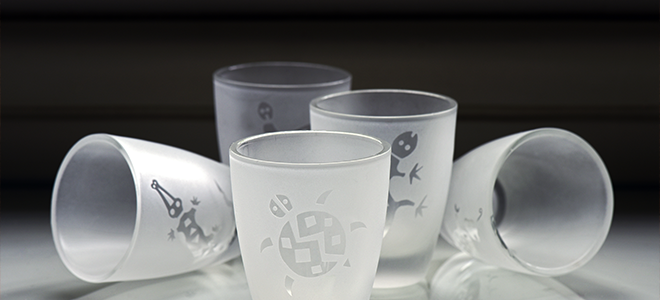 1-3 hours

•

Beginner

•

25-50
Smooth glass piece
Acid etch cream
Small paint brush
Stencil
Masking tape
Newspaper
Glass cleaner
Paper towels
Soft cloth
Smooth glass piece
Acid etch cream
Small paint brush
Stencil
Masking tape
Newspaper
Glass cleaner
Paper towels
Soft cloth
Acid etched glass is a popular trend that allows you to take inexpensive glass pieces from a dollar store or a glass you have around the house, and turn it into a very special keepsake or decor item. It isn't a difficult project. You just need the right supplies before you start, and then follow the easy steps.
Step 1 - Choose Your Piece
When deciding which piece to use the acid etch on, be sure that it is a piece that does not have texture on the area where you will be etching. Textured areas do not come out well. You can use a textured piece as long as the area you want to etch is smooth.
Step 2 - Prepare
You will want to protect the area where you will be working with the acid etch cream. If it splatters on soft surfaces, and even on your floor or countertops, it can cause discoloration. Acid etch cream is just that, acid. Do take precautions before starting. If you are very careful, you will be fine. It is best to do this project in the kitchen near the sink. Lay down a couple of layers of newspapers to work on. Keep a roll of paper towels handy in case you happen to drip some acid etch and be sure to wash the area with soap and water to remove it as soon as possible. Next you will want to get the glass piece as clean as possible. Spray with window cleaner and wipe dry with paper towels. Place your piece on the newspapers, and you are ready to apply the stencil.
Step 3 - Apply the Stencil
When applying the stencil, you will want to follow a few precautions. First, a lot of stencils have several patterns on them. If you bought one that has several, cut out the one you will be using leaving as much border around it as possible. Next, you will have to be careful in placement. Look at the cutout of the stencil and not the stencil as a whole when placing it. Lastly, be sure you have it straight and centered. When it is where you want it, use masking tape to adhere it to the glass. Be sure that it is as smooth as possible so the acid etch does not run under the stencil. With your stencil in place, you are ready to use the acid etch. An easier option is to use a stencil made a die-cut machine such as a Cri-cut, or simply apply stickers to etch around.
Step 4 - Etch the Glass
Shake the bottle of acid etch to be sure it is well mixed. Carefully remove the lid and sit the bottle on the newspapers just in case of a spill. Dip your brush in the acid etch. You do not want to get too much on it at a time. Remember you are working with acid. Apply a thin coat to the cut out areas of your stencil being sure you cover all points and corners. It doesn't take a whole lot of acid etch. After application, time according to the manufacturer's instructions, usually 10 to 30 minutes. You're almost done!
Step 5 - Remove the Acid Etch Cream
Carefully remove the tape and stencil when time is up. Turn on the cold water and rinse the acid etch cream from the glass. Dry with a soft cloth and enjoy your new piece!