How to Paint Pegboard Displays
To ensure our content is always up-to-date with current information, best practices, and professional advice, articles are routinely reviewed by industry experts with years of hands-on experience.

Reviewed by

on Jan 27, 2021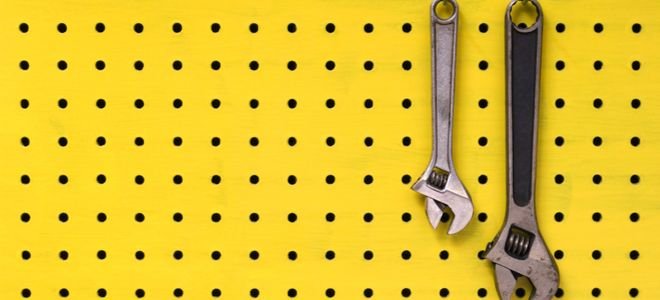 1-2 hours

•

Intermediate

•

40-80
Primer (Kilz 2 Latex)
Semi-gloss oil-based paint/spray paint (latex)
Roller frame
Roller covers
Roller tray
Gloves (rubber/latex)
Safety goggles (for spray painting)
Safety mask
Old newspapers
Scrap wood/cardboard
Primer (Kilz 2 Latex)
Semi-gloss oil-based paint/spray paint (latex)
Roller frame
Roller covers
Roller tray
Gloves (rubber/latex)
Safety goggles (for spray painting)
Safety mask
Old newspapers
Scrap wood/cardboard
Pegboard displays are extremely useful for storing household items in a neat and convenient manner. Not only are they helpful when you have a small room, but they also help in effectively organizing items that would otherwise have to be stored in drawers, cartons and cabinets, making them easier to access. Hanging a pegboard display is easy and Pegboard displays are available in many different types and colors, but if you want to change the look of your pegboard display with the help of a custom paint job, follow the steps below.
Step 1 – Pick the Color
The first thing you need to do is decide the paint color. You could choose to use the same color as the walls or try a contrasting color for added effect. Pegboard displays can also be painted in different colors, but for this, you will need to use spray paint to make the design/pattern. You will also need a plastic sheet and duct tape to cover the areas accordingly.
Step 2 – Get the Supplies
Once you've picked a color and before you begin painting, you'll need to decide whether you want to spray paint it or use rollers. Depending on your choice, you'll then need to buy the supplies accordingly. If you choose to spray paint, make sure you also get the necessary safety equipment (goggles, gloves, and mask). When buying the supplies, check the labels to ensure that you buy only non-toxic paint. You could also get bio-degradable paint tray liners.
Step 3 – Prep the Area
Once you have all the supplies, the first thing you need to do is prep the area. Spread old newspapers in and around the area to ensure that there are no paint stains left behind when you are done. Also, keep all that you will need handy so that once you get started, you have what you need right there.
Step 4 – Applying the Primer
Use the rollers to apply a thin coat of primer. Primer is important because it smoothens the surface on which you will be applying paint. Once you have applied the primer, let it dry.
Step 5 – Painting
Once the primer is dry, it is time to paint. If you opted for spray paint, then simply spray the paint on the pegboard. Spray painting is the preferred method of painting because it does not clog the holes in the pegboard. Make sure to spray evenly so as to cover the entire surface. If you chose to use some semi-gloss oil-based paint, then apply a thin coat of the paint using a short-nap roller (¼-inch).
Also, once you have loaded the roller with paint, you should apply the paint to the scarp wood or cardboard for the first two rolls. This helps in removing the excess paint from the roller. If your roller has too much paint on it, you risk clogging the holes. You will need to apply two coats to get the desired color, but you must let the first coat dry completely before applying the second coat.
Avantica is a contributing writer for DoItYourself.com. She has a wide range of experience with researching and creating home improvement projects, and especially enjoys learning about green energy, painting techniques, and advanced tools.

Caleb Mayo is the Associate Editor for DoItYourself.com. He's written for business publications, celebrity blogs, production companies, law offices, and not-for-profits, and created design fiction for major corporate brands. He grew up in Marblehead, Massachusetts in a family of do-it-yourselfers, with whom he's participated in myriad home improvement and landscaping projects—from veggie garden beds to a full cottage studio. Caleb enjoys learning about green technology and environmental stewardship. He holds a B.A. in Drama from Vassar College, and has performed in professional theater since he was 14.