How to Repair a Cracked Concrete Bird Bath
To ensure our content is always up-to-date with current information, best practices, and professional advice, articles are routinely reviewed by industry experts with years of hands-on experience.

Reviewed by

on Mar 08, 2023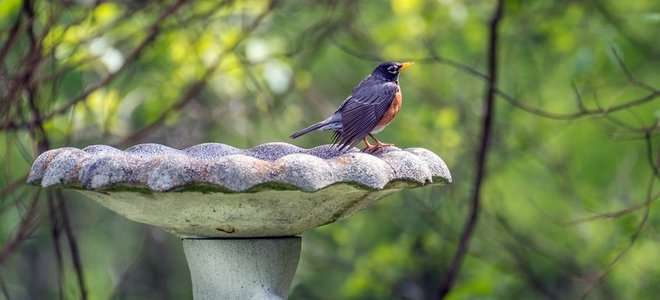 0-1 hours

•

Intermediate

•

0-85
Epoxy cement
Scrub brush
Bucket of soapy water
Clean cloth
Small trowel or putty knife
Epoxy cement
Scrub brush
Bucket of soapy water
Clean cloth
Small trowel or putty knife
A concrete bird bath is very often vulnerable to cracking and damage when it is left outdoors during cold winter months. This is particularly true if you live in an area where freezing and thawing are common.
Unfortunately, bird baths with cracks that penetrate completely through the bowl will not hold water and will remain unusable until these cracks are repaired. Therefore, if you wish to continue using it, you will need a solution.
To prevent future cracking, along with the resulting maintenance and repairs, you should move your bird bath from the yard to a more sheltered place, such as your garage, each autumn before cold temperatures set in. That being said, cracks in your bird bath do not usually require time-consuming or expensive repairs.
Step 1 - Purchase Your Epoxy Filler
At your local hardware or home repair store, purchase an epoxy mixture that can be used to fill cracks in the cement. You'll find several types of these that will work well on concrete. However, if after examining the epoxies, you find you are still unsure about which ones will work best on your concrete bird bath, ask a clerk for his recommendation.
Step 2 - Drain Bowl and Unplug Electrical Fixtures
Before you can begin to repair cracks, you must first drain the bath of any pooling water and unplug any electrical wiring or fixtures that may be connected to the bowl.
Step 3 - Clean the Bowl
Remove any leaves, dirt, and debris left behind; then, thoroughly clean the bowl by using a scrub brush and soapy water. This will make sure nothing interferes with the epoxy's ability to adhere to the concrete. Once the bowl is completely cleaned, dry it thoroughly with a clean cloth. Moisture can also compromise epoxy's adherence.
Step 4 - Mix the Epoxy
Follow the manufacturer's directions to mix the epoxy; generally, it is mixed in two parts. Make sure it is combined thoroughly.
Step 5 - Fill the Cracks
Take a small amount of your mixed epoxy on the end of a small trowel or putty knife. Slowly and carefully work it into the cracks. Make sure that you completely fill the area so that there are no spaces left unfilled, and then smooth uneven edges.
Step 6 - Allow Your Bowl to Dry
Epoxy usually takes about 10 to 15 minutes to dry completely. Be sure to allow it to dry completely before you begin your next step.
Step 7 - Refill the Bath
Once the epoxy has dried, fill the bowl with water and examine it closely to determine whether or not the cracks have sealed properly. Keep in mind that you may have to watch it for a while if there is still a slow leak, as it won't show quickly.
If your repairs are successful, you can plug any electric fixtures back in and finish setting your bath up the way it should be.