How to Repair Scratches in a Soapstone Countertop
To ensure our content is always up-to-date with current information, best practices, and professional advice, articles are routinely reviewed by industry experts with years of hands-on experience.

Reviewed by

on Mar 13, 2020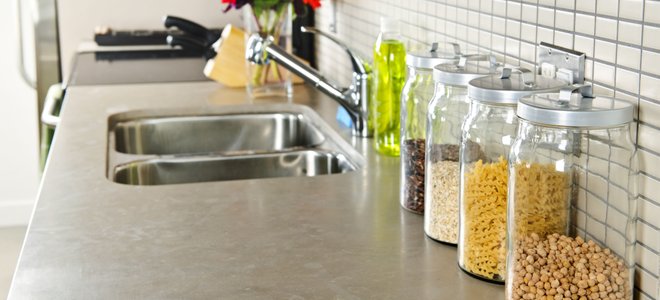 3-5 hours

•

Beginner

•

0-50
Sponge
Sandpaper
Mineral oil
Clean Piece of cloth
Sponge
Sandpaper
Mineral oil
Clean Piece of cloth
A soapstone countertop does not stain easily because it's highly non-porous. However, although different types of soapstone exist ranging from soft to harder stone, soapstone countertops can get easily scratched which affects its finish. Luckily, removing scratches from soapstone countertops is an easy task in which you can employ yourself while saving money from not hiring a professional. Follow the below mentioned steps to easily get the result that a highly paid professional will give you.
Step 1: Mark out the Scratches
Carefully analyze your countertop to mark out all the scratches for repair. Soak the sponge in water and clean the surface of the countertop. Allow the surface to dry to make the marks more visible on a cleaner surface. Scratches vary in their depth therefore identify shallow marks as well before they enlarge into bigger grazes.
Step 2: Use Sandpaper
To repair the countertop, use sandpaper to melt the etch mark into the surface. Sandpaper comes in varying 'hardness' of silicon to account for varying surfaces. For deeper scratches, use 100 grit sand papers and for marks with lesser depth, use a 300 grit paper. Take a page of sandpaper and fold it into fours. Rub the paper onto the scratch, applying even pressure. Place your four fingers behind the paper rubbing the surface to ensure unified sanding. Use different sides of your folded paper after the side being rubbed sticks to sandstone. For deeper scratches, start by using 100 grit sand papers and as the depth of the graze fades, switch to 300 grit sand paper to acquire a smooth finish.
Step 3: Apply Mineral Oil
Soapstone countertops get their dark finish from the mineral oil applied to them. Scratching the surface with sandpaper however, scratches off the color as well leaving the repair work visible. Therefore, to achieve the same dark finish, use mineral oil on the scratched area. Since soapstone is highly non-porous, the oil cannot be applied and be allowed to soak in. Apply oil on the required area and use a clean piece of cloth to rub it in. Use small rigorous circular motions to rub in the oil evenly. To achieve the dark finish, apply the oil several times to give the surface multiple coats. Every additional coat of oil will take longer to seep in and require more rubbing. There is no limit to the oil you can apply, therefore rub in the oil appropriately till you achieve the color of your countertop. Usually, it will take 3 coats of oil to get to the dark shade of soapstone.
Step 4: Clean the surface
Use a dampened sponge to clean the surface of the repaired countertop. Look for more scratches that you may have ignored earlier and in case of detection, repeat the process. Use a dry cloth to rub the surface dry. Soapstone is unharmed by chemicals. Therefore, use a detergent and water to clean the surface properly after you have finished.