How to Safely Kill Silverfish in Your Home
To ensure our content is always up-to-date with current information, best practices, and professional advice, articles are routinely reviewed by industry experts with years of hands-on experience.

Reviewed by

on Mar 15, 2023
1-3 hours

•

Beginner

•

0-50
Silverfish are small, wingless bugs that congregate around starch and sugar food sources. They tend to gather in dark places like corners, and may be found near books, papers, recycling, fabrics, the bread drawer, etc. These pests are not harmful to your health, and they don't bite or sting, but they can cause damage to anything made of paper and certain types of wood. Removing silverfish can be a difficult process, however, because many people are understandably hesitant to apply insecticides or other extermination methods inside of their homes. Rather than put your family and pets at risk of poisoning with a powerful insecticide, consider the following safe procedures for eliminating a silverfish infestation.
1. Understand Your Opponent
While you may have never heard the name silverfish, you've likely seen them and may have confused them with the more commonly referred-to earwig. Earwigs and silverfish are actually different bugs. Although they share the same class of insects (Insecta), they come from different orders.
Silverfish also have different physical characteristics with three straight appendages coming out of the abdomen compared to two for the earwig. Also earwigs are equipped with a hard shell where silverfish have more of a scaly texture.
2. Apply a Non-Toxic Chemical Treatment
Certain chemicals are damaging to silverfish and can help to eliminate a pest problem without serious risk to humans and pets inside the home. Boric acid is a mild insecticide that serves this purpose. It comes available as a powder and may be dusted lightly in areas where silverfish congregate.
Because boric acid may be poisonous if ingested in relatively large quantities, it is important to not allow your pets or children to access the chemical. For this reason, a boric acid treatment is best used in parts of the home that are not easily accessed by pets and small children. Reapply boric acid every two weeks or so in order to prevent the recurrence of silverfish in that area.
3. Diatomaceous Earth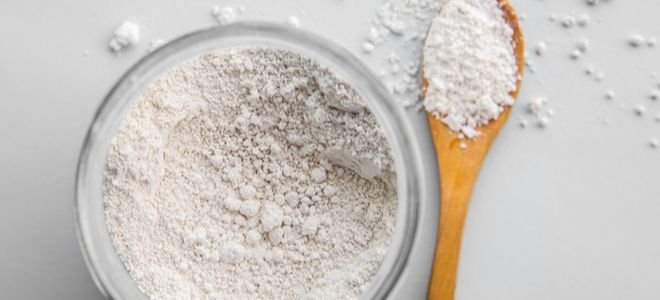 Diatomaceous Earth (DE) is a food-grade product that kills pretty much every kind of insect. Sourced from finely ground fossils, DE particles contain jagged, sharp edges that kill the insects when they move through it. Sprinkle DE anywhere you've seen silverfish in your home. Remember to target dark, damp spaces such as under sinks, in cupboards, and along baseboards. Leave the powder in a place for a day and then vacuum it up.
4. Remove Wallpaper
Silverfish may feed off of wallpaper and wallpaper glue. Removing or resealing damaged wallpaper can eliminate a primary food source for silverfish, discouraging them from entering your home.
5. Purchase a Dehumidifier
Work to reduce the humidity in your home, especially in damp areas like the basement and bathrooms. This may effectively dry out the silverfish, either killing them or preventing them from living while inside of your home. A powerful dehumidifier is an excellent acquisition, but you can also take additional steps toward reducing humidity. Keep shower curtains and bathroom doors closed, and check water pipes to ensure no moisture is escaping into the atmosphere. Also apply plastic sheeting beneath the home and treat basements with waterproofing materials to keep moisture from seeping in.
6. Create a Trap
In areas where pets and children may have access, such as floors and kitchens, a non-toxic homemade trap is a good way of removing silverfish. Bear traps have been used in the hunting world for hundreds of years because the concept is simple - the bear falls in and can't get back out. Similarly, a tall glass jar might be the only tool you need to trap silverfish in your home.
Since silverfish do not have wings, they can't fly, which means they must crawl everywhere they go. That's good news for you, Mighty Silverfish Hunter. Wrap jars with masking tape or other material that gives the bugs traction as they climb. Place a small amount of bread inside the jar. Then place the jar in an infested area. They will climb in hoping for an easy meal, but will be unable to climb back out.
There is also a store-bought option to consider. Roach motels basically entice insects in and then trap them with a sticky paper inside a box. Draw silverfish in with a yummy carbohydrate-rich treat and they won't check back out of the hotel after dinner.
7. Clean Regularly
Keeping a clean house is another way to reduce silverfish presence. Ensure all potential food sources are eliminated as quickly as possible, and work to reduce the number of dark corners and crevices where silverfish may gather. You can help make your space less inviting for the little buggers by storing all foods in airtight containers rather than boxes or bags.
8. Check for Gaps
Because silverfish are so small, they can make their way into your home with any opening. Check all of your windows and doors for a solid line of caulking. Also close gaps in ceilings, walls, and baseboards.
With this combination of safe extermination methods, you may find you are able to completely eliminate silverfish in your home. If not, consult with an extermination service for further advice about how to safely remove these pests.
Dawn Hammon has thrived in freelance writing and editor roles for nearly a decade. She has lived, worked, and attended school in Oregon for many years. Dawn currently spends her days convincing her children she is still smarter than them while creating new experiences with her husband of 24 years.  Her multiple interests have led her to frequently undergo home improvement projects. She enjoys sharing the hard-earned knowledge that comes with it with the audience of DoItYourself.com. Dawn and her sister make up a power-tool loving duo that teaches classes to local women with the goal of empowering them to tackle their fears and become comfortable with power tools. Tapping into her enthusiasm for saving money and devotion to sustainable practices, Dawn has recently launched a passion project aimed at connecting eco-friendly products and socially-responsible companies with consumers interested in making conscientious purchases, better informing themselves about products on the market, and taking a stand in favor of helping to save the planet. When she is not providing stellar online content for local, national, and international businesses or trolling the internet for organic cotton clothing, you might find her backpacking nearby hills and valleys, traveling to remote parts of the globe, or expanding her vocabulary in a competitive game of Scrabble. Dawn holds a bachelor's degree in psychology, which these days she mostly uses to provide therapy for her kids and spouse. Most recently, I worked for a small local professional organizing and estate sale company for four years where I learned a ton about organizing and/or disposing of just about anything. She was raised in a tool-oriented, hands-on, DIY family. Her dad worked in the floor covering business and owned local floor covering businesses, so of course selling floor covering was one of her first jobs. Her brother was a contractor for about 30 years and site supervisor for Habitat for Humanity. I worked with him often, building decks, painting houses, framing in buildings, etc. With her sister, she holds power tool classes to empower women who are scared or have never used them. Not quite homesteaders, she did grow up with a farm, tractors, motorcycles, expansive gardens, hay fields, barns, and lots of repairs to do. Plus she and her family preserved foods, raised cattle and pigs, chopped and hauled firewood, and performed regular maintenance on two households, outbuildings, fencing, etc. As an adult, she has owned two houses. The first one she personally ripped out a galley kitchen and opened it up to the living area, plus updated every door, floor covering, and piece of trim in the place. In her current home, she's tackled everything from installing real hardwood flooring to revamping the landscape.

H.R. Helm is an accomplished DIY craftsman. He has been DIY since childhood and is now a septuagenarian. He is experienced in wood and metal construction, having designed and built several houses and metal buildings. He built every permanent building on his current homestead and did all the plumbing and electrical work. He has several years experience as a professional cabinet builder, and he is an accomplished auto repairman, having operated an auto repair business for many years. He currently has a home shop where he sharpens and rebuilds saws, repairs lawn mowers, mobility scooters, hydraulic jacks, and anything else that comes along. He also builds custom tools for metal working. Invention prototypes are another of his many accomplishments. He owned and operated a manufacturing business building Compact Utility Vehicles for homeowner use. H.R. enjoys making jams and jellies during fruit season along with cooking meals. He is committed to outdoor cooking in a Bar-B-Q pit he welded together several years ago. He maintains fruit and nut trees along with helping his wife with a vegetable garden. He farmed commercial garden produce for several years. It helps to have over 50 years of farming and ranching experience. Employment/Education Highlights ASE Certified Master Auto Technician Certified Welder Cross country truck driver -- over dimensional freight Design Engineer/Project Manager for injection molded plastic company Bus Driver/Substitute Teacher Inventor with two patents (weight training – anti-rollback for manual wheelchair) BS in Industrial Technology