How to Step Up Your Drywalling Expertise
While some home renovation jobs may require precision work, hanging drywall is not necessarily an exact science. There are, however, some aspects of drywall hanging you can finesse. Even though drywall compound can help correct many surface imperfections created during the installation process, it's a lot simpler if you install your drywall properly from the start, minimizing the flaws and defects that need to be hidden as you proceed to the plastering stage. The following tips will help to make your job of installing drywall much easier and make the results look more professional.
Step 1 - Selecting Drywall
Drywall panels are available in three basic thicknesses:
3/8 Inch
The 3/8 inch thick drywall panels are lighter and thinner, making them easier to bend and a popular choice for covering curved surfaces or for use over existing drywall. This grade is common in homes on walls and ceilings. If you're going to use it on a ceiling, you must frame in supports every 12-16 inches to prevent it from sagging.
1/2 Inch
1/2 inch drywall is the standard thickness used for walls and ceilings. It also works best with supports divided by no more than 16-inches center, and preferably 12-inches on ceilings. It offers fire resistance as well as soundproofing properties, and if the weight is an issue when handling the panels, it's also available in an ultra-lightweight panel. Finally, the 1/2 inch greenboard is another type of 1/2 inch drywall used for walls in damp zones of a building, such as a bathroom.
5/8 Inch
5/8 inch panels are commonly used for ceilings or walls that require soundproofing qualities, or for walls that require a prescribed fire-resistant rating.
Step 2 - Choosing Drywall Screws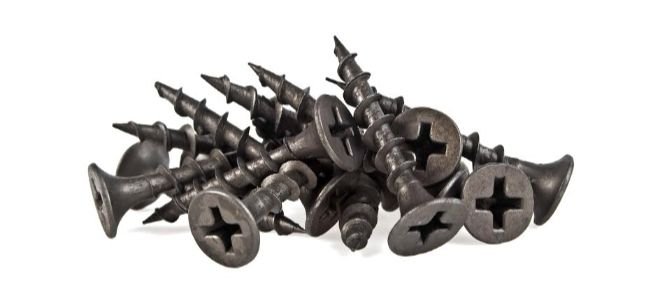 It's important to use drywall screws with the correct thread and length. Screws with coarse threads are best for securing drywall sheets into wooden studs because they drive into wood more easily. You'll need 1.25 inch screws for 1/2 inch drywall sheets. Shorter screws will not secure the panels properly, and longer screws are difficult to get to the proper depth.
Step 3 - Material Handling
If you plan on doing some or all of the drywall work without any help from friends or family, you might consider renting a drywall lift to handle the panels. Visit your local rental shop and speak with a professional to learn more about using one. These devices will help you hoist the panels into the proper position. If you should install drywall panels on your own, try to use the 1/2 inch ultralight or the 3/8 inch panels to minimize the risk of injuring yourself or damaging the panels.
Step 4 - Preparing the Wall and the Drywall
Use a pencil and clearly mark the center point of each of the vertical studs on the floor and on the ceiling. If you can't mark the surface with a pencil, place a small piece of painter's tape to indicate the position of the stud. Check all the studs to make sure there are no screws, nails, wood defects, or other obstructions causing protrusions that would hold the panels away from the surface.
Once a drywall panel is up and temporarily secured in place with a few screws, use a chalk line or a straight edge to draw lines on the panel from ceiling to floor to guide the placement of the screws. You can then finish securing the whole panel in place with the proper size drywall nails or screws for the wall, or long enough coarse-threaded screws for the ceiling.
Step 5 - Cutting Wallboard
To cut your drywall panel accurately, it's best to mark it first. Then, following your line, score it on the good side of the panel first, using a straight edge and cutting it right across. Once you've scored a line where you want to separate the board, snap the smaller section back to break the plaster as you provide stable support at the scoring point on the larger portion of the sheet. With the broken section only holding on by the backing paper, use a utility knife to cut the paper and easily separate the board.
Whenever possible, use full sheets of drywall to cover your walls. Putting together leftover pieces may seem cost-effective, but keep in mind they'll require more taping, plastering, and sanding. Always install uncut edges to cover outside corners where you'll fit the metal corner piece.
Level 0
Hanging drywall is a relatively straightforward step in the overall process of finishing a wall. In the professional business, it's referred to as Level 0 of drywalling and implies that the drywall is simply fastened to the walls or ceiling. This is a forgiving stage where imperfections and mistakes can still be covered up.
Level 1
A level 1 drywall finish is the stage where the drywall joint tape has been embedded in the joint compound for adhesion and to cover up the panels' joints, but just lightly, without any bulges, and without anything further added. It's often sufficient and acceptable in garages and workshops or any other space that's rarely used. Where the bottom part of a wall will be further covered with wainscoting or cabinets, there's no need to add a premium finish.
Levels 2 & 3
At these two stages, the drywall screws and nails have been covered, and the tape has been skimmed with subsequent thin layers of joint compound. The level 2 coating is perfectly adequate where the wall surface is to be covered with tiles, and a subsequent level 3 coat will further bring the wall to a more even and uniform finish overall, suitable for texturing, which produces a rougher finish.
Level 4
To go to level four, apply a fourth coat of joint compound to the tape and screws. This level also includes sanding the dried compound with increasingly fine-grit sandpaper to remove all scratches left from coarser passes. You'll need to reach this stage if the surfaces will be painted or covered with wallpaper.


Level 5
A level 5 coating is only required when followed by a glossy finish or when the angle of the light brings out visible bumps and depressions. Level 4 is the usual norm for ceilings, but many homeowners want a level 5 finish on walls. It's the highest possible drywall finishing, being essentially a skim coat of joint compound (commonly known as mud) added to a level 4 finish. Level 5 is not usually considered a part of the finishing process, and you won't get it from a contractor crew unless you discuss it ahead of time.
At any finish level from level 2 to level 5, it's important that you set up and position a work light on a stand so you can see any screw dimples and other finish irregularities, especially while sanding.
It's also important when inserting the screws that you don't drive them too deep. This can bust through the top layer of the panel's paper, which would be bad, since the contact between the screw head and the top paper is what secures the panel in place. A busted screw insertion also creates a deeper hole that might require multiple compound applications. Such trouble spots can sometimes crack after the wall is finished, even months later.