How to Convert a Lawnmower Engine for a Go Kart
To ensure our content is always up-to-date with current information, best practices, and professional advice, articles are routinely reviewed by industry experts with years of hands-on experience.

Reviewed by

on Jan 21, 2020
5-10 hours

•

Advanced

•

1,000-5,000
Riding Lawn Mower
Axle
Welding Equipment
Wheels
Metal Plate
Safety Eye Wear
Gloves
Metal Plate
Riding Lawn Mower
Axle
Welding Equipment
Wheels
Metal Plate
Safety Eye Wear
Gloves
Metal Plate
Go karts can be a lot of fun to have and ride, but they can also be expensive. As an alternative to buying a new one, you may benefit from converting your old lawnmower into a new go kart. This task is not very challenging as long as you know the proper steps to take and have the right experience.
Step 1 - Safety First
You will have to have your safety in mind before you begin to work on this project. You will find that an assistant can be a big help in case any problems should come up. You should also be sure to give yourself plenty of time and not rush, especially if you are a novice when it comes to mechanics. Be sure that you have plenty of room to do the job and that you have some experience when it comes to welding. If you don't then you should find someone that does to do this task.
Step 2 - Engine Removal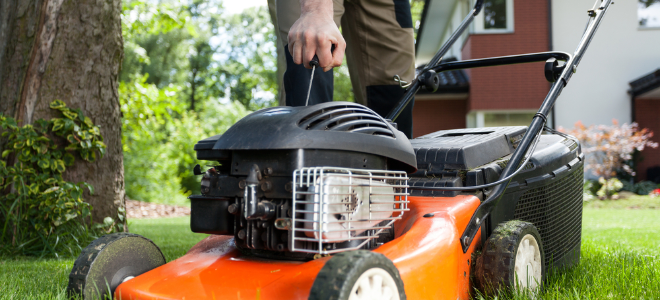 The most important part of the go kart is going to be the engine. You will need to begin by emptying the gas and oil out of the engine. Then take the engine out of the lawnmower and set it on a piece of plywood or on the grass. Get your assistant to help you lift it, as these engines can be quite heavy. Be sure to wear your gloves during the engine removal. Pay very close attention to how the engine is attached, because you will have to attach it to the go kart in a similar way. Taking a few photos with your cell phone will help provide a reference.
Step 3 - Welding
Once you have removed the motor you will need to find the vertical shaft. Weld your metal plate onto the vertical shaft.
Step 4 - Wheel Placement
A third wheel will be required for your go kart. You will have to place it on the back axle. The engine is going to need to be put where the metal plate and the third wheel will have constant contact with each other. This is what will make your actual go kart move forward.
Step 5 - Motor Attachment
When you are attaching the motor to the go kart you will need to make sure that the motor is going to be able to move about the wheel with ease. This will help make a variable transmission for your go kart.
Step 6 - Test
You will need to test out the go kart carefully and slowly once you have finished putting it all together. It is in your best interest to have someone nearby in case something goes wrong. It is a good idea to start off very slowly and gradually build up speed. Of course, do not increase speed if the go kart seems to be shaky or have problems with a slow start.
Remember to always use safety and wear a helmet, even when you are testing out the go kart.
Sage is an experienced writer with a range of interests from heavy carpentry, to detailed plumbing and electrical work, to light fabric detail.

Dawn Hammon has thrived in freelance writing and editor roles for nearly a decade. She has lived, worked, and attended school in Oregon for many years. Dawn currently spends her days convincing her children she is still smarter than them while creating new experiences with her husband of 24 years.  Her multiple interests have led her to frequently undergo home improvement projects. She enjoys sharing the hard-earned knowledge that comes with it with the audience of DoItYourself.com. Dawn and her sister make up a power-tool loving duo that teaches classes to local women with the goal of empowering them to tackle their fears and become comfortable with power tools. Tapping into her enthusiasm for saving money and devotion to sustainable practices, Dawn has recently launched a passion project aimed at connecting eco-friendly products and socially-responsible companies with consumers interested in making conscientious purchases, better informing themselves about products on the market, and taking a stand in favor of helping to save the planet. When she is not providing stellar online content for local, national, and international businesses or trolling the internet for organic cotton clothing, you might find her backpacking nearby hills and valleys, traveling to remote parts of the globe, or expanding her vocabulary in a competitive game of Scrabble. Dawn holds a bachelor's degree in psychology, which these days she mostly uses to provide therapy for her kids and spouse. Most recently, I worked for a small local professional organizing and estate sale company for four years where I learned a ton about organizing and/or disposing of just about anything. She was raised in a tool-oriented, hands-on, DIY family. Her dad worked in the floor covering business and owned local floor covering businesses, so of course selling floor covering was one of her first jobs. Her brother was a contractor for about 30 years and site supervisor for Habitat for Humanity. I worked with him often, building decks, painting houses, framing in buildings, etc. With her sister, she holds power tool classes to empower women who are scared or have never used them. Not quite homesteaders, she did grow up with a farm, tractors, motorcycles, expansive gardens, hay fields, barns, and lots of repairs to do. Plus she and her family preserved foods, raised cattle and pigs, chopped and hauled firewood, and performed regular maintenance on two households, outbuildings, fencing, etc. As an adult, she has owned two houses. The first one she personally ripped out a galley kitchen and opened it up to the living area, plus updated every door, floor covering, and piece of trim in the place. In her current home, she's tackled everything from installing real hardwood flooring to revamping the landscape.