How to Upcycle with Paint
To ensure our content is always up-to-date with current information, best practices, and professional advice, articles are routinely reviewed by industry experts with years of hands-on experience.

Reviewed by

on Jun 26, 2023
It's not uncommon to feel the urge to get rid of old furniture that's looking a little drab, but there is a more economical DIY solution at your fingertips. The answer is simple: use paint. Paint makes it easy to upcycle items within your home, requiring very little money but making a big difference aesthetically. Keep reading to learn about upcycling and when you can use paint to breathe new life into pieces that you were ready to trash.
What is Upcycling?
Before we get into specific project ideas, let's talk about what it means to "upcycle." This term refers to the act of taking something that is no longer in use and altering it to give it new life. When you upcycle an item, you're typically refashioning it, rather than breaking down the materials like you would if you were recycling an item. You can upcycle something that you have in your home or something found at a thrift shop, yard sale, or acquired as a hand-me-down.
Upcycling with Paint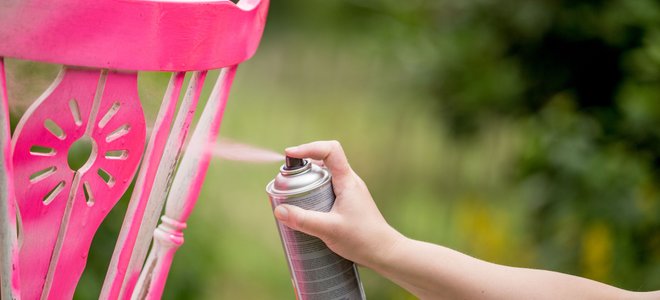 Paint is perfect for upcycling for several reasons. First, it's an inexpensive material that possesses the ability to completely transform the look of a household item or piece of furniture. Next, it's versatile. From chalkboard paint to spray paint, you can take a project in endless directions simply by changing the paint color. Finally, painting is not a large time commitment nor does it require much effort. You don't need to be an expert to do a decent paint job, making it the perfect DIY project for even an amateur.
Now that you're ready to start upcycling with paint, here are some project ideas to revamp items within your home. Before you know it, they'll feel like new.
Light Fixtures
Whether you have an old light fixture that you're looking to touch up or you found something at a thrift store that you want to revamp, paint is the perfect way to create a new look for your lights. For instance, a tired-looking brass chandelier is the perfect candidate for a paint job. To complete this project, clean the brass with wire wool and a damp, lint-free cloth. After that, clean the fixture with a degreaser, then apply a basic primer. Allow the fixture to dry overnight and paint the fixture with a paint that is suitable for metal, like an enamel paint. Paint as desired and let the fixture dry overnight, applying a finish as desired. Once finished, your fixture will look brand new and will brighten the space in more ways than one.
Old Windows
It's relatively easy to find an old window, and these make for the perfect item to be upcycled with paint. Use an old window frame and a wood backing to make a chic calendar for your kitchen, den, or home office. Use chalkboard paint on the wooden backing and then paint the old window frame as desired. Layer the frame on top of the wood and hang the entire piece on the wall. Now you have a beautiful and functional piece of wall decor that you didn't need to break the bank over.
Glass Bottles
When you're looking to decorate your home without spending an abundance of cash, painting old glass bottles is the perfect project for you. These are extremely easy to find — you probably have some in your home already — and they're aesthetically pleasing and functional. These can be used as vases or for storage, or simply for decoration.
Better yet, painting these glass bottles is easy. Choose an acrylic glass or acrylic enamel paint for best results for this project. Prepare the glass by washing it with warm, soapy water and letting it dry completely before you begin painting. Then, choose the perfect brush. Either a natural or synthetic brush will work well. For more intricate designs, choose a small and pointy brush. If you're looking to paint your bottles a solid color, you can go with something larger.
If you're planning on painting something more intricate on your glassware, start by sketching it on a piece of paper to use as a guideline. Then paint your bottle as desired. Let the paint dry completely — overnight if possible — and then use as desired within your home. This can also be done on mason jars, which are great as decorations, for storage, or for a mix of both.
These are just a few of the options for upcycling with paint within your home. Whatever you decide to do, you'll love how economical and easy these projects are and you'll appreciate the unique aesthetic they bring to your home.