How to Use a Router for Decorating Your DIY Wood Projects
To ensure our content is always up-to-date with current information, best practices, and professional advice, articles are routinely reviewed by industry experts with years of hands-on experience.

Reviewed by

on Jun 26, 2023
DIY wood projects are easy and fun to do, making them the perfect way to create some inexpensive yet unique and beautiful decorations for your home. After all, wood is an extremely diverse material, and with it the possibilities are endless! One of the ways you can enhance these projects is with a router. Read on to learn the ins and outs of this tool and how you can use it to bring your DIY wood projects to the next level!
What Is a Router?
A router can be used on materials besides wood (like plastic), but it's most widely used in woodworking. This is a tool that is used to "rout" or hollow out an area of wood (or whatever piece you're using it on). It can be used to create fancy and decorative edges or to carve out a specific shape. You can use designated patterns for cutting, making it a tool that is relatively simple to use, even for beginners!
There are two types of routers: fixed and plunged. Fixed routers have a designated depth to which they work, while those of the plunged variety can move in and out of wood as they work to create a different dimension of depth.
Routers use bits and shanks, installed along the bottom of the tool, to make their cuts once the machine is powered. After installing the bits to your machine, move it counterclockwise along the material, making your cuts. Always remember to wear ear and eye protection while using these tools.
How to Use a Router for Decorating Your DIY Projects
So what can a router do that will make your DIY projects really something special? There are several things! Keep reading to learn about the best ways to adorn your wood projects with this versatile tool—and keep in mind that they're all easy enough for even beginners to tackle!
Create Perfect Edges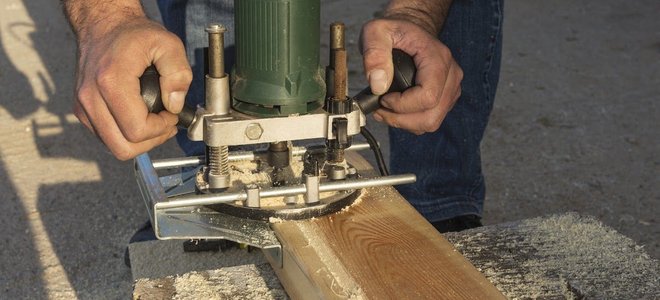 On your own, it can be tough to create seamless edges on your wood projects. However, routers take the challenge out of that task, whether you're looking for a straight or a rounded edge. This tool also makes it easy to replicate edges to ensure that they match perfectly all the way around when you're completing any project!
Create Decorative Molding
Utilizing different bits to create patterns while using your router can allow you to make simple and elegant or elaborate and stylish crown molding pieces for your home. Whether you elect to create a Roman ogee or a beaded pattern, you can use these settings on baseboards, doors, windows, or even chair rails.
Add Lettering
One of the most exciting things that routers can do for your wood DIY projects is allow you to add lettering. A regal script or whimsical handwriting theme could be just the pizzazz that your home needs, displaying your family name or favorite quote in a creative and fun way! This is a great way to customize your project.
Create a Custom Shape
Routers can be used to cut out very specific shapes, allowing you to take your wood projects in any direction you choose. Cut out large-scale letters, the outlines of a specific state, or the outline of a child's favorite animal. Using a router to do so makes it easy to seamlessly and smoothly cut wood pieces into whatever shape you desire, giving you the freedom to make small, intricate cuts as well as longer and wider ones, too.
Add Texture to Your Wood
A router can easily be used to add a new dimension to the aesthetic of your project with either a subtle or dramatic level of texture to the wood pieces. To do this, chuck a bit into your router and make several passes over the wood piece to get the desired effect. Be sure to carefully control the path of the router. When a geometric pattern is desired along the wood, a circle-cutting jig should be used. You can also control the look of the texture by changing the bit, adjusting the depth of cut, or altering the number and density of passes. Changing these settings will control how heavy or light the texture is, and with a router the possibilities for adding this dimension of decoration are endless!
As you can tell, routers are a fantastic tool to turn to when you're looking to bring your DIY wood projects to the next level. A router allows you to turn something simple into a piece that will absolutely wow in your home!