How to Winterize Your New England Lawn this Fall
To ensure our content is always up-to-date with current information, best practices, and professional advice, articles are routinely reviewed by industry experts with years of hands-on experience.

Reviewed by

on Nov 07, 2022
4-20 hours

•

Intermediate

•

250-4,000
Rake
Leaf blower (optional)
Lawn mower
Aerator
Fertilizer
Rotary spreader
Grass seeds
Sprinkler or watering can
Rake
Leaf blower (optional)
Lawn mower
Aerator
Fertilizer
Rotary spreader
Grass seeds
Sprinkler or watering can
Everyone who lives in New England knows the winters can be harsh. From an abundance of snow to unrelenting cold, the season can be unpredictable from a timing standpoint. In fact, in recent years, snow has made its appearance as early as October. That means that the need to winterize your lawn in the fall in this area of the country is quite pressing, especially if you want to preserve the health of your yard once spring returns.
Start Early
One of the keys to a successful winterization process is to start early. This allows your lawn to absorb as many nutrients as possible before it freezes with the cold weather and goes dormant for the winter.
Clean Up Your Yard
Start the lawn winterization process by cleaning up. Make a plan for where to keep any potted or hanging plants for the cold weather months. Rake or blow away all the leaves in your yard, and pick up any twigs or sticks taking up residence on your lawn. Leaving detritus like leaves on your grass during the winter can result in unwanted dead spots once spring returns, so don't skip this vital step.
Mow the Grass
Mow your grass to about an inch longer than it would be during summer. You want your grass to be long enough to survive the winter frost, but not so long that it ends up matted down, which can lead to mold growth. If your grass is taller than three inches, mow it incrementally. You don't want to cut it down to an inch and a half in one blow while it's high, as this will stress the plants.
Weed Your Lawn
You definitely don't want those pesky lawn mates to make it through the winter, so do one final round of plucking to break up their root systems.
Aerate Your Lawn
Use an aerator to open up the soil, allowing water and air to more directly access the roots, and nutrients to penetrate the soil, further contributing to the health of your grass. Perform this step on a day when the soil moist but not soggy. Work your way around the perimeter of your lawn first, going over it several times. Then run the aerator over the remainder of your lawn.
Fertilize Your Lawn
For best results, stage two fertilization sessions for your lawn prior to winter really taking hold. The first should be in the beginning of autumn and the second should be later in the fall, once the leaves on the trees reach their peak color. Choose a fertilizer specifically designed for a winter lawn. This fertilizer will be heavy on potassium in order to strengthen the roots of your grass. Use a rotary spreader to complete this step to do so both efficiently and effectively.
Spot Treat Your Lawn
The fall winterizing process is also a great time to reseed any bare or patchy spots in your lawn. This will help to sprout regrowth, resulting in a more even and flawless lawn once the spring arrives. Prior to reseeding these areas, prepare these spots with a half-inch layer of aged compost. Throw some onto these spots and then work it evenly with a leaf rake. Use dry, crumbly, cool compost for best results.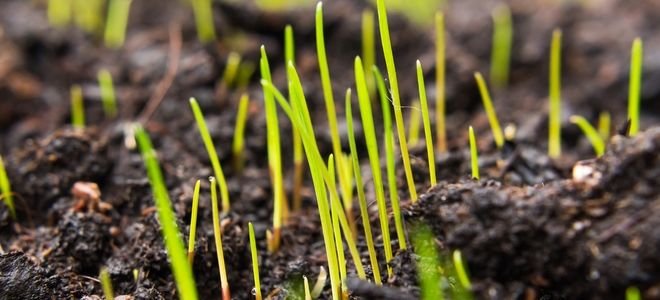 Seed the Lawn
This is also a good time to spread a layer of seeds across the entirety of your lawn to ensure a green and lush yard in the spring. Fill your rotary spreader with seed and distribute it evenly on top of the fertilizer you spread.
Rake and Water Your Lawn
Mix the seeds you spread with fertilizer for the best results. Rake thoroughly across your whole yard, then lightly water. Do this several times a day for four to five minutes, until the seeds begin to sprout. After that, water once a day for 15 to 30 minutes. Depending on how early in the fall your new seeds sprout, you may need to mow your lawn and clear leaves repeatedly for a fully winterized lawn.
Winterize Your Sprinkler System
Prepare your sprinkler system for the cold weather as well by shutting off all outdoor water systems. Do this with more than enough time for adequate drainage to ensure that you don't end up with any frozen pipes.
New England winters are known for being brutal, and your lawn is certainly not immune to their wrath. Even after completing all the steps listed above, you should still keep your lawn free of debris all winter to ensure a beautiful lawn once spring has sprung.