Installing a New Furnace
To ensure our content is always up-to-date with current information, best practices, and professional advice, articles are routinely reviewed by industry experts with years of hands-on experience.

Reviewed by

on Jun 26, 2023
Installing a new furnace in a home should only be done by a licensed contractor who is experienced at furnace installation. Gas, electrical, and oil hookups pose the potential for serious damage and injury. Even a knowledgeable do-it-yourself homeowner should leave this job to the professionals. Knowing what to look for in a professional installer and how to go about buying a new furnace can be confusing. The ideas below will help start the process and give insight into things that any homeowner may want to consider when installing a new furnace.
Hopefully, you are not planning to buy a new furnace because the old one has failed. If that is the case, your options may be limited simply because of time; however, if there is an opportunity to shop around and learn more about the options available, that should be the first order of business.
1. Identify a Brand and Model
Researching the different brands and models of furnaces that will suit the needs of the home will make it easier to contract a professional installer. Although the specifics may be unclear at first, with a little research, a savvy homeowner can gain a better understanding of his needs and what the heater may cost.
Many contractors and installation companies will have their preferred brand of furnace. If you have a contractor in mind, pull up his website to see what products he suggests. A quick online search for reviews should provide insight into others' experiences with that particular furnace.
2. Select a Contractor
Once you understand more about furnaces, begin choosing a contractor. Some oil or power companies offer furnace maintenance and protection plans with their oil delivery service. If that service has been purchased, the oil or power company will probably be the first point of contact, because of the discount or replacement option that they offer.
Most homeowners have their furnaces cleaned yearly to keep up warranties and prevent breakdowns. If there is a furnace service company that is familiar with the needs of the house, that company may offer furnace installation at a discounted price for current customers. It is worth looking at the contractors who already familiar with the home before searching outside companies.
3. Ask Questions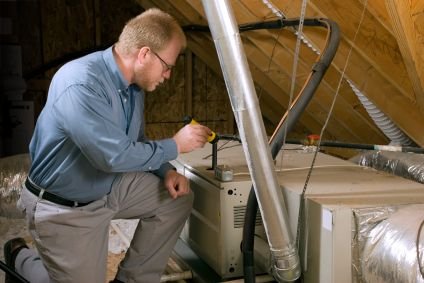 Questions to ask a furnace installation contractor may include those about previous installation experience, reasons for recommending a certain type of furnace, the estimated time it will take to install the new furnace, and if the fee includes removal of the old furnace. Do not be afraid to ask questions. Having a new furnace installed in a home is one of the largest expenses a homeowner will incur. It is best to know the specifics of the job before signing a contract.
4. Plan for Installation
If the new furnace can wait until the late spring or summer, the cost for installation will usually be slightly less. Warm weather brings little need for heating contractors' services, so they are typically eager for the business, if not eager for a relatively quick installation. Search around, do the research about different furnaces, and make sure that the thousands of dollars being spent will be going to a quality installation.