Home Canning - Jars and Lids
To ensure our content is always up-to-date with current information, best practices, and professional advice, articles are routinely reviewed by industry experts with years of hands-on experience.

Reviewed by

on Nov 15, 2019
United States Department Of Agriculture, Extension Service
Food may be canned in glass jars or metal containers. Metal containers can be used only once. They require special sealing equipment and are much more costly than jars.
Regular and wide-mouth Mason-type, threaded, home-canning jars with self-sealing lids are the best choice. They are available in 1/2 pint, pint, 1-1/2 pint, quart, and 1/2 gallon sizes. The standard jar mouth opening is about 2-3/8 inches. Wide-mouth jars have openings of about 3 inches, making them more easily filled and emptied. Half-gallon jars may be used for canning very acid juices. Regular-mouth decorator jelly jars are available in 8 and 12 ounce sizes. With careful use and handling, Mason jars may be reused many times, requiring only new lids each time. When jars and lids are used properly, jar seals and vacuums are excellent and jar breakage is rare.
Most commercial pint- and quart-size mayonnaise or salad dressing jars may be used with new two-piece lids for canning acid foods. However, you should expect more seal failures and jar breakage. These jars have a narrower sealing surface and are tempered less than Mason jars, and may be weakened by repeated contact with metal spoons or knives used in dispensing mayonnaise or salad dressing. Seemingly insignificant scratches in glass may cause cracking and breakage while processing jars in a canner. Mayonnaise-type jars are not recommended for use with foods to be processed in a pressure canner because of excessive jar breakage. Other commercial jars with mouths that cannot be sealed with two-piece canning lids are not recommended for use in canning any food at home.
Jar Cleaning
Before every use, wash empty jars in hot water with detergent and rinse well by hand, or wash in a dishwasher. Unrinsed detergents may cause unnatural flavors and colors. These washing methods do not sterilize jars. Scale or hard-water films on jars are easily removed by soaking jars several hours in a solution containing 1 cup of vinegar (5 percent acidity) per gallon of water.
Sterilization of Empty Jars
All jams, jellies, and pickled products processed less than 10 minutes should be filled into sterile empty jars. To sterilize empty jars, put them right side up on the rack in a boiling-water canner. Fill the canner and jars with hot (not boiling) water to 1 inch above the tops of the jars. Boil 10 minutes at altitudes of less than 1,000 ft. At higher elevations, boil 1 additional minute for each additional 1,000 ft. elevation. Remove and drain hot sterilized jars one at a time. Save the hot water for processing filled jars. Fill jars with food, add lids, and tighten screw bands.
Empty jars used for vegetables, meats, and fruits to be processed in a pressure canner need not be presterilized. It is also unnecessary to presterilize jars for fruits, tomatoes, and pickled or fermented foods that will be processed 10 minutes or longer in a boiling-water canner.
Lid Selection, Preparation and Use
The common self-sealing lid consists of a flat metal lid held in place by a metal screw band during processing. The flat lid is crimped around its bottom edge to form a trough, which is filled with a colored gasket compound. When jars are processed, the lid gasket softens and flows slightly to cover the jar-sealing surface, yet allows air to escape from the jar. The gasket then forms an airtight seal as the jar cools. Gaskets in unused lids work well for at least 5 years from date of manufacture. The gasket compound in older unused lids may fail to seal on jars.
Buy only the quantity of lids you will use in a year To ensure a good seal, carefully follow the manufacturer's directions in preparing lids for use. Examine all metal lids carefully. Do not use old, dented, or deformed lids, or lids with gaps or other defects in the sealing gasket.
After filling jars with food, release air bubbles by inserting a flat plastic (not metal) spatula between the food and the jar. Slowly turn the jar and move the spatula up and down to allow air bubbles to escape. Adjust the headspace and then clean the jar rim (sealing surface) with a dampened paper towel. Place the lid, gasket down, onto the cleaned jar-sealing surface. Uncleaned jar-sealing surfaces may cause seal failures.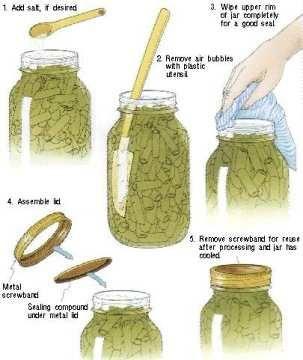 Then fit the metal screw band over the flat lid. Follow the manufacturer's guidelines enclosed with or on the box for tightening the jar lids properly.
Do not retighten lids after processing jars. As jars cool, the contents in the jar contract, pulling the self-sealing lid firmly against the jar to form a high vacuum.
If rings are too loose, liquid may escape from jars during processing, and seals may fail.
If rings are too tight, air cannot vent during processing, and food will discolor during storage. Overtightening also may cause lids to buckle and jars to break, especially with raw-packed, pressure-processed food.
Screw bands are not needed on stored jars. They can be removed easily after jars are cooled. When removed, washed, dried, and stored in a dry area, screw bands may be used many times. If left on stored jars, they become difficult to remove, often rust, and may not work properly again.
Extracted from the "Complete Guide to Home Canning." First published: January, 1993. Reviewed: June, 1998.
Courtesy of the University of Florida, Institute of Food and Agricultural Sciences (UF/IFAS)
Stephini Candella is a Nutritionist, and attended the University of Texas for a B.S. in Nutrition and Didactics. She was a manager for a small gourmet restaurant, and has spent over 15 years cooking as a hobby for health. She has extensive knowledge of food science, micro-nutrition, history of the classic foods from across cultures, modern commercial and home cooking processes, disease restricted diet meal planning (cardiovascular, GAPS, diabetes), and popular diet trend (Paleo, Keto, Vegan) diets. Stephini most enjoys meal planning that focuses on simplicity and cost-effectiveness, and she strongly believes these are the foundations for delicious and healthy meals—the basis for a happy life. She is addicted to reading food labels, and uncovering the nutritional benefits of traditional cooking techniques of the classical foods across cultures. If you let her, she will talk your ear off over her fascination for how traditional fermentation cultivates the metabolic byproduct of certain bacteria into nutritional gold for human health. Stephini is also a CRLA (Certified Reading and Writing English Tutor) and has professionally tutored college students as well as K-12 students for an accumulated 15 years expanding to private school curriculum development and teaching in STEM and STEAM. She has been a professional researcher for multiple private and non-profit companies and organizations including the University of Texas Food and Housing Division. There, she researched and wrote recommendations for the University's campus wide composting and food waste reduction initiatives, design and management of campus wide food waste studies, and the procurement of technologies best suited for large scale composting and food waste reduction. As a former Red Cross shelter manager, she has worked with her National Guard, and the US Army and Marines in search and rescue, procuring, and deploying multiple shelters serving thousands of evacuees. She has overseen the management of over 25 shelters in the state emergency operation center, and was held responsible for procurement of meals, medical supplies, and basic necessities. She also assisted in local county natural disaster rescues, providing insurance evaluations and recommendations for approving families affected by natural disasters to receive financial aid, housing, and food assistance. In addition, she volunteered for her local food pantry and domestic violence shelter where she prepared food. These discovered passions for emergency aid volunteer work led her to pursue national and state EMS licensures. She has traveled from Houston to New York to Seattle on a Leadership Scholarship, listening to world renowned scholars on the values of great leadership. Her favorite being the opportunity to sit and connect with the grandsons of Gandhi, listening to their first hand childhood experiences growing up alongside their grandfather organizing and executing his activism. Presently, Stephini conducts research and assistance on customer relationship management campaigns for 30 year veteran executives and business owners as an operations manager for a small, boutique executive assistance CRM firm. She has retired into a quiet, family-centric life, and can be found living between her home and college towns where she is raising her children. There, she is imparting her love for DIY learning and food on to them in the hopes that self-directed creativity and production will bring to them the same sense of holistic wellness that she's experienced for herself.