Kitchen Furniture for Small Spaces
Small kitchens are still central spaces for eating, cooking, and congregating, but their coziness can make organizing these essential activities a bit of a challenge. Check out these inspirational ideas to get your small kitchen in order and maximize the space you have.
Compact Multi-functional Kitchen Table
DIYers with carpentry skills and some imagination can come up with a variety of space saving solutions. If you're not handy with power tools, you can always hire a contractor to build you a custom design. Or you can find ready made furniture with the same function, such as this folding kitchen table. There are other similar styles on the market, but we especially like this for its space saving, modern, and multifunctional attributes.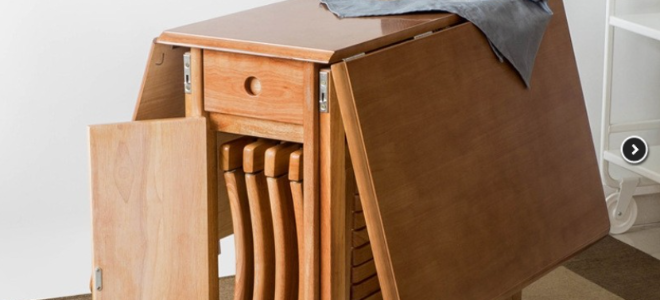 Its leaves fold down when not in use, creating compact storage underneath to hold four folding chairs. The whole setup is on wheels and can be easily placed against a wall, or stowed in a closet to keep your vital floorspace free and clear. Chairs are sold separately, so if you choose not to get them, the space underneath can act as extra storage for dishes or cookware. This makes it a portable all-in-one dining space if you also choose to house your silverware in the top drawer.
Island Extensions
We've said it before and we'll say it again—we love our kitchen islands. They provide workspace, a place to eat and chat, and often additional storage.
There are many reasons to love the kitchen island, but if you're still not convinced, may we add one more that may help you change your mind?
How about this: you can create even more horizontal surface area in a tight kitchen with an added pull-out. Yes, that's right. Hidden in that ultra functional kitchen island are a variety of pull-outs with uses such as extra seating or additional work area. This pull-out can be as simple as a drop leaf that can be extended when needed, a rolling table that can be hidden in a pocket under the island, or a shelf that pulls out and slides back in. DIYers, let your imaginations run wild.
Prefer to save your efforts for something like a container garden or a garage makeover? Options are still available to you. Like this island with slide out table.
Or maybe you'd rather go as simply as possible and combine your eating space and island with rollaway capability. This one also includes stools that can be stored underneath before being rolled away.
If you think your space is even too small for an island, feast your skeptical eyes on this kitchen miracle—the tiny island. It lives comfortably underneath a counter and provides extra storage and workspace to help keep you organized.
Wall Mounted Kitchen Table
The ultimate in small space wonders eliminates the need for a stationary table that takes up valuable floor real estate in your kitchen. Or in the closet if you were previously considering a fold-up rolling table. A wall mounted kitchen table is not only functional, it can also be decorative. This convertible desk that can be used in the office or kitchen or wherever it suits you.
Some styles incorporate a picture on the side facing out so that once it's all folded up, it looks like a piece of art hanging on the wall rather than just a block of wood. They can be custom built according to your space needs, so DIYers, go nuts!
Go Round
Round kitchen tables give you more space for more people to gather when you add a couple of stools for the weekly poker game. Manufacturers have created some really cool styles can create a bold impact in a small space. Check out this option if you're looking for something compact, minimalistic, and attractive to cozy up your kitchen.
The Pantry Has That Swing
If increasing your floor space isn't in your future, you can still stock a fantastic larder in a cabinet pantry that seconds as an attractive piece of furniture. There are several on the market which you can find in styles varying from country kitchen to modern.
Find a standalone piece that fits in with the decor of another area of the house if you can't store it in the kitchen. It may sound odd to have a pantry in the living room, but if it's disguised as a lovely armoire, who cares?
Having a small kitchen doesn't mean you have to sacrifice style for space. DIYers are an ingenious group and can come up with solutions for anything!