Kitchen Island Cooktops: the Good, the Bad, and the Options
To ensure our content is always up-to-date with current information, best practices, and professional advice, articles are routinely reviewed by industry experts with years of hands-on experience.

Reviewed by

on Jun 26, 2023
24 hours

•

Advanced

•

2,500
Island cabinet
Stovetop
Exhaust fan
1 Roll 10/3 wire
1 Roll 14/2 wire
Island cabinet
Stovetop
Exhaust fan
1 Roll 10/3 wire
1 Roll 14/2 wire
Adding a kitchen island cooktop, like any other home improvement project, requires a lot of forethought. It is a costly and time-consuming project, and weighing the pros and cons is one of the best ways to make a decision. Most stores don't have a lot of options in stock, so you don't have to worry about rushing through this before they close; you can take your time and really think it through before making a decision.
The Good
One of the hardest parts of entertaining is being stuck in front of the stove staring at the wall while everyone is having fun literally behind your back. Having a kitchen island cooktop will allow you to prepare meals while still being able to interact with your guests. Similarly, it can also be a place where the kids can do their homework while dinner is being made, giving you the opportunity to keep a watchful eye on them as they work.
Also, a kitchen island cooktop doesn't need to be your primary cooking source. Having a secondary range can give you the opportunity to have the best of both worlds. Gas and electric tops have their pros and cons, now you can have both by installing whichever you do not currently have. Whether you are a chef, baker, or entertainer, you can benefit from the extra counter space of a large kitchen island, and you might even be in need of the extra burners that come with having two stoves.
These stovetops are generally easy to install. You will need a licensed professional to install the electric or gas line, though if you're unfamiliar with the process and technique. This will not only ensure your safety but also maintain codes and save you from a headache down the road should you decide to sell the home.
The Bad
Hiring someone to run a new line for your new kitchen island cooktop can be costly. It can also disrupt other areas of the home, as the electric lines typically run from the fuse box. And, if you are installing a gas unit and do not currently have gas service, it will be an additional expense to get the service – not to mention another utility bill.
You will need a significant amount of space. You need to take more than just the actual size of the unit into consideration. In order to prevent splatter from getting on the floor, you need at least 3 feet of counter space on either side of the unit. Do not forget to consider how much room you will want for yourself to be able to work in the new area; the general recommendation is at least 40 inches of space behind where you will be standing.
Depending on the layout of your home, you may find the new frying area inconvenient. You will want to think about the location in relation to the sink, refrigerator, spices, utensils, and other items you will need. One solution is to include drawers and cabinet space for these items within the island, which can add to the size and cost of the project. You may also want to consider adding a sink or washing station for fruits and vegetables to ensure efficiency.
Another possible downside is not having a backsplash as these devices do not necessarily have a back wall. Though you can install alternatives, it can make the overall kitchen island unappealing and awkward.
The Options
The most obvious choice you are facing when it comes to your kitchen island cooktop is whether to go with gas or electricity. This choice will boil down to preference and convenience. Clearly, the cheapest and most convenient option is to stick with your current stove type (see the above section). However, if you are doing a complete kitchen renovation and want multiple stovetops or want to install a whole new type of appliance, you need to make a choice of what type to go with.
The surface type is another option. A glass top will provide the flattest surface, which may be a determining factor if you are concerned about aesthetics or extra counter space. You can also cover the surface with a wooden block if need be when not in use to prevent accidents. Again, most stores do not have many in stock, so it will most likely need to be specially ordered.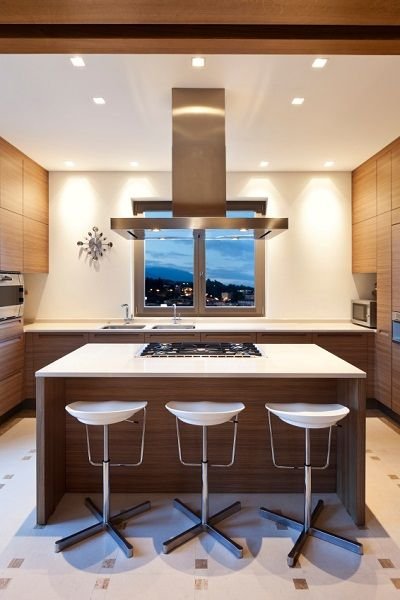 You will also need a ventilation system for your new sauté station. These are necessary to eliminate smoke and grease from the air. You can choose from a downdraft or a hood:
Hood — Hoods are the most effective option as heat rises and they are directly above the area. They are easy to install, similar to installing a large ceiling light. You will want to refer to the specific instructions for the model you choose. Most cabinets above the oven have an outlet (especially if there is a microwave there), which can be used to run a cord for this.
Downdraft — While they are not as efficient as the aforementioned method, they still get the job done. Some cooktops come with downdrafts built in either in the middle or back. For those that like the idea of having a completely flat island, you can get a model that can be pulled up when needed. A downdraft can also double as a backsplash if it is tall enough, just be sure that the vents are higher up if you are cooking with gas. They will also require a special appliance outlet.
Although kitchen island cooktops may be time-consuming and costly, they can also help increase the value of your home. However, nobody can place a value on being able to be a part of the action. If you are tired of staring at a wall while you are cooking, then that should weigh heavily into your decision.