Kitchen Island—Yay or Nay?
5 hours

•

Beginner

•

500-5,000
Like many features of home interior design, the kitchen island has witnessed many evolutions. From its introduction as a concept in luxury design to mass production in nearly every newly built house, the kitchen island has seen many family gatherings, hurried breakfasts, and buffet-style dining occasions.
In every style, kitchen islands certainly have their advantages, like providing more workspace, but they have a downside too, like creating an obstacle in the middle of the room.
So, what's the verdict—are kitchen islands a fad or a must-have? There are many considerations to evaluate in answering that question. Not to give too much away here, but it really depends on your kitchen layout, the use of the space, and your personal preferences.
Advantages of a Kitchen Island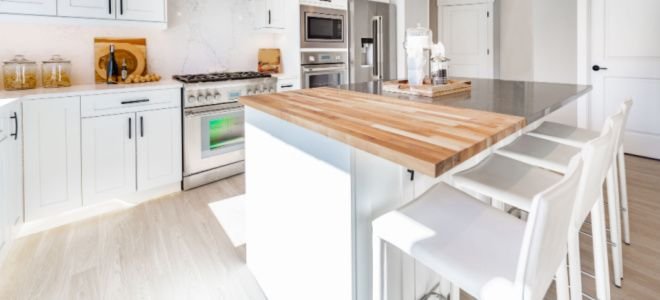 1. Additional Workspace
Large or small, there's no doubt an island allows for additional counter space.
Even a rolling kitchen cart provides a spot to set down trays, place a cutting board for food prep, or stack dishes in a queue for washing.
Larger islands with outlets wired in create a home for small appliances like the KitchenAid or a toaster oven. These countertop conveniences can often be a nuisance without space to keep them readily available, but an island can solve that dilemma.
Having an additional workspace means having room to spread out when prepping dinner. For serious cooks, counter space is a must in the recipe of kitchen workspace harmony.
It also means having space for simple additions like a bowl of fruit or a vase of flowers.
2. Additional Seating
At some point, the portable small rolling cart for kitchens (which is a great solution for rentals or if you don't have a lot of space) was converted into a stationary kitchen island as part of the overall design plan.
That idea then grew to include a space for stools in the now ubiquitous kitchen islands with seating that are seen in many kitchens today.
It made sense as a compact and convenient way to provide eating space for the modern family as they became too busy for regular sit down meals. Plus, it's a convenient use of space if you have guests or want to keep the kids close while you're working in the kitchen.
Seating at the kitchen island gives space for more than eating. It's a place where kids can do their homework and adults can use their laptops. It's also nice for guests to have a place to sit while visiting with the cook.
A kitchen island seems to bring with it a natural gathering space. People are drawn to it as a place to congregate, talk, eat, and share, so seating is a nice addition.
3. Cooking Space
While some kitchen islands are little more than a countertop with cabinets underneath, some feature cooktops and act as a central cooking area.
This can be a solution if you don't have space for your stovetop elsewhere in the room. It's also a great option for those cooks who need two sets of burners in the same kitchen. Or, one cooktop could have burners while another features an indoor grill.
Even if the cooking island doesn't have a built-in cooktop, it can be used for griddles, electric skillets, slow cookers, Insta-pots, and other plug-in appliances that don't fit neatly on existing counters.
4. Built-in Cutting board
A kitchen island with a butcher block counter doubles as an easily accessible cutting surface.
Since you can cut directly on the counter, it means less storage space is required for cutting boards. It also adds convenience without digging around in the cupboards.
5. Removable
Revisiting the idea of the kitchen island cart, remember a kitchen island doesn't have to be permanently fixed in place.
In fact, a small island in the kitchen that's on wheels can be the perfect solution on days when you need a bit of extra space. Yet, an island for small kitchens won't be in the way when it's not in use.
It can even be used in another room for additional storage, a side table, a printer station, or a craft workspace.
6. Clean up
Depending on the layout of your kitchen, your island can be equipped with a sink and even a dishwasher. This provides plenty of space to clean up after parties and holiday dinners.
A kitchen island can be set up with a drainboard, spray nozzle, and any other accessory you're used to using while doing dishes.
7. Storage
Kitchen carts and islands have another notable value in that they provide additional kitchen storage.
Whether you need space for appliances, bread baskets, fine china, linens, or serving platters, the extra cabinets prove to be helpful.
You can also have open storage for cookware and other items, or shelving for books, heirlooms, or decor.
Disadvantages
1. Cost and Construction Challenges
Every amenity you add to your house comes with an associated cost, and a kitchen cart or island is no exception. A rolling cart may only cost you a few hundred dollars, but a full island will definitely impact the budget.
Consider not only the cabinetry but also the additional materials required for the countertop. Especially if you're installing natural stone like marble, granite, or quartz, every foot will bring up costs. Furthermore, adding plumbing fixtures for a sink or dishwasher might require professional installation.
The same holds true for exhaust vents if you place a range, oven stovetop, or other appliance on your island. You'll also need to address the electrical needs for outlets and hard wiring for the cooktop or oven. An electrician may also need to wire lights for an island in the kitchen.
Kitchen island lighting can be addressed in several ways. You can place the room's central light above the island, for example. Alternatively, you could add strip lighting or place spot lighting above the workspace.
Yet another option is to add drop, or pendant, lights above the bar on your kitchen island. Regardless of the type and location of lighting, make sure you consider it in the blueprints.
2. Blocks Flow
The available space in your kitchen is a key factor in deciding whether to include a kitchen cart or island. A small kitchen island may not get in the way while you're moving about the kitchen, but then if it's too small, it may not serve your needs while serving meals.
Larger kitchen islands can sometimes be more of an obstacle than a help. Bumping corners while you race from the fridge to the stove is no fun. Plus, if you have to walk around the outside of the island to get into the kitchen, you may wish it wasn't there.
Consider the recommended space around an island is 42". That's wider than an average doorway (36") so that you have room to work. But that kind of room is hard to come by. Be realistic if you're thinking of adding a kitchen island. It takes up a lot more room than you might think.
Plus, an island in the middle of the room takes away from the flow of the traditional triangle between the sink, stove, and fridge.
3. May Not Leave Room for a Table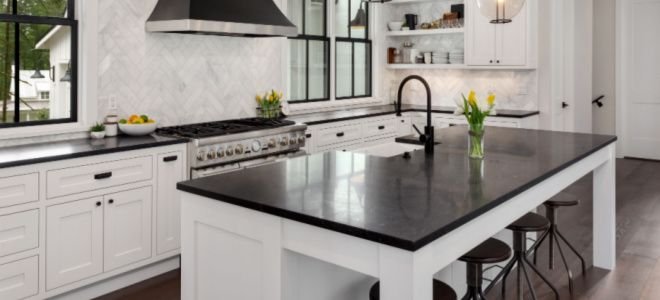 Family meals aren't quite the same around a kitchen island, especially considering the seating is only on one side where guests aren't facing each other. The presence of an island might mean there isn't room for a table either, so you'll have to decide which is more important to you if you have space restrictions.
However, thinking outside the box, you could use your table as a center island and move it as needed when the family is ready to sit down together.
4. Extra Cleaning
More cabinets to wipe down. More cupboards to clean and organize. More countertops to wipe down. The more spaces, vertical and horizontal, you add to your kitchen, the more time you'll need to spend on cleaning and maintenance. It's just a basic tenant of home ownership.
Another aspect related to cleaning is that an island quickly becomes a dumping ground for everything from keys to backpacks to loose mail. Flat, clear surfaces are a magnet for anything that needs to be set down, and your kitchen island will fill that void oh so well.
If turning a portion of your kitchen into a drop spot bothers you, plan ahead to implement other organizational techniques before the bad habits begin.
Kitchen Island—Yay or Nay?
Well, it depends. Think about whether a kitchen island will add to, or detract from, the space. While it can add definition to an open space, it can also overcrowd a small kitchen.
Obviously budget and space are important factors--perhaps deciding factors. However, it also depends heavily on whether you're thinking of installing an island as part of new construction or if you're remodeling to include one.
Trying to retrofit a kitchen island into an existing space can quickly become cost prohibitive, so run the numbers carefully.
Of course, the sheer amount of time you spend in your kitchen is another consideration. If you're not much of a cook, there's no reason to spend the time and money creating more workspace. Even if you enjoy entertaining, a kitchen island may not be the answer. Then again, it may be everything you've hoped for.
Maybe it helps to think of it this way—does adding an island solve some sort of problem in your space? Do you have an issue with the current location of your sink or stovetop? Will the dishwasher only work in the middle of the room (if so, a portable dishwasher is another option)?
Are you desperate for more counter space? Does the house lack a dining area, and you need a place for the kids to eat? In these and other cases, the answer is likely yes.
Kitchen Island Ideas
If you've decided to go ahead with a kitchen island, use innovative thinking to solve problems. No one says you have to have a rectangular island, for example. What if an 'L' shape or a 'V' shape works best? To save money, you could source an Ikea kitchen island, which is a freestanding island at an affordable price.
If you are set on building in the island, go with semi-custom cabinets instead of fully custom. Prefabbed cabinets will save you a lot of money.
Plan your island from the ground up. Start with size restrictions, if any. Put tape on the ground so you can envision the space it will consume. Obviously, you'll need to plan for any appliances that will be built in.
Consider the flow from those appliances to the rest of the kitchen. Practice moving items such as dirty dishes or heavy skillets from one location to another.
Function is the most important aspect of your kitchen layout, especially when incorporating an island. Do you want open shelves for display space? Will you have an elevated countertop to hide the cooktop from view in the next room? Will your kitchen island include seating? If so, what height?
Do you need a counter overhang where you can place a rolling cart, garbage can, dog food area, or other item beneath it instead of cabinets? What features do you want inside the cabinets? Lazy Susan? Sheet dividers? Lid organizer?
Once you have all the details regarding cabinets, outlets, lighting, and plumbing, as well as size, shape, and location, you can move on to making decisions about materials selection.
Think about the overall look of the island or cart. If you buy a prefabbed option, you may only have to decide on cabinet color. However, if you are building the island to match the rest of the kitchen, you'll want to match, or at least coordinate, the countertops and cabinets with the existing selections.
Also consider the function of the space. For example, countertops don't have to be the same material as the rest of the kitchen. Consider concrete if it will primarily be a washing area. Similarly, choose a butcher block counter for an area that will mostly be used for prepping and cooking food.