Landscaping Tips for Vacation Homes
To ensure our content is always up-to-date with current information, best practices, and professional advice, articles are routinely reviewed by industry experts with years of hands-on experience.

Reviewed by

on Jun 26, 2023
When it comes to your vacation home, we get that you want to make it your personal oasis. From the linens on your beds to the outdoor furniture you lounge on, everything about the home should be pristine. After all, it's a place to go for pure enjoyment!
With that being said, to keep your home looking its best you'll probably want to do some landscaping outside. This can prove a bit tricky, however, as the nature of a vacation home dictates you are not always there to provide upkeep. Keep reading to learn about varieties of plants that are sure to make your vacation home look lovely, but that don't require much attention between visits.
Choose Native Plants
One of the easiest ways to landscape a vacation home without having to worry about upkeep is to pick plants and shrubs that are native to the area. After all, if you choose plants that naturally prosper in your environment, they should be able to live and grow without any effort from you, making them a perfect pick for someone who's not always there! For instance, in Florida a saw palmetto is a great choice or in Georgia, a sweetshrub would be a great selection. Plants that aren't native to a given area will require more frequent and intense watering, soil additives, and overall upkeep to keep them looking fresh. Avoid this hassle (and worry when you're not there) by going native.
Use Succulents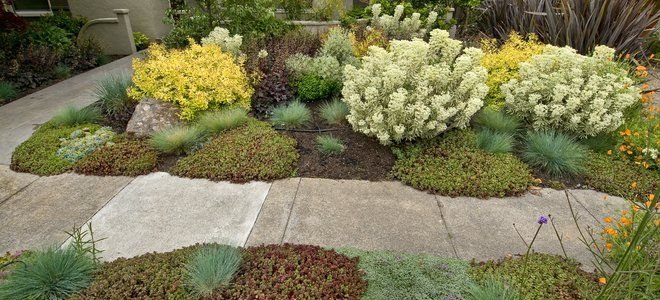 When you're looking for appealing and attractive plants that are naturally low-maintenance, succulents do the trick! These are a great choice because they come in a wide variety of shapes, sizes, and aesthetics. They're also perfect for a vacation home because they don't require much attention, watering, or grooming in order to stay alive and attractive. These are a long-lasting and beautiful addition to any landscape or garden, and we especially love them when you have a space you can't commit much time or attention to. Keep in mind, however, that while all succulents do well in dry climates, some succulents do better more than others in freezing temperatures.
Install Artificial Grass
These days, artificial grass is actually quite attractive and natural-looking. Because it does not require mowing, reseeding, or watering, it's perfect for vacation homes. (It will also cut your water bill down quite a bit, which is an added plus!) Especially in warmer environments, "real" grass tends to get brown and unappealing in the hottest months of the year, becoming either an eyesore or requiring frequent and costly watering. However, having synthetic grass ensures that your yard will not be at the mercy of the changing weather conditions.
Avoid Water Features
Although water features such as fountains or waterfalls are a beautiful addition to any yard, they're not the best choice when it comes to adorning a vacation home's landscaping. These additions require quite a bit of upkeep in the form of cleaning as well as pump and maintenance repairs. Plus, if this feature is running constantly, it will run up your water bill by astronomical amounts, and if it is off the entire time you are gone, it's really not adding much to your curb appeal as it is. Skip these features at your vacation home and focus more on shrubbery and plants for a lush yard that's easy to maintain.
As you can tell, you don't have to have a bland and barren yard at your home away from home. Quite the contrary, as there are many simple and easy ways to create a gorgeously landscaped area at your own personal paradise—without having to hire maintenance workers or be disappointed by dead plants every time you return to your house.