Install a Slate Floor 1 - Planning and Materials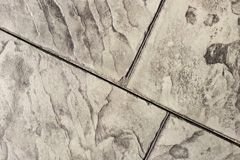 Slate is a great option for hard surface flooring for a number of reasons. It is extremely durable and stain resistant, and it also provides much more secure footing than standard ceramic tile, which can become slippery when it gets wet.
Aside from durability, slate has a unique look that sets it apart from standard ceramic tiles and other man-made products. The face of a slate tile carries the natural texture that was formed when the slate broke away from the face of the rock. This gives you the opportunity to install a truly unique flooring solution. (This is Part 1 of a 3 part series. To move ahead to Part 2, click
here
.)
What you'll need:
Slate: When choosing your slate floor, you will need to determine what color you want, what size tiles you want, and whether or not you want a repeating pattern, or simple squares. A repeating pattern is made up of tiles of different sizes and shapes that fit together to give your floor a random, but uniform look.


Wet Saw: When installing slate tile you will need a diamond bladed wet saw. These are available to rent at most tile shops or tool rental centers.


Hammer: You will use the hammer when removing moldings and securing the subfloor.


Tile Underlayment: If you are installing your slate over concrete that is level and has no cracks, drop offs or damage, then you don't need to bother with underlayment. If you are installing over a wooden subfloor, then you will need to install a cement based backer board. This will provide the proper surface for your mortar and slate to adhere to.


Thinset: This is the mortar that you will use to secure the slate to the underlayment. Check with your sales rep to make sure that you have the right product to go with slate tile.


Tape measure: Keep it on your belt, as you are going to need it constantly.


Trowel (1/2"): This trowel will be used to spread the mortar. Thinset used in this application typically requires a trowel with 1/2" grooves, but double check the Thinset instructions to make sure.


Knee Pads: You may think knee pads are for wimps, but after five minutes on your knees while working with slate, you will be wishing you had some.


Chalk line: You will need a chalk line to mark your center points and guidelines on the floor.


Sponge and bucket: A big commercial sponge and a plastic bucket will be necessary for wiping up excess mortar and grout from the face of the tiles.


Utility knife: This will be needed to trim underlayment.


Sanded grout: This is available in many different colors, so take your time and choose the one that will best complement your slate and your room.


Spacers: Spacers are used to make sure each tile is an equal distance apart as you are installing them. The spacers should be 1/4" or 3/8". Check to see if any specific recommendations come with your slate.


Grout float: A grout float is used to work the grout into the gaps between tiles.


Saber saw with a 12" blade: This is the ideal way to undercut your doorjambs.


Handsaw: If you don't have a saber saw, you can use a handsaw to cut out underneath doorjambs.


Sealer: In order to increase the life and stain resistance of slate, it should be sealed occasionally. Refer to the instructions on the label to determine frequency.


Paint Roller/Paint Pad: This will be used to apply the stone sealer.
Inspect Your Materials
Before you begin any prep work, take a few minutes to inspect your flooring. Open up the crates and check the boxes for damage. Ask the company that you buy the flooring from what their policy is on broken or damaged tile. As you go through the crates, set aside any broken boxes and make sure that you get the appropriate credit from your supplier.
If you do end up having to send some boxes back, make sure that the replacements are from the same lot number. With natural products like slate, there are slight differences in hue and color that occur with in the rock. You need to make sure that your replacement pieces came from the same rock, or they may stick out once you have your floor installed.
Brian Simkins is a freelance writer living in Chicago. He enjoys using his 14 years of home improvement experience to educate and equip new home owners.