Level Up Your Water Efficiency: We Try Out the RainMachine Touch HD-12
To ensure our content is always up-to-date with current information, best practices, and professional advice, articles are routinely reviewed by industry experts with years of hands-on experience.

Reviewed by

on Apr 12, 2023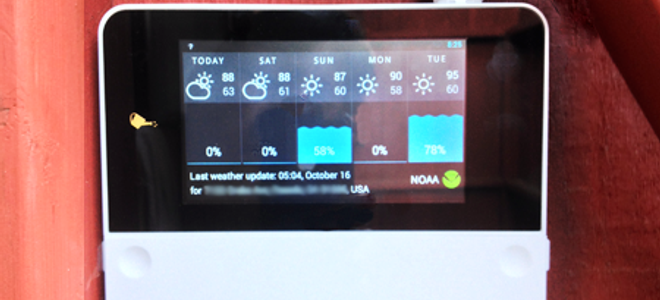 With water conservation on the forefront of everyone's minds on the west coast, it's also caused a second look at water all around the nation. Whether you're affected by the drought or not, it's always a good idea to monitor your water usage to save money and one of the worst water wasters could be your lawn. Most sprinkler systems rely on manual controls, and you have to remember to turn them off when it rains, if you're going out of town, or any other reason. It's easy to forget, and overpay on your next bill. We decided to take a look at a smart sprinkler system to help you be kinder to the environment, and your wallet.
RainMachine is an irrigation and sprinkler controller that utilizes weather data from NOAA (the National Oceanic and Atmospheric Administration), acquired via WiFi, to determine exactly how much water your property needs. Currently there are three models to choose from: the Mini-8, Touch HD-12, and Touch HD-16. As the name suggests, two have a touch screen with helpful visuals and the other is programmed with buttons. The numbers at the end refer to the amount of zones you can program to personalize your yard.
We tried out the RainMachine Touch HD-12, but many of the features carries over to the other models.
The HD-12 has a 6.5" touchscreen display that is very responsive. It updates weather data customized to your address every 6 hours. After the initial setup, you can program one or more programs for the device to use as a baseline, after that the RainMachine uses an EvapoTraspiration formula to determine the right amount of water to use for each zone. Zones can be customized to let the machine know exactly what's there, such as lawn, shrubs, a garden, etc. This means it will take everything in account, not just simple forecasts like rain, but rather look at humidity levels, temperature, etc, to find the perfect amount to water at your designated time.
The screen will show you a forecast for the week, month, or year (updating as new data comes in) that will tell you the percentage of your baseline that it will run. For example, you might program a zone for 5 minutes, but based on the weather the RainMachine will run for 40% of that time. It also looks for potential instances of freezing temperatures and heat waves, turning off completely, making small adjustments, or overwatering as needed.
Programs can be fully customized and restrictions on time and days can be set as well. The device will automate as much or as little as you choose. The best part is all RainMachines are EPA WaterSense certified, so if you automate everything then your yard will meet the US Environmental Protection Agency's guidelines and some areas even offer a rebate program with your local water company, so be sure to check it out!
Set up was extremely easy for us, and maybe took around 20 minutes overall. The instructions are clear and even include a placement guide to help you mark the holes where you'll need to screw it in on the wall. We placed it next to our old controller and simply noted which wire connected where, and which were the commons. We unscrewed each of them, and tightened them into the RainMachine with the provided screwdriver and closed the lid. Once connected to the power, the device booted up and walked us through the setup, asking us to set up the WiFi, a user and password, and to set our exact location. We named each of our zones and made a basic program. We're located in California, so we also put in restrictions that abided by the drought watering laws for our area.
The RainMachine also connects to a mobile app and your computer, so you can control it from anywhere. This is perfect if you want to walk around your yard and toggle each zone on and off to check your sprinklers. The app can program water times, change zones, view your watering history and the projected forecast, as well as change your settings. Going on vacation or changing your landscaping? It was easy to make changes on the app, and the device instantly responded. Multiple devices can be synced with the app as well if you have more zones than one device can handle. Updating the RainMachine was also easy, the device itself and the app notified us when a firmware update was available and asked if we wanted to install it. It connected just fine and rebooted once it was done.
Another great feature of the RainMachine that you don't see too often is its decision to make the code open source. Their website hosts a community page where you can develop your own special features. For example, you could program your RainMachine to talk with a motion detector placed by your driveway, so the sprinklers will always turn off when you arrive home, keeping your car dry. The device also has two USB ports to utilize, with one used for a small WiFi adapter. This makes it easy to replace the adapter if it ever breaks (instead of replacing the whole device), or upgrade your machine in other ways.
Overall we were happy with our experience with the RainMachine Touch HD-12. It did everything we expected easily and quickly, while also looking quite stylish. The consistent updates and growth potential through its open source code were an unexpected bonus that will keep our device relevant well into the future. If you're looking to save money on your utility bill by using your water more efficiently, you'll be happy with any of the RainMachine models. The three versions can be bought on Amazon and are priced from $179 to $299, depending on the model.