Make Your Own Lovely Photo Frame
To ensure our content is always up-to-date with current information, best practices, and professional advice, articles are routinely reviewed by industry experts with years of hands-on experience.

Reviewed by

on Apr 12, 2023
2-3 hours

•

Beginner

•

20-50
"I" wood letter
Wood heart
Blank wood frame
Black and red acrylic paint
Wood glue
Foam paint brushes (1-2)
"I" wood letter
Wood heart
Blank wood frame
Black and red acrylic paint
Wood glue
Foam paint brushes (1-2)
Picture frames are a wonderful way to dress up your vanity, book shelf, or desk. They also double as a great way to show off memories and photos of people (or animals!) that you love. Thanks to this easy DIY project, you can create a photo frame embracing those that are dear to your heart. The best part is that you only need basic crafting skills and inexpensive supplies to do so.
Once you finish making this frame, you can keep it for yourself or gift it to someone for Valentine's Day, their birthday, or just because. Decorating your home has never been easier!
Step 1 - Gather Your Materials
Round up all of the supplies needed.
Need to shop for materials? Check out the wood section of your local craft store. Pre-made wooden frames and die cut shapes are available for relatively cheap. Wood glue can be found in the adhesive section.
Acrylic paints and foam paint brushes are also inexpensive. You can find these supplies in the paint section.
Step 2 - Paint the Wooden Frame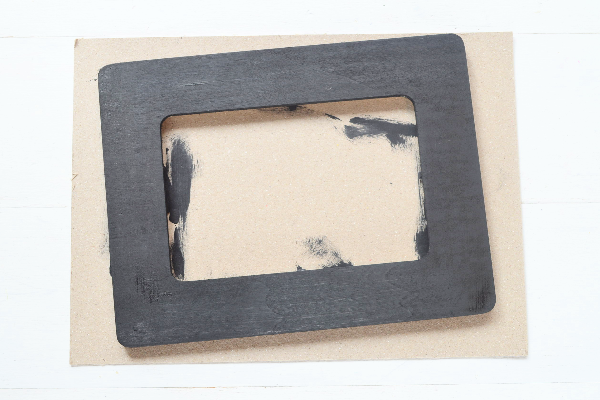 Using the foam brush, apply black acrylic paint to the wood frame. Take care to paint the side edges of the frame as well. For best results, paint in one direction across the entire frame. This will ensure an even coating of paint and color.
Don't forget to protect your work space with scrap paper, magazines, or cardboard. This is an essential step for using paint in your home.
Leave the frame to dry completely. Fortunately, acrylic paint dries quite fast; you won't have to wait long.
Step 3 - Paint the Wooden Pieces
Apply black acrylic paint to the letter "I." Again, make sure the layer of paint is applied evenly and thoroughly.
Clean the foam brush under running water to remove the black paint. Use the brush to apply red paint to the wooden heart. Alternatively, you can use a new, separate brush if you have one on hand.
Leave the wooden pieces to dry.
Step 4 - Glue the Pieces Together
Using a small amount of wood glue, adhere the heart to the letter "I."
Step 5 - Finish the Frame
To complete your project, adhere the wooden pieces to the top of the frame. Depending on the thickness of your wooden pieces, you can glue them along the side edge of the frame. Otherwise, simply find a spot on to adhere them. Leave the frame to dry.
If necessary, you can use a hot glue gun to stick everything together. This will depend on the style, thickness, and weight of the wooden pieces that you use. Don't be afraid to experiment and see what works best for your specific materials.
More Ideas:
Thanks to the simplicity of this project, personalizing this DIY frame is super easy. Looking for a more colorful option? Replace the black acrylic paint with your favorite shade. Craft stores sell a wide variety of acrylic paints; you'll have an easy time finding a color you love. You can even find paint with glitter or metallic finishes.
This project also works well with embellishments. Rhinestones, sequins, beads, and ribbon. All you have to do is adhere each embellishment with a dot of hot glue. This is a wonderful way to customize this frame and gift to a special someone.
Time: 15 minutes (prep) & 40 minutes (drying time) || Cost: $7
Kirsten Nunez is a freelance lifestyle writer and published craft book author. Born and raised in New York, she currently calls the Bay Area of California home. 

H.R. Helm is an accomplished DIY craftsman. He has been DIY since childhood and is now a septuagenarian. He is experienced in wood and metal construction, having designed and built several houses and metal buildings. He built every permanent building on his current homestead and did all the plumbing and electrical work. He has several years experience as a professional cabinet builder, and he is an accomplished auto repairman, having operated an auto repair business for many years. He currently has a home shop where he sharpens and rebuilds saws, repairs lawn mowers, mobility scooters, hydraulic jacks, and anything else that comes along. He also builds custom tools for metal working. Invention prototypes are another of his many accomplishments. He owned and operated a manufacturing business building Compact Utility Vehicles for homeowner use. H.R. enjoys making jams and jellies during fruit season along with cooking meals. He is committed to outdoor cooking in a Bar-B-Q pit he welded together several years ago. He maintains fruit and nut trees along with helping his wife with a vegetable garden. He farmed commercial garden produce for several years. It helps to have over 50 years of farming and ranching experience. Employment/Education Highlights ASE Certified Master Auto Technician Certified Welder Cross country truck driver -- over dimensional freight Design Engineer/Project Manager for injection molded plastic company Bus Driver/Substitute Teacher Inventor with two patents (weight training – anti-rollback for manual wheelchair) BS in Industrial Technology